Deere Forecast Tops Estimates as Construction Gains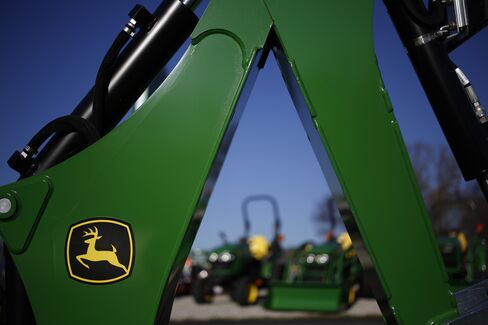 Deere & Co. forecast fiscal 2014 profit that exceeded analysts' estimates as it predicted higher construction and forestry equipment sales will help offset some of the decline in revenue from agriculture, its largest market.
Net income will drop to about $3.3 billion in the year through October, from $3.54 billion a year earlier, Moline, Illinois-based Deere said in a statement today. While that's the same as the company's November projection, it's more than the $3.13 billion average of 17 estimates compiled by Bloomberg. It maintained a forecast for a 3 percent drop for equipment sales.
Deere, the biggest maker of agriculture equipment, is facing its first drop in earnings in five years. It said today that full-year sales at its agriculture and turf business, its largest unit, will fall by about 6 percent, while sales at the construction and forestry segment, will rise about 10 percent.
U.S. building activity is recovering, with spending at its highest level since the aftermath of the financial crisis more than four years ago. Meanwhile sales to U.S. farmers are projected to fall as their earnings drop along with corn prices. Deere has declined 7.5 percent in the past year while the S&P 500 Industrials Index has climbed 24 percent.
"Deere is underperforming because of concerns about the deteriorating outlook for agriculture," Lawrence T. De Maria, a New York-based analyst for William Blair & Co. who recommends selling the shares, said in an e-mail today.
Shares Drop
Net income was $1.81 a share in the three months through Jan. 31, compared with $1.65 a year earlier. That's more than the $1.53 average estimate. Equipment sales rose 2.2 percent to $6.95 billion in the period, higher than the $6.55 billion average estimate.
Deere fell 0.6 percent to $86.90 at the close in New York.
"Perhaps the lower move in Deere shares despite the solid quarter reflects disappointment the company did not raise its full-year outlook following the better-than-expected" first quarter earnings, Matt Arnold, a St. Louis-based analyst for Edward Jones & Co. who recommends buying the shares, said in an e-mail.
Construction spending in the U.S. in December reached the highest since March 2009, according to the latest government data. Residential construction starts in November reached the highest since at least 2008. Inventories of construction and forestry machines are unusually low, according to Andy Kaplowitz, a Barclays Plc analyst, said in a Feb. 10 report.
Farm Receipts
Caterpillar Inc., the world's largest maker of construction equipment, on Jan. 27 forecast a 5 percent increase in revenue for its construction industries segment in 2014.
Industrywide sales for agricultural machinery in the U.S. and Canada will drop 5 percent to 10 percent for the year, particularly in high-horsepower tractors and combines, Deere said today. South American industry sales of tractors and combines will also fall 5 percent to 10 percent, the company said.
U.S. farm cash receipts from crops in 2014 will be $192.1 billion, down from its November forecast of $193.1 billion, Deere said in a slide presentation today.
Agricultural equipment accounted for 78 percent if Deere's sales in fiscal 2013, according to data compiled by Bloomberg, while 16 percent came from construction and forestry.
Before it's here, it's on the Bloomberg Terminal.
LEARN MORE