Colleges Raise Record $33.8 Billion Exceeding U.S. Peak in 2009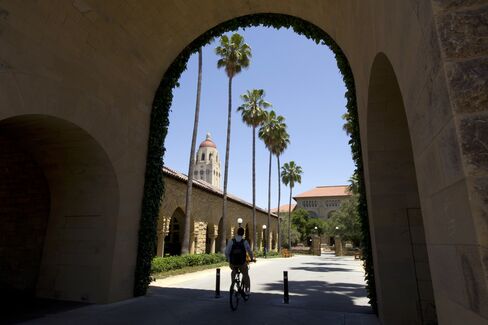 Donations to U.S. colleges and universities rose 9 percent to $33.8 billion in the year through June, topping the record set before the global credit crisis, as stock market gains fueled giving.
Stanford University led all institutions, according to a report released today by the Council for Aid to Education in New York. The school near Palo Alto, California, raised $931.6 million in donations, after setting a single-year record in 2012 by collecting more than $1 billion. Stanford has topped the list for a decade.
College giving is accelerating and endowments have rebounded, offering relief to institutions that have struggled to balance budgets amid a weak economic recovery. While the stock market drives fluctuations in annual giving, the number of big donations received by colleges shows they've been working harder at building relationships, said Ann Kaplan, director of the council's survey.
"What came to fruition this year didn't come in just one year," Kaplan said in a telephone interview. "It means there's some careful planning. They've been either in campaigns or cultivating the connection."
Donations exceeded the $31.6 billion record reported in 2009, which reflects money raised the previous fiscal year that ended in June 2008.
In the 12 months ended in June 2013, the Standard & Poor's 500 Index gained 18 percent.
Harvard University, the world's wealthiest school with a $32.7 billion endowment, was second, raising $792.3 million. The Cambridge, Massachusetts-based school introduced a $6.5 billion fundraising campaign last year that will run through 2018.
Alumni Donations
While the percentage of alumni making gifts fell to 8.7 percent from 9.2 percent a year earlier, the group remained the most significant contributor after foundations.
"That is troubling," said Charles Phlegar, vice president for alumni affairs and development at Cornell University in Ithaca, New York, regarding lower alumni participation. "That's something all of us have to be concerned about long term."
Cornell raised $475 million in the period, ranking it seventh.
Alumni giving increased 17 percent to $9 billion last year from $7.7 billion the year before. Only corporations cut their largesse, with giving falling 2.9 percent to $5.1 billion.
Almost 60 percent of schools said they raised more in 2013 than the previous year. Contributions for current operations increased 6.9 percent, and gifts for capital purposes rose 12.4 percent.
While the current fiscal year still has more than four months left, the "bellwethers for giving" in higher education are positive, Kaplan said in a statement.
"The level of giving in 2013 was indeed impressive and will be challenging to exceed," she said.
Schools that raised the most in the year ended June 2013

1. Stanford University ($931.57 million)
2. Harvard University ($792.26 million)
3. University of Southern California ($674.51 million)
4. Columbia University ($646.66 million)
5. Johns Hopkins University ($518.57 million)
6. University of Pennsylvania ($506.61 million)
7. Cornell University ($474.96 million)
8. New York University ($449.34 million)
9. Yale University ($444.17 million)
10. Duke University ($423.66 million)

Source: Council for Aid to Education
Before it's here, it's on the Bloomberg Terminal.
LEARN MORE