Budget Deficit in U.S. Shrinks Oct.-Jan. on Rise in Revenue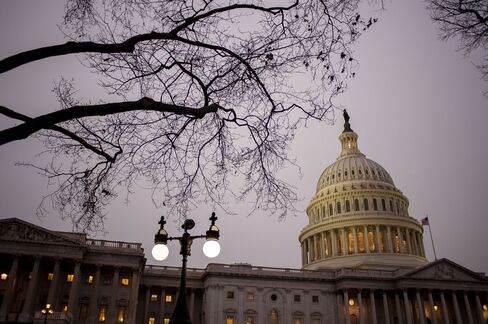 The U.S. budget deficit narrowed by 37 percent in the first four months of the fiscal year compared with a year earlier as spending declined and a stronger economy helped increase revenue.
Outlays exceeded receipts by $184 billion from October through January compared with a $290.4 billion shortfall in the same period a year earlier, the Treasury Department said today in Washington. Last month's deficit was $10.4 billion, compared with a $2.9 billion surplus in January 2013.
The nation's deficit as a share of the economy will shrink to a seven-year low in the 12 months ending Sept. 30, according to projections earlier this month by the Congressional Budget Office, which predicted a $10 billion deficit for January. An unemployment rate that fell to 6.6 percent last month from 7.9 percent a year earlier is helping boost government revenue and contain spending.
"With stronger receipts and lower outlays, it's a more positive picture of the U.S. fiscal situation," said Gennadiy Goldberg, a U.S. strategist at TD Securities USA LLC in New York.
Revenue rose 8.2 percent from October through January to $960.6 billion from the same period a year earlier, while outlays dropped 2.8 percent to $ 1.14 trillion in the fiscal year to date.
Growth Outlook
Commerce Department figures last month showed the U.S. economy expanded at a 3.2 percent pace in the fourth quarter as Americans' spending climbed the most in three years, laying the ground for further improvement in 2014.
In January, receipts gained 8.7 percent to $296 billion, while spending expanded by 13.8 percent to $306.4 billion from a year earlier.
Feb. 1 this year fell on a Saturday, requiring some government payments to be made in January instead of this month.
The CBO said Feb. 4 that the fiscal 2014 deficit will narrow to $514 billion, or 3 percent of gross domestic product, from $680 billion last year. The projected gap is down from 9.8 percent of GDP in 2009, the widest in records dating back to 1974.
The House of Representatives passed borrowing-limit legislation yesterday. Speaker John Boehner and many in his leadership team were among the 28 Republicans who joined with Democrats to pass a suspension of the debt ceiling until March 15, 2015.
Before it's here, it's on the Bloomberg Terminal.
LEARN MORE