Avon Said to Be in Settlement Talks in U.S. Bribery Probe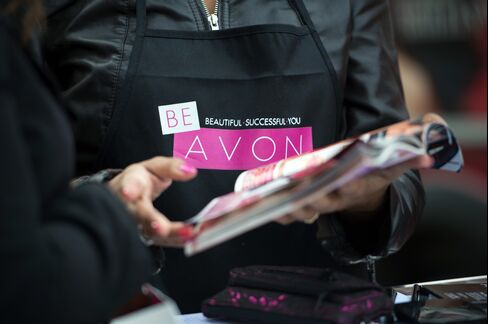 Avon Products Inc., the door-to-door cosmetics seller, is in advanced settlement talks to resolve criminal and civil probes into whether it paid bribes in China and other countries, a person familiar with the matter said.
Avon could announce it has reached an agreement as early as today, when it releases earnings, according to the person, who asked not to be identified because the negotiations are confidential.
The company has spent more than $300 million since 2008 on an internal investigation and compliance reviews amid the probe by the Justice Department and Securities and Exchange Commission. The case is one of the most expensive investigations under the Foreign Corrupt Practices Act, which bars payment of money or anything of value to foreign officials to obtain or retain business or gain an improper advantage.
In an Oct. 31 filing, Avon said payments to resolve the probe could hurt earnings. Chief Executive Officer Sheri McCoy, who took over in April 2012, has been working to trim Avon's costs and exit unprofitable markets abroad. Avon is reviewing operations in smaller, underperforming markets to be restructured or closed and in July sold its Silpada jewelry unit.
The investigation dates to mid-2008 when Avon began looking allegations of improper payments in China. Chinese authorities ended a ban on direct sales in 2006. Avon was among the first companies to obtain a license to sell its products directly to consumers -– the cornerstone of Avon's business model.
Deferred Prosecution
The New York-based company could resolve the U.S. probe through a so-called deferred-prosecution agreement, with prosecutors filing charges and putting them on hold if the company makes payments and changes required by the government, the person familiar with the matter said.
Jennifer Vargas, an Avon spokeswoman, declined to comment on the negotiations.
Avon sought last year to end the SEC probe by offering to pay $12 million, although regulators sought a "significantly greater" amount, according to company filings.
"If the DOJ's offer is comparable to the SEC's offer and if the company were to enter into settlements with the SEC and the DOJ at such levels, we believe that the company's earnings, cash flows, liquidity, financial condition and ongoing business would be materially adversely impacted," Avon said in the Oct. 31 filing.
In December, Avon said it plans to cut 650 jobs as part of an effort to trim $400 million in costs by 2016. The cuts and other actions are expected to be completed this year and will result in charges of as much as $45 million before taxes, with about $35 million recorded in the fourth quarter of 2013, Avon said in a Dec. 13 filing.
In May 2011, Avon fired four executives connected to the bribery inquiry.
The advanced status of the talks was reported yesterday by the Wall Street Journal.