Popolare Emilia CEO Expects Up to $409 Million Capital Gap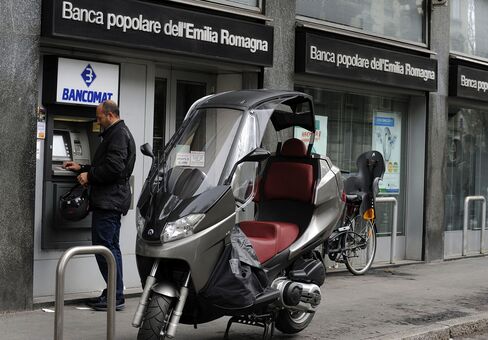 Banca Popolare dell'Emilia Romagna SC may face a capital shortfall of as much as 300 million euros ($409 million) in the European Central Bank's asset quality review, though Italy's No. 6 lender rules out a share sale.
"We adopted all measures to deal with the AQR with an adequate capitalization," Chief Executive Officer Luigi Odorici said in a phone interview. "There are no elements pointing to the need of a capital increase."
"The bank may show a manageable capital gap of 200 million euros to 300 million euros in the AQR," he said. "Obviously we can't forecast the outcome of the stress tests until parameters are set."
The bank, based in the northern city of Modena, will cover the capital gap by adopting an internal model for calculating credit risk that will boost ratios, Odorici said. The accounting model has already been implemented by the country's two biggest lenders, UniCredit SpA and Intesa Sanpaolo SpA.
"We are waiting for the Bank of Italy pre-approval, which we expect by the end of the first quarter," the CEO said. "The new accounting model will more than offset the eventual shortfall" by lifting the common equity ratio based on Basel III rules to between 9.5 percent and 10.5 percent, he said.
BPER is one of the 15 Italian lenders whose assets are being reviewed by the European Central Bank as part of a three-stage Comprehensive Assessment before it takes over banking supervision for the euro area in November. The third phase comprises stress tests scheduled later this year.
Shares Up
Stock climbed as much as 4.3 percent to the highest price since Jan. 24 and was up 3.1 percent to 7.17 euros at 10:50 a.m. in Milan. BPER, the best performer on Italian benchmark FTSE MIB today, rose 40 percent in the last six months, leaving the lender with a market value of 2.4 billion euros.
The good news is the potential approval of the internal model by the Bank of Italy "and the lower than expected potential capital shortfall," Carlo Tommaselli, a Milan-based analyst at Societe Generale SA, wrote in a note today.
Odorici also is making more provisions for non-performing loans, reducing risk and making its retail network more efficient in an effort to strengthen finances and boost capital before the ECB's review. The lender is shifting some units into the parent company, aiming to reduce costs and personnel.
The bank, which had net income of 14.2 million euros in the first nine months of last year, was hurt by 591.4 million euros of loan losses. It may set aside about 150 million euros for bad loans in the fourth quarter, according to the CEO.
He expects improved profitability in 2014, with net income exceeding 200 million euros. That would be lower than the original 2014 target of 315 million euros set two years ago when Italy was mired in a deep recession and Euribor rates fell more than expected. The CEO is forecasting a cost-income ratio of about 55 percent and loan loss provisions of about 600 million euros in 2014.
LTRO Reimbursement
BPER is planning to repay this year about half of the 4.5 billion euros in funds obtained from the ECB in its three-year long-term refinancing operations. A first tranche of 500 million euros to 750 million euros is probably going to be reimbursed in the first quarter.
The bank also is exploring other options to improve its balance sheet including a proposal by investment bank Mediobanca SpA to join other banks in separating bad loans into vehicles that would seek to attract investors, Odorici said. "Something concrete still has to materialize."
Odorici said the bank is focused on internal growth and isn't considering acquisitions. "While we don't rule out anything, we won't take into consideration any deal that hurts our capital position and requires a capital increase."