Pimco Boosts Government Holdings as Bonds Gain Most Since 2008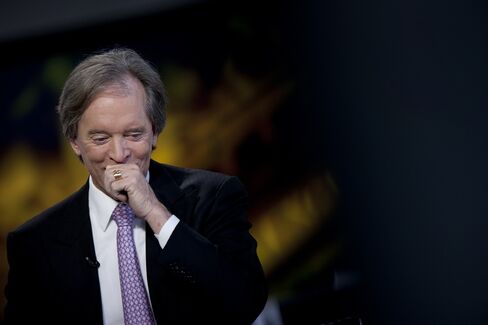 Bill Gross, who runs the world's biggest bond fund at Pacific Investment Management Co., raised holdings of Treasuries and government-related debt in January as the U.S. bond market had the best start to a year since 2008.
The proportion of the securities in the $237 billion Total Return Fund was 46 percent last month, compared with 45 percent in December, the company's website showed yesterday. It was the firm's biggest holding of the securities since at least July, when it revised how it classifies assets. Gross said this month U.S. 10-year yields can fall further if labor growth remains subdued and a key inflation gauge stays below the Federal Reserve's target. Mortgage debt accounted for 36 percent in January, compared with 35 percent the previous month.
"Pimco finds more solace at the front end of the curve," Newport Beach, California-based Gross said yesterday during an interview on Bloomberg Television with Trish Regan, referring to three-, four- and five-year securities. They are "a more stable bet going forward."
The company's U.S. credit category, which includes investment-grade and high-yield securities, fell to 9 percent, from 10 percent. Holdings of money-market debt and cash-equivalent securities were negative 8 percent in January, compared with negative 6 percent at the end of last year.
Pimco doesn't comment directly on monthly changes in holdings or specific types of securities within a market sector. The company is a unit of the Munich-based insurer Allianz SE.
The Total Return Fund gained 1.8 percent as of Feb. 7, beating 87 percent of peers. The fund last year lost investors 1.9 percent, the most since 1994, while falling behind 65 percent of peers.
January Advance
Treasuries returned 1.6 percent in January, the best start to a year since advancing 2.5 percent in 2008, according to the Bank of America Merrill Lynch U.S. Treasury index.
The Total Return Fund had estimated withdrawals of $3.5 billion in January, after suffering its worst year of net redemptions in 2013, Chicago-based research firm Morningstar Inc. said Feb. 4. The fund had redemptions of $41.1 billion last year.
Fed Chairman Janet Yellen signaled the bar is high for a change in the Fed's plan to scale back its bond-buying under the quantitative-easing stimulus strategy in "measured steps."
Only a "notable change in the outlook" for the economy would prompt policy makers to slow the pace of tapering, Yellen said yesterday in response to a question during testimony to the House Financial Services Committee.
The central bank announced in the past two months $20 billion in bond-purchase reductions, bringing monthly buying to $65 billion, amid signs of economic growth.
Emerging Markets
Gross kept holdings of emerging-market bonds unchanged at 6 percent. The fund raised non-U.S. developed debt to 7 percent, from 6 percent, the data show.
U.S. government-debt securities rose this year after emerging-market share prices in nations from Turkey to Argentina slid as weakness in China's economy and localized unrest sent currencies spiraling. The turmoil accelerated after the Fed began cutting its bond purchases.
The yield on the Treasury benchmark 10-year note fell to 2.57 percent on Feb. 3, the lowest level since November, as investors sought safety. The yield touched 3.05 percent on Jan. 2, the highest since July 2011, amid bets the Fed would accelerate reductions in its bond-buying.
The Fed's preferred inflation measure, the personal consumption expenditures index, rose 1.1 percent in the 12 months ended in December, the government reported Jan. 31. It hasn't been at the Fed's goal of 2 percent since April 2012. The U.S. added 113,000 jobs in January, falling short of a median forecast of 180,000 in a Bloomberg News survey of economists.
The Total Return Fund's government- and Treasury-debt category includes holdings of U.S. Treasury notes, bonds, agency debt, interest-rate swaps and inflation-protected securities.
The fund lost its rank as the world's biggest mutual fund in October to the Vanguard Total Stock Market Index Fund.
Before it's here, it's on the Bloomberg Terminal.
LEARN MORE