Nestle Trails at Home as Global Shares Rally: Chart of the Day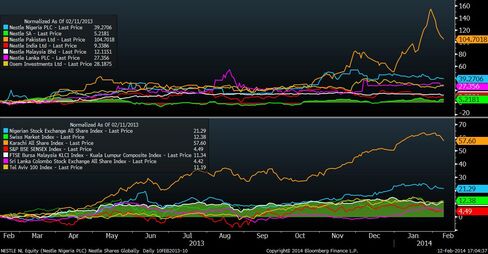 Nestle SA, which agreed to sell part of its stake in cosmetics maker L'Oreal SA, has underperformed most of its global units, with shares traded in Switzerland trailing those from India to Israel and Pakistan to Nigeria.
"In the smaller emerging markets, Nestle is a high-quality company with strong brands that would be attractive to investors seeking exposure to consumer products," Patrik Lang, head of equity research for Bank Julius Baer & Co., said by phone from Zurich. "Flight of capital" from emerging or frontier markets is the main risk to investing in a Nestle subsidiary, he said.
The CHART OF THE DAY tracks shares of the world's largest food company on its home market and six emerging- and frontier-market units in the 12 months to Feb. 10. Nestle SA's 5.2 percent gain was less than half the Swiss Market Index's 12 percent increase. By comparison, Nestle Pakistan Ltd. rose 105 percent while the Karachi All Share Index, shown in the lower panel with the national benchmarks, increased 57 percent. Nestle Nigeria Plc rallied 39 percent versus 21 percent for the country's all-share gauge, data compiled by Bloomberg show.
Israel's Osem Investments Ltd. and Nestle India Ltd. each advanced more than twice their domestic benchmarks, while the Sri Lanka unit's 27 percent gain was six times the broad measure's increase. Nestle Malaysia Bhd. was up 12.5 percent versus the FTSE Bursa Malaysia KLCI Index's 11.9 percent.
The parent outperforms in analyst ratings compiled by Bloomberg. The Vevey, Switzerland-based company had a consensus score of 3.9 out of a maximum 5, based on 37 recommendations through Feb. 10. Nestle India's rating was 2.3 with 40 ratings, Nestle Nigeria's 1.9 from 17 analysts and Nestle Malaysia's was 2.7 based on 11 ratings, the data show.
The maker of Gerber baby foods, Nescafe coffee and Purina pet products owns majority stakes in most of those units, according to regulatory filings. Its holding in Paris-based L'Oreal, the world's largest cosmetics company, will be cut to 23.3 percent from 29.4 percent after a 6 billion-euro ($8.2 billion) buyback by the Paris-based maker of Maybelline mascara.