HudBay Bid for Arizona Copper Seen Too Low: Real M&A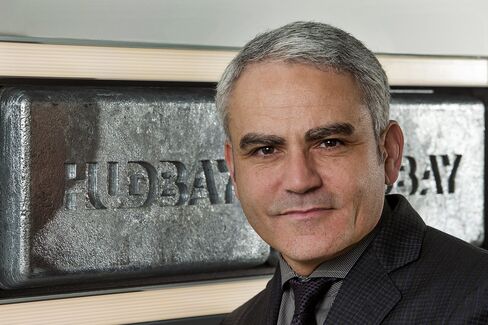 The prospect of mining copper in Arizona has traders lining up bets that Augusta Resource Corp., the target of an unsolicited bid by HudBay Minerals Inc., will win a higher offer.
Shares of Vancouver-based Augusta rose 15 percent above HudBay's all-stock bid, which was valued yesterday at C$2.78 a share, or about C$440 million ($400 million) including net debt. The gap, one of the widest among pending North American deals in which traders expect bidding wars, indicates investors are anticipating a boost from HudBay or another suitor.
Augusta's Arizona copper project is in the last stages of attaining necessary permits. Laurentian Bank of Canada said it's large enough to attract other producers including OZ Minerals Ltd. and Teck Resources Ltd. and estimates the company's value is at least C$3.89 a share based on similar deals. Freeport-McMoRan Copper & Gold Inc., based in Arizona, is another possible suitor with the financial strength to outbid HudBay, according to National Bank Financial.
"The market expects that this may be the initial offer and Augusta could negotiate better terms," Shane Nagle, a Toronto-based analyst at National Bank, said in a phone interview. "It's a high-quality asset. There is room certainly to sweeten the offer."
Letitia Cornacchia, a spokeswoman for Augusta, declined to comment. HudBay's Scott Brubacher also declined to comment on whether the Toronto-based company would raise its offer.
Offer Terms
HudBay, which already owns 16 percent of Augusta, said Feb. 9 that it will offer 0.315 a share for each Augusta share. Based on HudBay's closing price Feb. 7, the bid was valued at C$2.96 a share, which it said represented a 62 percent premium to Augusta's 20-day volume-weighted average price.
HudBay slumped 6.1 percent yesterday after making its proposal public, dragging down the value of its bid. The company previously held takeover talks with Augusta starting in 2010, HudBay said in a statement dated yesterday. Talks continued during 2011 through 2013, before HudBay decided to make an offer directly to Augusta shareholders, it said.
Merger-arbitrage traders pushed Augusta's stock price up to a close of C$3.20 yesterday, giving the deal a spread that exceeded almost every other pending transaction in North America, according to data compiled by Bloomberg.
Today, Augusta shares gained 2.2 percent to C$3.27, and HudBay rose 1.8 percent to C$8.99.
HudBay is valuing the resource at Augusta's Rosemont mine at about 4.5 cents per pound of copper equivalent, versus an average multiple of about 5.4 cents per pound for comparable takeovers in the last few years, said Christopher Chang of Laurentian Bank. HudBay is being opportunistic by bidding just before Augusta completes the permitting process for the project, a milestone that would lead to a surge in Augusta's stock price, the Toronto-based analyst said.
'Light' Bid
"The offer is a little light," Chang said in a phone interview. "This price isn't going to be a game-changer for investors because they could get this value anyways."
While copper industry acquirers such as Lundin Mining Corp. and First Quantum Minerals Ltd. have their hands full with recent purchases, OZ Minerals and Teck are on the short list of possible "white knights" for Augusta, Chang said.
OZ Minerals is a Melbourne-based producer with a market value of about A$1 billion ($895 billion). Vancouver-based Teck is a $14 billion diversified miner that gets about 30 percent of its revenue from copper, data compiled by Bloomberg show.
Augusta also may appeal to Phoenix, Arizona-based Freeport-McMoRan, a $33 billion natural-resource conglomerate, said National Bank's Nagle. That dwarfs HudBay's market value of $1.5 billion.
"Teck's copper production profile is relatively flat, so something like this could make sense," Nagle said. And for Freeport, "it's right in their backyard."
Interested Buyers
Representatives for Freeport-McMoRan, Teck and OZ Minerals said the companies don't comment on speculation, when asked whether they're weighing bids for Augusta.
"HudBay's offer has little chance of success at its current valuation," Daniel Earle, an analyst at Toronto-Dominion Bank, wrote in a note to clients yesterday. "We expect that it would take a significantly-enhanced offer to compel a friendly agreement and that there would be considerable interest from other potential acquirers."
Should competing bidders emerge, HudBay can probably only increase its exchange ratio up to 0.333 before triggering a Toronto Stock Exchange rule that would give HudBay's shareholders a chance to block the deal, Chang of Laurentian Bank said. The rule states that an acquiring company's investors get to vote on takeovers that would dilute their ownership by 25 percent or more.
Deal Multiple
When asked on a conference call yesterday at what price HudBay might consider selling its stake, HudBay Chief Executive Officer David Garofalo said the company is "a buyer at this price and if somebody overpays, we will tender."
Not everyone views HudBay's offer as too low. While it's "slightly below" the multiples paid for other deals in the industry, it's "fair given the amount of permitting and financing risk involved," David Charles, an analyst at Dundee Securities Ltd., wrote in a report yesterday.
That said, HudBay's decision to bid now demonstrates its confidence that the Rosemont mine will secure the final necessary permits, Nagle of National Bank said. Once it clears those hurdles and starts production, Augusta expects the mine's annual output will be 243 million pounds over 20 years.
Adding to the appeal is that its in a politically stable jurisdiction and will begin producing at an advantageous time, said Nagle, who forecasts a "significant deficit" for copper possibly beginning in 2016 that will boost prices, he said.
Buyers would "want a project that would be kick-starting and coming online around that timeframe," he said. Besides Augusta's Rosemont, "there's really not that many of them around the world."