Goldman Sachs Adds 5 to Management Committee in Renewal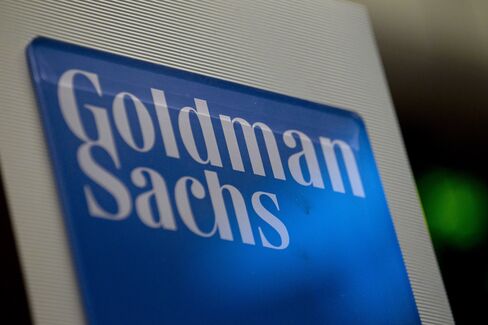 Goldman Sachs Group Inc. promoted five senior executives to the management committee, including the heads of equity and credit trading, in the largest addition to its top leadership group since 2008.
Paul Russo, Michael Daffey, Justin Gmelich, Sarah Smith and Craig Broderick were named to the panel, which now has 34 members, according to employee memos obtained yesterday by Bloomberg News. A day earlier, the New York-based firm named Ashok Varadhan, the 41-year-old chief of macro trading, as the third co-head of its trading division.
A half-decade after the financial crisis, Goldman Sachs is injecting new blood into its top management as the firm faces questions about key businesses amid a three-year revenue slump. The company also has seen departures in its trading units after efforts to cut costs and pay.
"It's that time of year where firms right-size and restructure, and put their generational plan in play for management," said Michael Karp, chief executive officer of New York-based recruitment firm Options Group. "It doesn't mean big changes are coming. They're probably just getting their management team stronger, and you'll see that across other firms."
CEO Lloyd C. Blankfein, 59, said he's attempting to cut costs to deliver an "acceptable" return for shareholders until the broader environment improves. He shrunk the portion of revenue set aside for compensation to 37 percent, the second-lowest since the firm went public, as trading revenue fell to the lowest since the financial crisis.
Biggest Class
Goldman Sachs shares climbed 39 percent last year as the cost reductions helped produce a return on equity that topped that of the firm's largest rivals.
The management-committee promotions represent the biggest class since 2008, when leaders such as Chief Financial Officer Harvey Schwartz, 49, and trading co-head Pablo Salame, 48, were appointed to the group. Almost 40 percent of the committee's members have been added since the end of 2010.
Russo and Daffey, 47, run the firm's equity-trading operations, which generate more revenue than that of any other global bank. Gmelich heads the credit-trading unit. Broderick, 54, is chief risk officer, and Smith is controller and chief accounting officer.
Women Members
All five managers joined the company before it went public in 1999. Broderick and Russo became partners in 2000, followed by Smith and Daffey in 2002 and Gmelich in 2004. Michael DuVally, a company spokesman, confirmed the contents of the memos, written by Blankfein and President Gary D. Cohn.
Smith's addition brings the number of women on the committee to five. Isabelle Ealet is co-head of trading, Edith Cooper runs human capital management, Gwen Libstag heads the business selection and conflicts resolution group, and Esta Stecher is CEO of the firm's bank subsidiary.
Thirty-eight partners left the firm last year, bringing the total to 426 at the end of last month, the lowest to start a year since 2009, according to regulatory filings. At least three more have left since that list was filed.
Wall Street firms often see employee departures in February and March after awarding year-end bonuses, which can account for a majority of a banker's pay. Some banks traditionally make additional cuts in their senior ranks around that time to clear the way for new hires and internal promotions.
Hedge Funds
While Goldman Sachs has more than 2,000 managing directors, more than 10 executives of that rank from trading and research have left the firm in the past two months. In some cases, the company is facing a threat affecting all banks: poaching from hedge-fund firms that offer traders the chance to take more risk and bring home more pay, Karp said.
Banks are constrained by the Volcker Rule, which bans proprietary trading at lenders, and new capital rules that more heavily weight risky assets. Hedge funds also offer pay that's based on a percentage of what a trader generates during the year, while banks often keep more discretion over bonus decisions, Karp said.
"Many traders at all firms, not just Goldman, are concerned about their trading strategies in light of banks continuing to clamp down on risk," Karp said. "It's a combination of that and thinking, 'If I'm a good trader, I can go to the buy-side and get compensated on a percentage basis.'"
Citadel, Vulcan
Uberto Palomba, Goldman Sachs's co-head of emerging markets trading for Europe, the Middle East and Africa, and Jonathan Tipermas, who led Goldman Sachs's dollar swaps-trading desk, are leaving for Citadel LLC. Sean Meeker, the head of loan and loan credit-default swap trading, left for investment management firm Vulcan Capital.
Leland Lim, who retired as co-head of the macro trading team in the Asia-Pacific region outside of Japan, plans to start his own Hong Kong-based hedge fund, two people with knowledge of the matter said this week. Thomas Stolper, chief currency strategist, said he will be leaving the firm by early March to set up a venture.
Yesterday's promotions double the number of management committee members who have direct leadership roles in the securities division, which houses the bank's trading operations and accounts for the largest portion of Goldman Sachs's revenue.
"Promotions are a way of keeping individuals motivated and passionate about their jobs, and in some cases, have been used in lieu of increases in compensation," Karp said.