Danske Bank Faces Broader Probe of Bond Price Fixing in 2009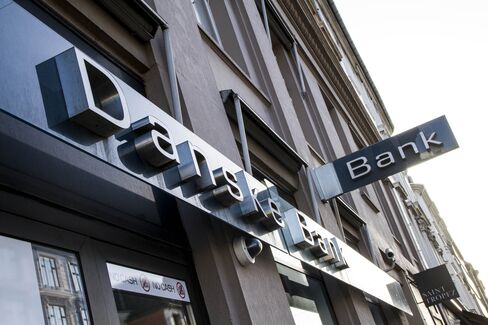 Denmark's public prosecutor may expand its probe of Danske Bank A/S after it accused the lender and six of its employees of bond price manipulation.
"It's clear that we also need to look into whether this requires a broader investigation or whether it's an isolated case," Public Prosecutor Hans Fogtdal said yesterday in a phone interview.
The Danish Public Prosecutor for Serious Economic and International Crime "brought accusations against Danske Bank of price manipulation under particularly aggravated circumstances," Denmark's biggest lender said on Friday. The trades, conducted in February and March 2009, raised mortgage bond prices in a way that "harmed customers at Realkredit Danmark A/S," Danske's home-loan unit, the crime squad said.
The six employees, whom Danske has suspended, face a maximum of four years in jail, according to Fogtdal. Business Minister Henrik Sass Larsen said he would consider tightening regulatory requirements if the Danske case reveals a need to do so, Borsen reported.
The bank, whose assets are equivalent to about 180 percent of Denmark's gross domestic product, said an internal probe found its rules had been violated in transactions with Realkredit Danmark. The bank notified the FSA last week, prompting the police investigation. The charges of price manipulation come days before a five-year statute of limitations was due to take effect.
Danske Bank shares lost 0.6 percent to trade at 137.10 kroner as of 9:56 a.m. in Copenhagen. The 43-member Bloomberg index of European financial companies rose 0.7 percent.
Internal Audit
Danske began its investigation of the trades in the fall of last year after an internal audit flagged something suspicious, according to a person with knowledge of the matter who asked not to be identified by name because he wasn't authorized to discuss the case.
There is a connection between this investigation and a separate probe into how the Copenhagen interbank offered rate was set during the financial crisis, Berlingske reported today without saying how it obtained the information.
Denmark's central bank handed over publication of Cibor to Nasdaq OMX Group Inc. in April 2011, saying it could no longer "assess the quality" of the rate. The central bank then recommended supplementing Cibor with the so-called Cita rate, which is based on actual interest-rate swap agreements.
Cibor 'Weaknesses'
While a subsequent government investigation into Cibor found no evidence of manipulation, it concluded there were "weaknesses" and ordered banks to offer products based on Cita, alongside Cibor loans.
Chief Executive Officer Thomas Borgen said Danske is cooperating fully with the authorities. He took over management of the bank in September after Chairman Ole Andersen said his predecessor, Eivind Kolding, lacked the skillset needed to run a financial conglomerate. Kolding was fired after 19 months, having succeeded Peter Straarup, who oversaw Danske's expansion into Ireland in 2005.
The price manipulation charges relate to a "less liquid mortgage bond" based on the Copenhagen interbank offered rate, the crime squad said.
"It's a very regrettable case," Borgen said on Friday in an e-mailed response to questions. "We have clear rules and procedures, which all employees are instructed in and are very familiar with. There's no excuse for not following the rules."
Danske's trading income jumped fivefold in the first quarter of 2009 from a year earlier to 7.5 billion kroner ($1.37 billion). The bank, which took a 26 billion-krone hybrid loan from the government that year, issued bonds backed by state guarantees as the failure of Lehman Brothers Holdings Inc. threatened to freeze markets. The loans also helped the bank offset writedowns on its failed Irish expansion.
"An important starting point for the investigation will be that we talk with Danske Bank's compliance department," Fogtdal said. "We'll see how much they can tell us."