Carney Faces Traders as BOE Updates Rates Guidance: U.K. Credit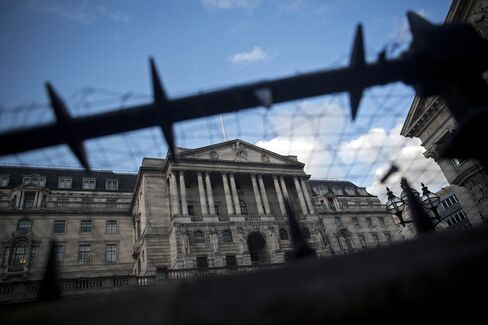 Bank of England Governor Mark Carney will seek to cement investor expectations that the next increase in interest rates is some time away when he presents an updated version of his forward-guidance policy tomorrow.
Yields suggest Carney has convinced traders that there is enough slack in the economy to maintain the benchmark rate at a record 0.5 percent this year. The implied rate on the short-sterling contract expiring in March 2015 has fallen 25 basis points since Dec. 31 to 0.86 percent.
Officials began the communications drive after a plunge in unemployment rendered forward guidance, intended to assure borrowers that interest rates are staying low, virtually useless six months after it was introduced. The BOE is expected to use its quarterly Inflation Report to revamp the policy, with economists divided over the approach it will take.
"Convincing the market that you can hold rates lower for longer is going to be very difficult," said Grant Lewis, an economist at Daiwa Capital Markets in London and a former Treasury official. "Ultimately they have to keep giving the message that inflation is low, and try to convince people."
The extra yield investors demand to hold 10-year gilts instead of similar-maturity German bonds has narrowed to 1.05 percentage points, after reaching 1.13 points on Jan. 28, the most since 2005.
Revised Plan
Officials began working on revised guidance after the strongest growth since 2007 sent unemployment tumbling. The jobless rate stood at 7.1 percent in the three months through November, just above the 7 percent level that Carney and his colleagues identified last August as the threshold for considering a rate increase. At the time, unemployment was at 7.8 percent and the BOE didn't anticipate it falling to 7 percent until 2016.
The BOE may choose to set a timeframe for keeping rates low, economist said. Other options include outlining a broader range of variables to inform policy, trimming the unemployment threshold to 6.5 percent or providing an interest-rate forecast. It may also opt to follow the Fed in detailing the rate outlook of each policy maker. The bank publishes its Inflation Report at 10:30 a.m. in London tomorrow.
"We'll get a report that suggests that rates aren't going up any time soon," said Mike Amey, a money manager at Pacific Investment Management Co. in London, who predicts the BOE may keep its key rate unchanged through next year. "Carney may try and push market expectations back a little bit. The BOE may say that they are happy to let the recovery run, simply because there is no inflation risk."
Slowing Inflation
Officials will emphasize the lack of price pressures in the economy to justify low rates and stress that wage growth remains low, Amey said. Consumer-price growth cooled in December, reaching the central bank's 2 percent goal for the first time since 2009. Official data shows U.K. wages adjusted for inflation fell between 2010 and 2013, the longest period since at least 1964.
The Monetary Policy Committee will say tomorrow it needs to take "a more detailed, in-depth look at the labor market," DeAnne Julius, who was a member of the panel between 1997 and 2001, said in an interview at a Fathom Consulting event in London today. "It has to understand better how and why the unemployment rate has come down as fast as it has. Then what they'll do is focus on the inflation rate."
Detailed Forecasts
The Inflation Report may also include more detailed information about how the central bank makes its forecasts, in response to the Stockton Review, which examined its forecasting record. BOE Chief Economist Spencer Dale told the bank's supervisory board in November that more quantitative information would be included in the February report.
"Hopefully they will see it's not wise to pin policy on one variable," said Richard Jeffrey, chief investment officer at Cazenove Capital Management in London. "They should have a broader set of forecasts, outline their views and let the market make a judgment about what the policy implications are."
The Confederation of British industry today raised its 2014 growth forecast to 2.6 percent from a November prediction of 2.4 percent. It lowered its inflation forecast to 1.9 percent from 2.5 percent and predicted no interest-rate increase until the third quarter of next year.
"There is a lot of slack in the labor market," said Katja Hall, chief policy director of the CBI. "Inflation is likely to remain pretty low. The bank is going to keep the interest rate on hold."
Flexible Approach
Forward guidance has "given certainty" for companies, and so policy makers may move away from a "tight framework" centered on a single data point, she said. Officials will take a more flexible approach by highlighting a range of indicators, the lobby group predicted.
"The bank wants to keep policy as easy as possible to ensure that it doesn't stifle the recovery, and the fact that inflation is benign gives them the flexibility to do that," said Simon Peck, a fixed-income strategist at Royal Bank of Scotland Group Plc in London. "The Inflation Report will be dovish and push back on interest-rate bets. The question is how long the impact will last if the data continue to be strong."