De Blasio's 1st NYC Budget Get Surplus Before Labor Talks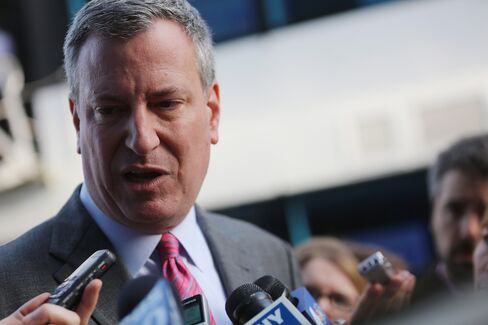 New York Mayor Bill de Blasio presents his first budget this week, and unions that backed his election will be watching to see how he intends to deal with expired contracts for almost 300,000 workers. An unexpected surplus as big as $4 billion may make his job more difficult.
The surprise bonanza will come from unanticipated revenue and unspent expenses accumulated in 2013 and expected this year, according to budget documents and independent economists. While good news for the biggest U.S. city, it may complicate de Blasio's fiscal plans if unions insist on retroactive raises and refuse to make concessions.
"You could easily create a scenario where settling with the unions depletes whatever additional funds he has," said Ronnie Lowenstein, director of the Independent Budget Office, a nonpartisan agency that monitors city finances. "I have to assume he won't let that happen because then he won't have the money to fund the priorities he does have."
De Blasio, 52, won election in November by the biggest margin for a nonincumbent in city history with a campaign that depicted a metropolis divided between rich and poor. The first Democrat elected to run New York in 20 years, he's attracted national attention calling for construction or preservation of 200,000 affordable-housing units, rent subsidies and taxing the wealthy to pay for universal, all-day early childhood education.
'Great Unknown'
In preparing an approximately $75 billion budget for the fiscal year starting July 1, the mayor confronts the unprecedented fact that all municipal employees -- teachers, police, firefighters, sanitation workers and civil servants -- have been working for years under expired contracts. Negotiations stalled between municipal unions and former Mayor Michael Bloomberg, the founder and majority owner of Bloomberg News parent Bloomberg LP, who insisted on more worker participation in pension and health-care costs.
"We are going into the great unknown here; we have never had all of our labor contracts open at once," de Blasio said Feb. 6 at a City Hall news briefing. "So I'm going to describe what that means, and I'm going to describe the actions we are taking to deal with that situation. We believe that to achieve this important agenda, we must have fiscal stability."
De Blasio hasn't said whether he'll disclose a sum of money reserved for labor settlements with 152 unions. Bloomberg's final spending plan in November set aside more than $800 million, which remains unspent, enough to give a 1.25 percent raise to the city's 290,000 workers covering fiscal years 2013 through 2015.
More Cash
Added to that $800 million is at least $1.9 billion -- and probably several hundred million dollars more -- mostly from unanticipated property-, income- and business-tax revenue in an expanding economy, according to a November report by the Independent Budget Office.
That estimate doesn't include more than $1 billion available from unspent agency appropriations, reduced debt service and other savings, Lowenstein said.
Add the items together and de Blasio may draft his budget counting on as much as $4 billion in unspoken-for cash, barring an unanticipated economic crisis, Lowenstein said.
On Feb. 12, de Blasio will present a preliminary spending plan, to be followed by months of negotiations with the city council. A revised plan, called the executive budget, must be approved by the council before the July 1 start of the 2015 fiscal year. State law requires that the city balance its budget, with no deficit financing permitted.
'Enormous Challenges'
"The New York City budget faces enormous challenges," Phil Walzak, de Blasio's press secretary, said in an e-mail. "From the perpetual issue of the existing structural deficit, to the vast uncertainty created by the previous administration's failure to resolve outstanding labor contracts, to ever-eroding support for New York from Albany and D.C., the pressure to balance the city budget is incredibly intense."
Lowenstein said she doesn't expect de Blasio to disclose a maximum amount that he's set aside for contracts.
"I don't see why anyone would want to go into those negotiations saying, 'Hi, I've got plenty of money, let's talk,'" she said.
Lowenstein's analysis was backed up by James Parrott, chief economist of the Fiscal Policy Institute, a New York-based nonprofit that researches city and state financial and economic issues. The mayor will have about $1 billion available to him in items called "prior-year payables," two $500 million installments at the end of calendar years 2013 and 2014, representing unspent agency appropriations.
Contingency Planning
Budget-makers may overestimate expenses as a form of contingency planning or rainy-day fund, Parrott said.
The city has abundant resources to pay its employees raises and compensation covering the years worked without new contracts, union leaders said.
Teachers deserve to be paid more because they didn't get the 4 percent increases in base salaries that other municipal unions received in 2009 and 2010, said United Federation of Teachers President Michael Mulgrew.
"We look at the city's fiscal numbers all the time; it is clear to us that there is money out there," Mulgrew said in an interview. "We need our teachers to be paid at least at the level of the school districts around us, which we are not."
'Great Step'
Uniformed Sanitationmen's Association President Harry Nespoli, who's also chairman of the Municipal Labor Committee, an umbrella group, said just hearing de Blasio talk about "the fact that city workers deserve a raise is a great step."
For the past four years, Nespoli said, he's calculated $7 billion in accumulated surpluses without collective-bargaining agreements. It was a period in which he resisted Bloomberg's proposals that city workers pay more toward their pensions and health care. He said unions decided to just wait out Bloomberg's third term and hope for a better deal from his successor, a self-described progressive.
"We're looking for a wage increase and our retroactive money," Nespoli said. "There's a way we can structure an agreement so the burden doesn't fall on the city all at once. We recognize that it's the taxpayers' money and we're taxpayers also, but we'd like to get paid."
Before it's here, it's on the Bloomberg Terminal.
LEARN MORE