Won Goes From Asia's First to Worst as Top Forecaster Says Sell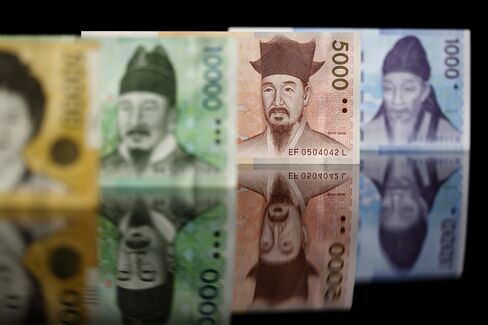 South Korea's won is leading a drop in Asian currencies this year, after gaining the most in the second half of 2013, as tapering of U.S. stimulus drains funds from emerging-market assets and China's economy slows.
The won has weakened 2 percent since Dec. 31 to 1,071.23 per dollar at the close in Seoul today, according to data compiled by Bloomberg. An 8.8 percent jump in the July-December period was more than six times the gain of any other regional currency. Scotiabank, which had the closest won estimates for the last four quarters in data compiled by Bloomberg Rankings, recommended in a Feb. 5 report that investors bet on further losses this quarter.
"The won isn't the relative safe-haven asset it was last year, given the negative financial-market dynamic is somewhat different, and will likely underperform on higher volatility in capital flows," Sacha Tihanyi, a Hong Kong-based strategist for Scotiabank, a unit of Canada's third-biggest lender, said in a Feb. 6 interview. The won can weaken to as much as 1,100 if the market environment remains "unconstructive," said Tihanyi, who cut his end-March forecast to 1,080 last month.
Global funds withdrew a net $2.4 billion from South Korean stocks this year, almost the combined outflows from India, Taiwan and Thailand, exchange data show. Hyundai Motor Co. and Kia Motors Corp., the nation's biggest carmakers, may welcome a weaker won after 2013's currency gains eroded sales and profits, while a slide in the yen benefited Japanese counterparts.
'Preemptive Steps'
The won strengthened 2.4 percent against the dollar in the fourth quarter and 9.7 percent versus the yen, data compiled by Bloomberg show. Hyundai Motor said last month that 2013 sales, which missed analysts' estimates, were hurt by won gains. Park Han Woo, Kia Motors' chief financial officer, said Jan. 24 the "steep appreciation" of the currency curbed operating profit in the fourth quarter.
South Korea will take preemptive steps in a swift manner to stabilize financial markets if needed, Vice Finance Minister Choo Kyung Ho told reporters in Seoul on Feb. 7, repeating comments he made on Jan. 26.
The won was ripe for some correction after being the strongest currency in the region, said Patrick Bennett, a Hong Kong-based strategist at Canadian Imperial Bank of Commerce. The Bank of Korea will likely intervene less as the won is "off its highs" against the greenback and the yen, he added.
"The won has been on the receiving end of negative emerging-market sentiment and we would like to see a return of portfolio inflows to indicate investors are comfortable to enter," Bennett said in a Feb. 5 e-mail interview. The lender revised its forecast for end-March to 1,050 from 1,040.
Fundamental Support
South Korea's currency has rebounded 1.7 percent from a five-month low of 1,089.71 per dollar touched on Feb. 4 as the impact on emerging markets from Argentina's devaluation and Turkey's monetary tightening eased. The won remains well-supported by economic fundamentals, according to HSBC Holdings Plc. It will gain 2 percent to 1,050 by year-end, according to the median estimate of analysts in a Bloomberg survey.
Korea's current-account surplus widened to $6.43 billion in December, contributing to a record annual excess of $70.73 billion in 2013, central bank data showed on Jan. 29. Foreign-exchange reserves increased to an unprecedented $348.4 billion in January, according to a separate report.
"Won strength comes from two fronts -- the solid current account and trade surpluses," Ju Wang, a Hong Kong-based currency strategist at HSBC, said in a Feb. 6 e-mail interview. "This means it doesn't face the same level of dollar funding pressure as many other Asian currencies."
Exports Dwindle
Still, a contraction in exports last month and slowing growth in China, South Korea's biggest overseas market, suggest the monetary authority will favor a weaker currency.
Shipments shrank 0.2 percent from a year earlier, missing the 1.5 percent increase predicted by economists in a Bloomberg survey and down from December's 7 percent advance. China's official Purchasing Managers' Index of manufacturing fell to a six-month low in January, while a private PMI report indicated services also weakened.
Scotiabank's Tihanyi said the change in direction of government bond yields shows how market sentiment is changing to one of concern about growth in emerging markets from stimulus reduction by the Federal Reserve. The U.S. central bank cut its debt-purchase program for a second time by $10 billion last month to $65 billion.
New 'Dynamics'
Ten-year U.S. Treasury yields fell 35 basis points this year to 2.68 percent, after surging 54 basis points in the last six months of 2013.
"Last year, the Fed tapering concern was the driving feature and U.S. yields were absolutely surging; the exact opposite is happening now and that should tell you something about what the dynamic is," Tihanyi said.
Standard Chartered, the won's third-most accurate forecaster in Bloomberg Rankings over the past four quarters, lowered its end-March estimate for the currency to 1,060 from 1,030, according to a Feb. 7 report.
"The powerful outperformance of North Asia's external-surplus currencies has given way to corrective dynamics in the early weeks of 2014," amid fears of a hard landing in China, Standard Chartered analysts Robert Minikin and Eddie Cheung wrote in the report.
Before it's here, it's on the Bloomberg Terminal.
LEARN MORE