Westpac to Repeat 33% Asia Growth With 100 New Hires in 2014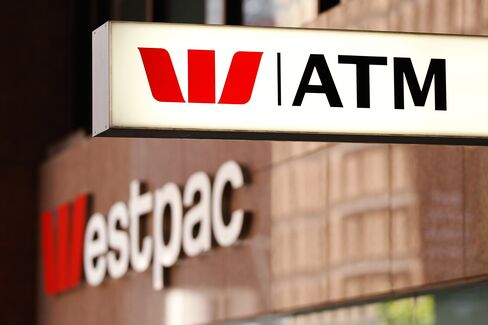 Westpac Banking Corp., Australia's second-largest lender, expects Asian revenues to grow at a similar pace to last year's 33 percent gain and plans to add 100 employees in the region annually over the next three years.
The lender will have more than 400 people in the region by the end of September, Bala Swaminathan, the head of its Asian business, said in an interview in Sydney on Feb. 7. Westpac wants to increase its share of growing Australia-China trade flows, he said.
Westpac and its competitors are expanding in Asia as lending at home grew by 3.9 percent in the year to Dec. 31, according to the Reserve Bank of Australia, less than half the average 8.6 percent growth over the past 10 years. The value of exports and imports between Australia and its largest trading partner, China, climbed 21 percent to a record A$141.8 billion ($127 billion) in 2013 as iron-ore exports surged, data from the Australian Bureau of Statistics showed Feb. 6.
"Australia-China trade is growing quite significantly," Singapore-based Swaminathan, who joined Westpac in July 2012 from Bank of America Corp., said. "We believe we will get more than our share."
Westpac expects China to grow at close to 7 percent as it transitions from an export-focused to domestic-led economy, he said. China's gross domestic product grew 7.7 percent in 2013, the same rate as in 2012. Economists forecast an expansion of 7.4 percent this year, the weakest pace since 1990, according to the median estimate in a Bloomberg News survey.
Syndicated Loans
"China is our most significant market and will remain so," Swaminathan said. "15-20 percent of our total growth in employees will come from China and Hong Kong."
The lender plans to expand its loan syndication, Australian dollar-yuan trading and transactions businesses. That growth should reduce Westpac's reliance on trade finance in the region to around 50 percent of its revenue and balance sheet in Asia, he said.
The four largest Australian banks, including Westpac, doubled their share of syndicated loans in the Asia-Pacific region, excluding Japan and Australia, to 4.1 percent last year, from 2.2 percent in 2012, according to data compiled by Bloomberg. Swaminathan expects that share will continue to increase.
Westpac was mandated along with six other banks for Wilmar International Ltd.'s $1.75 billion revolving loan in Singapore, according to a statement, and Indian Oil Corp. hired Westpac and eight other banks to arrange a $500 million term loan, people familiar with the matter said in January.
Expanded Operations
In the past three years, the lender expanded its operations in China, Hong Kong, Singapore and India. It also has a representative office in Indonesia where regulation prevents it from owning its own operation.
"We would like to have had a bigger presence in Indonesia," he said. The licensing regime in Indonesia "is not easy for us."
Westpac said in November that revenue from its Asia businesses rose 33 percent in U.S. dollar terms in the 12 months ended Sept. 30, without specifying the value of that revenue.
"We continue to be very confident that we will grow at a similar rate this year." Swaminathan said. "We believe we can continue with that momentum for a few years."