Syrians Attempt to Move Beyond Insults as Talks Resuming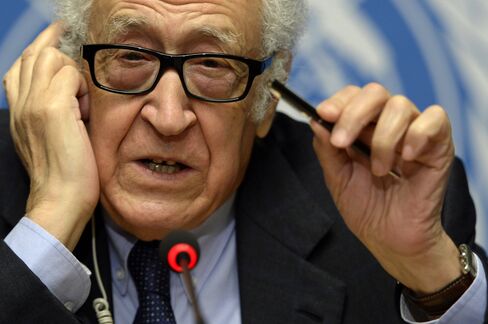 It started with avoiding eye contact, moved onto hurling insults and ended with plans to start again 10 days later.
In one of their early face-to-face meetings in Geneva last month, negotiators from Syria's government and its opponents abandoned talks about peace. Separated by more than 20 feet (6 meters), they called each other traitors and puppets. Then came accusations of war crimes.
United Nations mediator Lakhdar Brahimi initially pleaded with both sides to stop, "but then he let us talk without interrupting in the hope that we will blow off steam," said Murhaf Jouejati, a member of the Syrian opposition who was at the talks. "There were many moments of tension."
Today, the Syrians sat down again in the Swiss city almost three years after the start of the protests that escalated into a civil war. With more than 130,000 people dead and another 2.4 million displaced, the clock is ticking to at least agree on humanitarian issues such as food for cities under siege.
The acrimony that marked the last talks, known as Geneva II, and the inability of the two sides to make substantive progress don't bode well, said Sami Nader, a professor of international relations at Beirut's St. Joseph University.
Russia, which supports Syrian President Bashar al-Assad, and the U.S., which backs the opposition, put pressure on the two sides to attend the talks "but conditions are not yet ripe for a solution," Nader said. "This is the bicycle diplomacy where you keep the wheels spinning until everything is ready."
Wide Gaps
This week's meetings follow the same format as the first round. Brahimi will hold separate talks with each delegation and will also lead discussions with the two sides sitting opposite each other at a U-shaped table, avoiding handshakes and eye contact, and talking to each other through him.
As Brahimi met separately today with the opposition and Assad's team, discussions centered on the talks' agenda, chiefly questions relating to the cessation of violence and terrorism and the establishment of a transitional government, the UN said in an e-mailed statement.
The opposition presented "new evidence" pointing to the Assad government's "active support and collusion with international terrorism organizations," the coalition said in an e-mailed statement, without providing evidence.
Killings Condemned
For its part, the government submitted a draft statement denouncing the killing of 42 people in Maan in Hama province yesterday, state-run SANA news agency said.
Russian Deputy Minister of Foreign Affairs Gennady Gatilov and U.S. Under Secretary of State for Political Affairs Wendy Sherman will meet Brahimi in Geneva on Feb. 14, the UN said.
The talks came after a rare three-day, UN-mediated truce led to the evacuation of more than 1,100 people from historic parts of Homs, Matthew Hollingworth, director of the World Food Programme in Syria, said by phone. Brahimi had pushed for an easing of the siege on Homs, blockaded by the government for almost two years, to build confidence between the sides.
In his closing statement on Jan. 31, Brahimi said the delegations were leaving Geneva with the gaps between them still wide. "There is no use pretending otherwise," he said.
The Assad government has increased the use of barrel bombs hurled from helicopters on residential areas, the U.K.-based Syrian Observatory for Human Rights said. The group, which relies on a network of activists on the ground, said in an e-mail it recorded the deaths of 246 people by barrel bomb attacks in eastern Aleppo last week.
Assad's Role
The leaders of the talks have traded blame for the lack of progress. The main sticking point is Assad's fate. The opposition wants to focus on a transitional government with no role for the Syrian president.
The government delegation says the discussions should tackle terrorism, the term Assad's people use to describe the range of rebel groups, which include some with ties to al-Qaeda. Negotiations should then move on to Syria's sovereignty, territorial integrity and rejection of foreign interference, something the opposition rejects.
"Why are they rejecting the most evident things which are needed in order to move forward?" Bouthaina Shaaban, Assad's adviser, said in an interview. "Do they not care or are they not allowed to accept anything?"
Opposition Jeered
Assad's delegates also dismissed the opposition, led by the Syrian National Coalition, as ineffective. Foreign Minister Walid al-Muallem referred to it as a "small movement that calls itself opposition" and is detached from reality because they live in "five-star hotels abroad."
Syria's UN Representative, Bashar Jaafari, was the most senior official to attend the meetings. Muallem and Shaaban were also in Geneva, though they stayed away from the talks.
"They had no sense of responsibility," Jaafari told state-run Syrian TV after the talks, referring to the opposition. "They would receive instructions from outside on pieces of paper delivered every 10 minutes in a comical scene."
Haitham al-Maleh, an opposition member, said Jaafari used the same language during the meetings. "From what I saw in the first round, I have no hope of making any progress," al-Maleh said in an interview from Bonn.
Brahimi said in a Jan. 29 briefing that while the talks haven't achieved much, the "ice is breaking slowly."
"This isn't to say that we've become friends and we're going to kiss and hug soon," opposition negotiator Jouejati said by phone from Washington. "We have now experienced talking to the enemy. But I don't think that's going to change much because they are under instructions to behave in the same way" in this round, he said.