Sochi Security Risks Far From Over, U.S. Delegation Says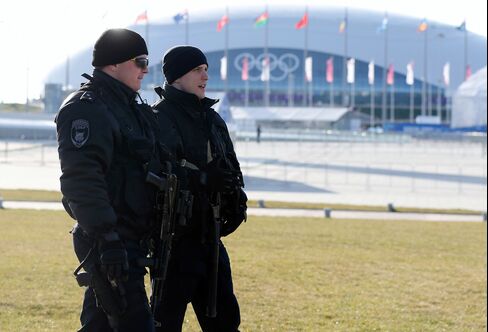 U.S. officials attending the Sochi Winter Olympics praised Russian measures to protect athletes and visitors from possible terrorist attacks.
"The level of security is quite appropriate; it's very good," Janet Napolitano, former secretary of homeland security and head of the U.S. delegation to the games, said today on CNN's "State of the Union" program.
The Olympics opened under tight security as Russian authorities responded to threats of terror strikes by Islamic militants. The Black Sea resort of Sochi is just a few hundred miles from the North Caucasus region where Russia has been battling Islamic extremists.
"We coordinate very closely with the Russians to share information," Michael McFaul, U.S. ambassador to Russia, said today on NBC's "Meet the Press" program. "We're quite satisfied with the level of cooperation we have now."
The Transportation Security Administration, which is part of the Department of Homeland Security, banned liquids, gels and aerosols from carry-on luggage on flights between the U.S. and Russia on Feb. 6. That followed a TSA warning that terrorists might hide bomb-making material in toothpaste tubes.
One disruption was averted Feb. 7 when a Ukrainian citizen attempted to hijack an airliner and demanded the pilots fly to Sochi, according to authorities in Turkey, where the airplane landed.
Would-be Hijacker
The civilian plane, operated by Pegasus Airlines and carrying 110 passengers, was flying from Kharkov, Ukraine, to Istanbul's Sabiha Gokcen airport when the would-be hijacker claimed to have a bomb and demanded the plane change course. The aircraft landed in Istanbul and the hijacker was tricked into thinking he was in Sochi, Turkish authorities said.
Ukraine has been a source of tension in the U.S.-Russia relationship. Russian officials have said that the pro-Western protests that began last year against President Viktor Yanukovych are being financed and directed by the U.S. and European governments.
Russian authorities are "aggressively" pursuing any leads regarding possible attacks at the games, though they aren't sharing internal intelligence with the U.S., Representative Mike Rogers, chairman of the House Intelligence Committee, said today on ABC's "This Week" program.
"They're kind of going on their own internal to Russia," Rogers said. "We can only hope that they'll find those individuals before they're able to penetrate any of the rings" of security at the Olympic venue, he said.