Outsized China Trade Clears Way to Meet Taiwan: Chart of the Day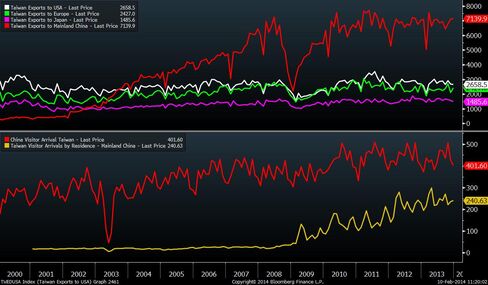 Growing economic ties between China and Taiwan, underscored by Taipei-based Foxconn Technology Group building iPhones on the mainland, have paved the way for the first formal meeting between the governments since World War II.
The CHART OF THE DAY tracks Taiwan's monthly exports to China, the U.S., Europe and Japan, with the mainland leading for the past decade. Taiwan's growing dependence on its largest neighbor is evidenced by the plunge in sales after Lehman Brothers Holdings Inc.'s collapse in 2008 exacerbated the global recession. The lower panel shows bilateral travel, with activity accelerating after Taiwan President Ma Ying-jeou lifted travel restrictions the same year.
Their economic interdependence is highlighted by the growth of Foxconn, which got its start making knobs for black-and-white televisions and now employees about 1 million people on the mainland. The group's publicly traded Hon Hai Precision Industry Co. is Apple Inc.'s largest supplier and also assembles PlayStations for Japan's Sony Corp.
China's top Taiwan affairs official, Zhang Zhijun, and his counterpart, Wang Yu-chi, are scheduled to meet tomorrow in the city of Nanjing, the seat of the government during the rule of Chiang Kai-shek's Nationalists before the civil war that forced Chiang to flee with his forces to Taiwan. The two sides have never signed a peace treaty and the world's most populous nation still has more than a thousand missiles aimed at Taiwan.
"This is a step forward in Beijing recognizing the reality of Taiwan's international status," Daniel Blumenthal, director of Asian Studies at the American Enterprise Institute in Washington, wrote in an e-mail.
Though the two sides are interdependent, the Taiwanese remain primarily interested in commerce rather than a closer political relationship, Blumenthal said.
Before it's here, it's on the Bloomberg Terminal.
LEARN MORE