Kiev Rally Draws Thousands as Opposition Warns of Default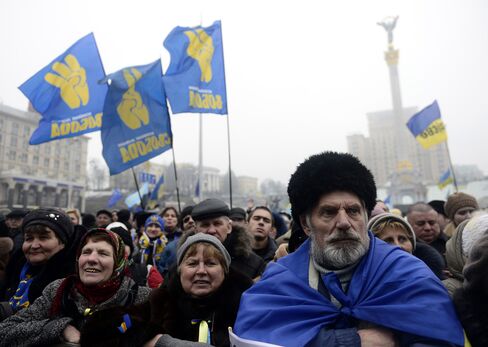 Anti-government protesters rallied in Ukraine's capital as opposition leaders warned that President Viktor Yanukovych is leading the nation toward default.
Thousands of people gathered yesterday in Kiev's Independence Square to demand snap elections and curbs on presidential powers. With Yanukovych struggling to restart a $15 billion Russian bailout, opposition leader Arseniy Yatsenyuk told the crowds that the U.S. and the European Union are ready to step in with financial aid.
Ukraine is "on the verge of default," Yatsenyuk said. "The criminal regime should be removed from ruling the country as soon as possible. Our path is a new constitution, a new president, a new government and a new nation, and we'll win."
Yanukovych triggered the political crisis, during which seven demonstrators and two policemen have died, by snubbing a co-operation pact with the European Union in favor of a loan and gas-price cut from Russia. The unrest is into its third month and is crippling Ukraine's ability to raise funds. The authorities are grappling to stabilize the economy and have imposed capital controls to stem a slide in the hryvnia.
While TV5 estimated attendance at more than 50,000, Kiev police put the number at 8,000. Turnout was boosted by milder weather, with temperatures rising above freezing after falling to minus 20 degrees Celsius (minus 4 degrees Fahrenheit) in recent weeks.
Tensions Persist
Attempts to reduce tensions in the wake of deadly clashes between protesters and police, including Premier Mykola Azarov's Jan. 28 resignation, have failed to clear the streets. Demonstrators have erected barricades and are holding out in a tent camp near the main square. They've also seized government buildings in Kiev and in other cities.
The state security service said in a statement on its website that it's put units on alert across the country because of calls about bomb threats at airports and railway stations and after a Ukrainian citizen allegedly sought to hijack a plane bound for Turkey.
The opposition criticized a meeting at the Winter Olympics in Sochi between Yanukovych and his Russian counterpart. Vladimir Putin halted the second tranche of Ukraine's bailout after Azarov's exit and wants the country to join a customs union rather than agree on free trade with the EU.
'Imperial Policies'
"Moscow demands Yanukovych show his loyalty -- that's why Yanukovych went to Sochi to get Putin's advice," said Oleh Tyahnybok, leader of the nationalist Svoboda party. The protests must also ward off "the Kremlin's imperial policies," he said.
Yanukovych and Putin met for one-on-one talks on Feb. 7, the Russian president's foreign-policy aide Yuri Ushakov told reporters in Sochi, declining to elaborate. Russia will meet its obligations to Ukraine in full by May, Russian Finance Minister Anton Siluanov said Feb. 8. The government hasn't yet decided on the timing for the second payment, he said.
The U.S. and the International Monetary Fund are ready to provide "substantial support" to Ukraine if it moves forward with economic overhauls, Assistant Secretary of State Victoria Nuland told reporters Feb. 7 in Kiev.
The IMF in 2010 agreed to lend $15.6 billion to Ukraine, freezing disbursements the following year after the government refused to raise domestic natural gas prices to trim the budget deficit. Azerbaijan is ready to contribute about $1 billion to an IMF-led bailout, Asim Mollazada, a member of the Azeri parliament's foreign relations committee, said Feb. 7.
Fitch Downgrade
Ukraine's central bank imposed capital controls as the crisis pushed the hryvnia down to a five-year low of 9 per dollar in trading last week. The currency gained the most since 2009 after policy makers set a monthly cap on individuals' non-trade foreign-currency purchases and banned purchases for investments abroad.
It was 0.5 percent higher at 8.5 as of 11:14 a.m. in Kiev, paring this year's loss to 3.1 percent, according to data compiled by Bloomberg.
Fitch lowered Ukraine's sovereign rating to CCC from B-, assigning a negative outlook, after political instability "increased markedly" since its last review Nov. 8, the company said in a statement. That puts Ukraine on the same level as Jamaica and below Greece and Egypt.
In Kiev, protesters put up memorial stands with pictures of the missing and killed, while volunteers gave out tea and food. Piles of secondhand winter clothes and blankets were available near the opposition's headquarters, a seized trade-union building guarded by men carrying steel pipes and sledgehammers.
Protest Call
Protest leaders urged people to take to the streets again tomorrow, when lawmakers may continue discussing constitutional changes to shift powers away from the president to parliament.
Valeriy Dehtyar, who teaches at the philosophy faculty of Kiev's Shevchenko University, said Yanukovych must stripped of his powers to appoint ministers and regional officials, and should eventually step down.
"Changing the constitution is the first step toward ending repression," she said yesterday. "But this one step won't be enough. Demand number one is still Yanukovych's dismissal."