Treasuries Decline First Time This Year Amid Bets on Fed Taper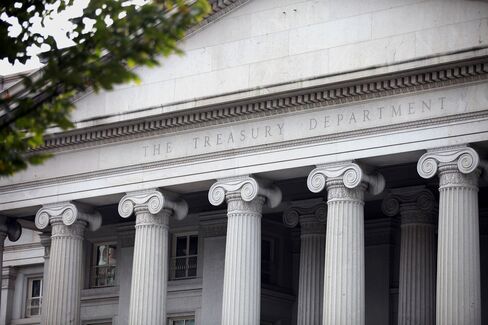 Treasuries dropped for the first time this year as a report showing a second month of weaker-than-forecast jobs growth failed to damp bets the Federal Reserve will cut bond purchases further.
U.S. government securities pared the weekly decline yesterday following the Labor Department report, after falling Feb. 5 as a gauge of U.S. service industries rose more than forecast. Investors are waiting to see what Fed Chairman Janet Yellen will say next week in her first policy report to Congress. Treasury bill rates jumped yesterday as an accord suspending the nation's debt limit expired.
"The data in the U.S. seems to be a lot more mixed to muddled," said Christopher Sullivan, who oversees $2.25 billion as chief investment officer at United Nations Federal Credit Union in New York. "The move on the week shows a market that is still very nervous."
The 10-year note yield rose four basis points, or 0.04 percentage point, to 2.68 percent this week in New York, according to Bloomberg Bond Trader prices. It declined two basis points yesterday. The price of the benchmark 2.75 percent security due in November 2023 fell 11/32, or $3.44 per $1,000 face amount, to 100 18/32.
The yield touched a three-month low of 2.57 percent on Feb. 3, after climbing to 3.05 percent on Jan. 2, the highest level since July 2011.
Long Bonds
Thirty-year bond yields increased seven basis points to
3.67 percent. They touched 3.52 percent on Feb. 3, the least since July 5, after reaching 3.97 percent on Jan. 2, the highest since August 2011.
The yield difference between U.S. two- and 10-year notes, called the yield curve, widened on a weekly basis for the first time this year, indicating investors expect economic growth to continue. The gap increased six basis points to 238 basis points.
Treasuries rose yesterday after the Labor Department reported a 113,000-job gain in employment last month, falling short of a Bloomberg survey forecast for an increase of 180,000. The data followed a revised 75,000 increase in December that was the smallest since January 2011 and compared with a forecast for an advance of 197,000.
The jobless rate fell to 6.6 percent, the lowest since October 2008, even as more Americans entered the work force, the data showed.
The Fed slowed its debt purchases under the quantitative-easing stimulus strategy to $65 billion over the past two months from 2013's $85 billion, sticking to its plan for a gradual withdrawal as the economy progresses. The central bank's bond-buying was designed to put pressure on long-term borrowing costs and spur growth.
High Hurdle
"The hurdle for not continuing the taper is exceptionally high," said Guy Haselmann, an interest-rate strategist at Bank of Nova Scotia in New York, one of 21 primary dealers that trade with the U.S. central bank. "They will be unwilling to reverse a direction they just started. The taper is going to continue."
The Institute for Supply Management's non-manufacturing index, which tracks U.S. service industries, increased to 54 in January from 53 in December, the Tempe, Arizona-based group said this week. Readings greater than 50 signal expansion, and economists polled by Bloomberg forecast 53.7. The group's employment gauge was the strongest since November 2010.
The ISM report "was a very good piece of data," said Thomas Roth, senior Treasury trader in New York at Mitsubishi UFJ Securities USA Inc. "Whether we're going back into a slump -- I don't think so."
A Commerce Department report on Feb. 13 is forecast to show retail sales in January were unchanged.
Yellen Report
Yellen, who was sworn in as Fed chief Feb. 3, succeeding Ben S. Bernanke, will deliver her semi-annual report on monetary policy and the outlook for the U.S. economy to the House Financial Services Committee on Feb. 11. She'll appear before the Senate Banking Committee two days later. Fed policy makers next meet March 18-19.
U.S. three-month bill rates touched 0.09 percent yesterday, the highest since Dec. 11, as an accord suspending the nation's debt limit expired and Treasury Secretary Jacob J. Lew said measures to stay under the ceiling will probably be exhausted by the end of the month.
The rate on the bill maturing March 6 rose to 0.10 percent yesterday, approaching an 11-month high of 0.14 percent it touched Feb. 4. The average rate this year is 0.04 percent.
Debt Ceiling
Congress and President Barack Obama agreed in October to suspend the debt ceiling until yesterday as part of an agreement to end a 16-day partial government shutdown. Lew said yesterday in a letter to House Speaker John Boehner that extraordinary measures to stay below the ceiling "are likely to be exhausted in less than three weeks." Lew urged lawmakers to extend the limit as soon as possible.
The government will sell on Feb. 10 $42 billion of three-month bills and an equal amount of six-month bills, both record amounts, and $50 billion of 72-day bills, giving it greater flexibility.
The Treasury is scheduled to auction $70 billion in notes and bonds next week: $30 billion of three-year debt on Feb. 11, $24 billion of 10-year notes on Feb. 12 and $16 billion of 30-year bonds on Feb. 13.
"Supply's becoming a bigger factor in the marketplace as the Fed tapers QE," said Thomas di Galoma, head of U.S. rates sales at ED&F Man Capital Markets in New York. "Supply is going to matter again."
Before it's here, it's on the Bloomberg Terminal.
LEARN MORE