Lukoil in Talks With Iran on Post-Sanctions Return, Mehr Says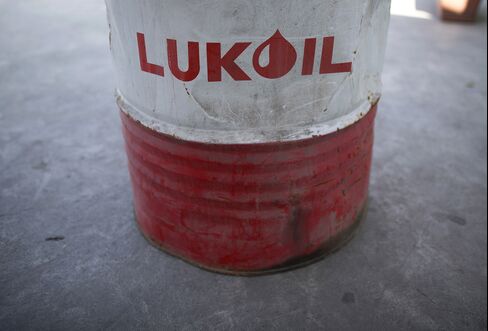 OAO Lukoil, Russia's second-biggest oil producer, is in talks with Iran's Oil Ministry about returning to the Islamic Republic to develop assets, Moscow's envoy to Tehran said, according to Iran's Mehr News Agency.
Russian Ambassador Levan Dzhagaryan said Lukoil was ready to resume work in Iran's oil and gas sector after economic sanctions are removed, state-run Mehr reported today. Moscow-based Lukoil abandoned its work in Iran in March 2010, citing pressure from U.S.-imposed economic sanctions.
Some of the U.S.- and EU-imposed restrictions on Iran, designed to target the country's disputed nuclear program, were lifted two weeks ago under a Nov. 24 interim pact between Tehran and six world powers. Iranian officials have since held meetings with executives from several European oil majors, notably at the World Economic Forum in Davos and a December meeting of the Organization of the Petroleum Exporting Countries in Vienna.
Lukoil Chief Executive Officer Vagit Alekperov said Nov. 29 that the company was ready to resume work in Iran after sanctions on its oil industry had been removed, Russia's Interfax news agency reported at the time. A spokesman didn't immediately respond to a request for comment today.
Dzhagaryan also called for stronger cooperation between Iran and Russia on gas exploration in the Caspian Sea, Mehr reported.
Lukoil was a minority partner in the Statoil ASA-led Anaran project and took a $63 million impairment in December 2009 due to the inability to invest in further development amid the threat of U.S. economic sanctions, according to its 2009 financial statements.
Dzhagaryan was addressing reporters in a meeting with the head of Iran's Chamber of Commerce when he made the comments, according to Mehr.
Before it's here, it's on the Bloomberg Terminal.
LEARN MORE