Ford Judge Makes Company Face New Trial Over Dealer Pacts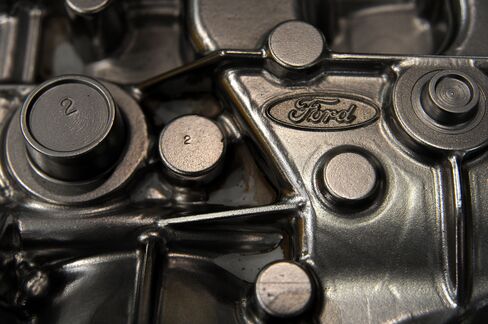 Ford Motor Co. must face a third trial on claims the carmaker violated commercial truck dealers' pricing contracts after an initial $2 billion award against the automaker was overturned and an Ohio judge later rejected a jury's verdict in the automaker's favor, a lawyer said.
A state judge in Cleveland concluded jurors were confused when they rejected Ford dealers' claims the automaker breached sales and service agreements by failing to publish prices for medium and heavy trucks, James Lowe, a lawyer for the truck sellers, said in an interview yesterday. Judge Peter Corrigan ordered Ford to face another trial of the claims, Lowe said.
"We are gratified to once again have the chance to show Ford took advantage of the dealers by manipulating agreements to divert their profits to the company," Lowe said.
Corrigan hasn't set a new trial date for the dealers' case, which has already has had two verdicts thrown out since the litigation started 12 years ago. In the first trial in 2011, Corrigan awarded about $2 billion, including about $1.2 billion in interest, to a class of about 3,000 dealers. At the time, that was the largest verdict ever against Ford, the second-biggest U.S. automaker.
A state appeals court threw that award out, finding Corrigan improperly excluded evidence that could have helped Ford in the case. In the second trial, an Ohio jury rebuffed the truck sellers' claims in September.
Jay Cooney, a spokesman for Dearborn, Michigan-based Ford, said the company was disappointed with the judge's decision to grant a new trial and plans to appeal it.
Price Publication
"We are confident the appellate courts will reinstate the jury's verdict, including that Ford did not break the sales and service agreement," Cooney said in a phone interview.
The dealers sued Ford in 2002, claiming the company broke an agreement to sell trucks at published prices, forcing them to pay more from 1987 to 1998.
The dealers said the agreement required Ford to publish all price concessions that were approved for any dealer. Failing to publish discounts given to some meant the others paid more, according to lawyers for dealers, such as Youngstown, Ohio-based Westgate Ford Truck Sales Inc, which serves as lead plaintiff in the case.
Ford denied committing any breaches or overcharging dealers, contending a program that offered some discounts wasn't barred by the contract.
The case is Westgate Ford Truck Sales Inc. v. Ford Motor Co., CV 02-483526, Court of Common Pleas, Cuyahoga County, Ohio (Cleveland).