Where to Find the Big Stock Buybacks
Apple surprises the market. Chief Executive Officer Tim Cook tells the Wall Street Journal that the company has bought back $14 billion worth of shares in the past two weeks. This represents 3 percent of shares outstanding. That's 78 percent on an annualized basis. At that rate, the world's largest company by market capitalization would effectively go private next year.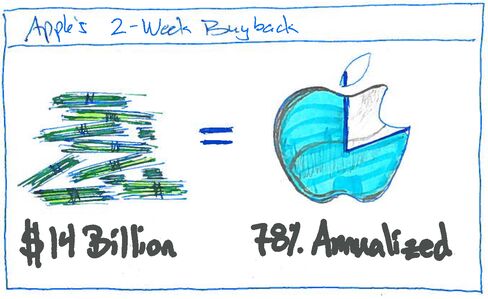 Apple opted to buy back stock on weakness, following earnings that revealed tepid growth of 5 percent. Buybacks can be an effective tool to help companies manage stock declines, as well as engineer higher earnings per share in future quarters by reducing share count. Either way, buybacks produce results. The PowerShares Backback Achievers Portfolio (PKW ) has handily beaten the S&P 500 Index over the past year, returning 28 percent versus 17 percent.
So today we go in search of other companies buying back stock, screening the S&P 500 according to two basic criteria: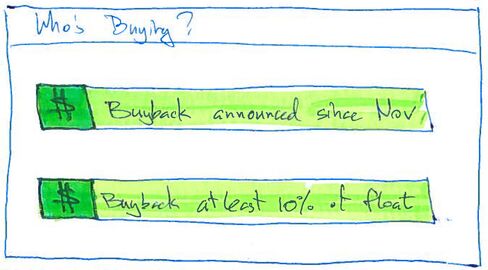 Twelve companies made the cut:
We included only those companies announcing buybacks in the past three months. Sliding the calendar back to September adds an additional seven companies, which we share here for the exclusive benefit of blog readers: Dollar Tree Inc. (DLTR ), Invesco Ltd. (IVZ ), Laboratory Corp. of America Holdings (LH ), Microsoft Corp. (MSFT ), Safeway Inc. (SWY ), Travelers Cos. (TRV ) and WellPoint Inc. (WLP ).