S&P 500 Caps First Weekly Gain in Four Amid Earnings, Jobs Data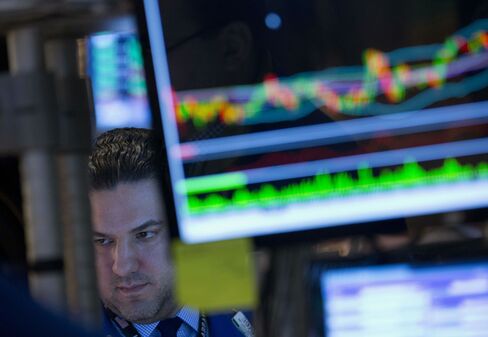 U.S. stocks rose for the week, halting three straight drops for the Standard & Poor's 500 Index, amid better-than-forecast earnings and optimism that economic growth is strong enough to weather stimulus cuts.
Walt Disney Co. advanced 4.2 percent after the hit film "Frozen" helped profit jump. Michael Kors Holdings Ltd. rallied 18 percent to lead gains among consumer stocks, as earnings exceeded forecasts. Green Mountain Coffee Roasters Inc. surged 33 percent as Coca-Cola Co. agreed to buy a 10 percent stake for about $1.25 billion. Twitter Inc. plunged 16 percent after reporting a slowdown in user growth.
The S&P 500 added 0.8 percent to 1,797.02 over the five days, ending the longest weekly losing streak since 2012. The Dow Jones Industrial Average increased 95.23 points, or 0.6 percent, to 15,794.08 for its first weekly advance in the last three.
"It's been a pretty decent earnings season," Robert Baur, chief global economist at Principal Global Investors in Des Moines, Iowa, said in a phone interview. His firm oversees $311 billion. The jobs data "was a really disappointing headline, but the details of the payrolls report were pretty good," he said. "We'll see the market end up higher for the year."
The S&P 500 rallied 2.6 percent in the last two days of the week, the most since October, as the index posted its first back-to-back gains of at least 1 percent in more than a year.
Jobs Data
Data Feb. 6 showed jobless claims dropped for the first time in three weeks. A government report the next day indicated payrolls rose by a less-than-projected 113,000 jobs in January and the unemployment rate unexpectedly dropped to the lowest level in more than five years.
The Federal Reserve has been scrutinizing employment data to determine the timing and pace of cuts to stimulus. The central bank last month said it will press on with a second reduction to its bond-buying program. The stimulus has helped drive the S&P 500 up 166 percent from its 2009 low.
The jobs data isn't "weak enough to certainly make the Fed change its course from tapering, but it might give some investors comfort that the Fed might not go too far too fast," Darren Bagwell, director of research at Minneapolis-based Thrivent Asset Management, said in a phone interview. His firm oversees about $82 billion.
Janet Yellen testifies to lawmakers in the week ahead in her first public comments since taking over as Fed chairman this month.
One-Day Drop
The S&P 500's two-day surge erased the index's 2.3 percent slide on the first day of the week. The biggest one-day drop since June came as manufacturing growth in the U.S. and China weakened more than estimated amid a rout in emerging markets.
Of the 344 companies in the S&P 500 that have reported earnings so far, 76 percent beat analysts' profit estimates while 66 percent exceeded on sales, data compiled by Bloomberg show. Cisco Systems Inc. and American International Group Inc. are among 57 companies in the S&P 500 scheduled to announce financial results in the coming week.
The Chicago Board Options Exchange Volatility Index dropped 17 percent over the week to 15.29 for the biggest retreat since October. The gauge of S&P 500 options known as the VIX rallied to a one-year high on Feb. 3 as the S&P 500 plunged, before tumbling 29 percent over the final four days of the week.
Eight out of 10 S&P 500 groups rose in the week. Consumer-discretionary companies climbed 1.9 percent for the best performance.
Disney Films
Disney jumped 4.2 percent to $75.67. The world's largest entertainment company's earnings beat analysts' estimates, underscoring its ability to translate success in theaters and children's TV networks into additional revenue for its parks, games and consumer products businesses.
Michael Kors advanced 18 percent to $94.22. The luxury-goods company founded by the designer of the same name raised full-year sales and profit forecasts after customers in Europe and in North America bought more of its products, which include accessories, footwear, watches and jewelry.
Gap Inc. rose 10 percent to $42. The clothing retailer reported an unexpected gain in January same-store sales and said it expects to report fourth-quarter profit of at least 65 cents a share, more than the average analyst estimate. Gap will report results on Feb. 27.
Green Mountain surged 33 percent to $107.75. Coca-Cola agreed to buy 16.7 million newly issued shares in the maker of Keurig coffee brewers for about $74.98 each, aiming to introduce a system for producing single-serve cold drinks.
Akamai Profit
Akamai Technologies Inc., which helps speed Internet-data delivery for customers such as Apple Inc. and Sony Corp., soared 19 percent to $56.64. The company forecast first-quarter profit and sales ahead of analysts' forecasts, allaying investors' concerns that Apple may build its own content-delivery network, reducing its reliance on Akamai.
Apple rose 3.8 percent to $519.68. The company said it bought back $14 billion in stock in the two weeks since reporting iPhone sales that fell short of estimates.
Expedia Inc. surged 15 percent to a record $74.45 after higher bookings helped the online travel service post quarterly profit that topped forecasts.
Twitter sank 16 percent to $54.35. Its first results as a public company showed a loss that was wider than projections. The operator of the microblogging website said its monthly active users grew 30 percent to 241 million from a year earlier, slowing from the 39 percent seen in the third quarter.
Microsoft CEO
Microsoft Corp. declined 3.4 percent to $36.56 for the biggest drop in the Dow. The software maker named Satya Nadella chief executive officer, tapping an insider steeped in business technology to speed up a turnaround at the company that helped usher in the personal-computing age, only to be left behind as the world embraced the Web and mobile devices.
Telephone stocks fell the most among S&P 500 groups, after AT&T Inc. introduced new service plans, the latest in an escalating price war among wireless carriers. AT&T sank 3.1 percent to $32.30 while Verizon Communications Inc. lost 2.5 percent to $46.81.