Puerto Rico Turmoil Supports Assured Guaranty: Corporate Finance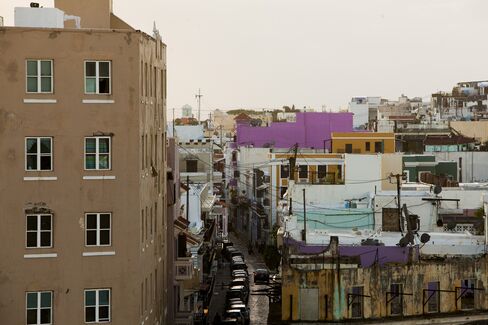 Puerto Rico's financial distress underscores the renaissance of Assured Guaranty Ltd., the bond insurer brought back from near-death after the financial crisis with the help of billionaire investor Wilbur Ross.
Securities issued by Puerto Rico and backed by Assured are trading at an average 93.7 cents on the dollar, higher than 91.4 cents for those backed by MBIA Inc. and 72.3 cents for uninsured general obligations of the commonwealth, whose obligations were downgraded to junk status on Feb. 4 by Standard & Poor's and today by Moody's Investors Service because of reduced market access. Assured has AA- ratings from S&P on its insurance units, the highest among active companies that back Puerto Rico's debt.
Pummeled in the financial crisis that cost Hamilton, Bermuda-based Assured its AAA rating, the company is benefiting as demand for insurance rises after defaults from issuers including Detroit and Harrisburg, Pennsylvania, and the growing stress in Puerto Rico. Almost 5 percent of municipal debt has been insured this year, up from 3.2 percent in 2013 and down from more than half before the crisis.
"Investors are going to come back" to insured municipal bonds this year, said Robert DiMella, who oversees about $7.5 billion of local debt as co-head of MacKay Municipal Managers in Princeton, New Jersey. "They've largely ignored it, didn't really want it and didn't focus on it for the last five years, but now because of how wrapped paper behaves in Harrisburg, Detroit and now Puerto Rico, it's getting investors really comfortable."
Heightened Fear
Assured had third-quarter bond insurance volume in the secondary market of $522 million face value guaranteed as investors sought the backing of Assured for existing securities. That quarter included Detroit's record Chapter 9 bankruptcy filing on July 18.
"Over the last six months, we've benefited from some of the actual events that have happened in the municipal market," William O'Keefe, the head of public finance marketing at Assured, said in a telephone interview. "It's a heightened fear of the future, but also a positive experience of owning the insured bonds during difficult times for some of these credits."
Dividend Rise
The insurer increased its quarterly dividend on Feb. 5 for a third consecutive year, boosting it by 10 percent to 11 cents a share.
Credit-default swaps tied to Assured Guaranty Municipal Corp. have declined 120 basis points this year to 404 basis points through yesterday, according to data provider CMA, which is owned by McGraw Hill Financial Inc. and compiles prices quoted by dealers in the privately negotiated market.
Credit-default swaps, which typically fall as investor confidence improves and rise as it deteriorates, pay the buyer face value if a borrower fails to meet its obligations, less the value of the defaulted debt. A basis point equals $1,000 annually on a contract protecting $10 million of debt.
"The Assured-protected Puerto Rico bonds are a useful data point because when a credit has potential problems is precisely when insurance becomes meaningful," Ross, who controlled about 14.8 million Assured Guaranty shares, or 8.2 percent, in September, said in an e-mail. "I believe that Assured's expertise and creativity are very important to the functioning of the entire tax-exempt bond community and that this will become increasingly clear as Detroit and Puerto Rico are resolved."
Ross Stake
Ross agreed to buy about 10.7 million shares of Assured's stock, then worth $250 million, in February 2008, and he committed as much as $750 million in additional capital to the insurer.
Assured can withstand theoretical losses from Puerto Rico, with a capital cushion of $450 million to $500 million against exposure to the territory of $5.4 billion, according to S&P. The ratings firm cut the island's general obligations to BB+ from BBB- and kept them on watch with "negative" implications. Moody's today lowered it to Ba2, one step below S&P's score.
"As Detroit starts working its way through the courts and as Puerto Rico declines, the value of bond insurance becomes more prominent," said Eric Friedland, head of municipal credit research at Schroder Investment Management North America, which oversees about $4 billion in local debt. "There are going to be many investors who hold insured bonds from these entities who are going to see close to full recovery just on the basis of having the bond insurance."
Junk Yields
Commonwealth securities have traded at yields consistent with speculative-grade bonds since at least September. Officials have struggled to revive the Caribbean island's shrinking economy and plan to sell notes as soon as this month to raise funds and plug deficits.
Investors in 10-year Puerto Rico general-obligation bonds without insurance have seen their debt decline over the past year at more than twice the pace of securities backed by Assured Guaranty Municipal Corp. Puerto Rico general obligations backed by Assured due in July 2024 traded yesterday at about 88 cents on the dollar, Bloomberg data show. A year ago, the price for the debt backed only by Puerto Rico's promise to pay it was about 107 cents.
That compares with similar-maturity uninsured debt at 63 cents on the dollar, the lowest in a month and down from 102 cents last year, Bloomberg data show.
Top Grades
Assured and other bond insurers, which had top credit grades before the financial crisis, help localities reduce borrowing costs. Assured and MBIA Inc. are the leading companies still seeking to back municipal bonds after rivals suffered losses on guarantees of subprime-mortgage-backed debt they'd insured in an expansion of the business.
MBIA created National Public Finance Guarantee Corp. in 2009 to revive its traditional business of insuring municipal bonds.
Municipal bond issuers pay an upfront premium to use insurers' credit ratings instead of their own. Ambac Financial Group Inc. sold the first policy on municipal debt in 1971, for a $650,000 bond of the Greater Juneau Borough Medical Arts Building in Alaska.
For more than three decades bond insurers paid few claims, allowing them to back bond payments that were 140 times their assets. That track record was shattered when markets seized up during the worst credit crunch since the Great Depression.
'Faring Better'
Since the crisis, municipalities grew accustomed to borrowing without insurance, as the Federal Reserve holding its benchmark rate near zero allowed states and cities to issue bonds at yields close to the lowest since the 1960s.
After Detroit's $18 billion bankruptcy filing in July, bond insurance returned to the spotlight. Companies that backed Detroit's debt were on the hook for at least $1.9 billion of unsecured debt and most of the insolvent city's water and sewer securities. Assured and MBIA said they would ensure bondholders receive full payment.
Assured's income from operations before extraordinary and one-time items has grown to $663.7 million in the 12 months through Sept. 30 from $535 million in calendar 2012, Bloomberg data show. That's up from normalized income of $68.9 million in 2008 and a loss of $303.3 million in 2007.
"We've seen the credit risk, the business model proving out," Tom Weyl, director of municipal research at Barclays Plc, said in a telephone interview. "Bondholders are faring better when they have bond insurance."