Payrolls in U.S. Probably Expanded at a Faster Pace in January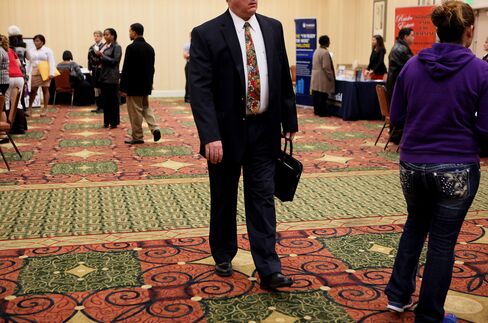 Employers in the U.S. probably added more than twice as many workers in January as in the prior month and the unemployment rate held at a five-year low, economists project a report will show today.
Payrolls increased by 180,000 workers after a 74,000 gain in December that was the smallest since January 2011, according to the median forecast of 92 economists in a Bloomberg survey. The jobless rate held at 6.7 percent, the lowest since 2008, the survey also showed.
The figures are probably even less predictable than usual as persistently bad winter weather, the expiration of emergency unemployment aid and annual revisions will all come into play. Broad-based improvement in the labor market is needed to help generate bigger wage gains and drive the consumer spending that accounts for almost 70 percent of the economy.
"There is more uncertainty than usual" surrounding the January report, said Michael Gapen, a New York-based senior U.S. economist at Barclays Plc. "We expect a moderate improvement in hiring this year. The unemployment rate will keep heading lower."
The Labor Department's report is due at 8:30 a.m. in Washington. Bloomberg survey payroll estimates ranged from increases of 105,000 to 270,000.
Today's report may also show private employment, which excludes government agencies, climbed 185,000 in January after a 87,000 advance the prior month, according to the survey.
Staffing Services
Demand is improving, signaling employers will be encouraged to expand this year, according to staffing services provider Kelly Services Inc.
"Companies will be more confident about making stronger investment in people and capital as the outlook continues to strengthen," Carl Camden, chief executive officer of the Troy, Michigan-based company, said on a Jan. 30 earnings call. "We're going to see, not necessarily rock-and-roll employment growth, but a nice, steady growth."
Department-store chains were among companies announcing workforce reductions last month after the holiday-shopping season. Macy's Inc. said it would eliminate about 2,500 jobs and close five stores, while J.C. Penney Co. plans to cut about 2,000 positions and shutter 33 locations.
In today's report, the jobless rate may be influenced by the expiration of emergency unemployment benefits for more than a million Americans after Congress allowed the program to lapse at the end of 2013. Senate Democrats are trying to drum up enough Republican votes to pass a three-month extension.
Expired Benefits
With the end of benefits, some unemployed people may have stopped looking for work and would no longer be counted as part of the labor force. This is among reasons economists at Goldman Sachs Group Inc. project the jobless rate fell to 6.6 percent last month.
The unemployment rate, which is derived from a separate Labor Department survey of households than the payrolls tally, has fallen from a post-recession high of 10 percent, reached in October 2009. Employers may beef up headcounts after growth quickened in the second half of 2013, one reason why the Federal Reserve is trimming stimulus.
The jobless rate "remains elevated," according to the Fed, which last month said it will trim monthly bond-buying by $10 billion to $65 billion. The central bank reiterated it'll probably hold the target interest rate near zero "well past the time" the unemployment falls below 6.5 percent, "especially if projected inflation" remains below its longer-run goal of 2 percent.
"Labor market indicators were mixed but on balance showed further improvement," Fed policy makers said in a statement following their January meeting.
Weather Effects
Weather may also play a role in the employment report after economists said inclement conditions were instrumental in the smaller-than-projected December gain. It was the coldest December since 2009 and snowfall was 21 percent above normal, according to weather-data provider Planalytics Inc. January was the coldest in three years, with snowfall almost four times above normal.
Labor Department figures showed 273,000 Americans didn't report to work during the December survey week because of bad weather, the most for any December since 1977. Bad weather hurts the payroll count only if employees received no compensation for the pay period that included the 12th of the month. In the household survey, a person is counted as employed even when away from the job due to weather.
Weather's Influence
Economists including those at Goldman Sachs, Barclays, Credit Suisse and UBS Securities LLC said weather conditions were more favorable in the payroll survey week for January compared with the prior month, leading to a bounce-back.
"You might as well throw a dart this month" on payrolls estimates, said Joshua Shapiro, chief U.S. economist at Maria Fiorini Ramirez Inc. in New York. Unusually harsh weather may have wreaked havoc with official data in January too, he said.
The Labor Department today will also issue its annual benchmark revision spanning April 2012 to March 2013.
In September, the agency issued a preliminary estimate that employment increased by an additional 345,000 in the year ended in March. The figure included home health-care workers reclassified to a category captured by the payroll data. Excluding those workers, the estimate showed a downward adjustment of 124,000.
                       Bloomberg Survey

================================================================
2/6/2014          Nonfarm  Private     Manu Unemploy
                 Payrolls Payrolls Payrolls     Rate
                   ,000's   ,000's   ,000's        %
================================================================

Date of Release     02/07    02/07    02/07    02/07
Observation          Jan.     Jan.     Jan.     Jan.
----------------------------------------------------------------
Median                180      185       10     6.7%
Average               182      185        9     6.7%
High Forecast         270      280       15     6.9%
Low Forecast          105       85      -12     6.5%
# of replies           92       47       28       86
Previous               74       87        9     6.7%
----------------------------------------------------------------
================================================================
2/6/2014          Nonfarm  Private     Manu Unemploy
                 Payrolls Payrolls Payrolls     Rate
                   ,000's   ,000's   ,000's        %
================================================================
4CAST Ltd.            125     ---      ---      6.6%
ABN Amro Inc.         200      190     ---      6.7%
Action Economics      170      175        5     6.7%
Ameriprise Finan      165      170       10     6.7%
Banca Aletti & C      210      220       14     6.8%
Bank of the West      180     ---        10     6.6%
Bank of Tokyo- M      180     ---      ---      6.7%
Banorte-IXE           190     ---      ---      6.6%
Bantleon Bank AG      165     ---      ---      6.7%
Barclays              175      175       15     6.7%
Bayerische Lande      150     ---      ---      6.6%
BBVA                  190      195       11     6.8%
Berliner Sparkas      180     ---      ---      6.7%
BMO Capital Mark      180     ---      ---      6.6%
BNP Paribas           185      185     ---      6.6%
BofA Merrill Lyn      185      190     ---      6.6%
================================================================
2/6/2014          Nonfarm  Private     Manu Unemploy
                 Payrolls Payrolls Payrolls     Rate
                   ,000's   ,000's   ,000's        %
================================================================
Capital Economic      200     ---      ---      6.8%
CIBC World Marke      190     ---      ---      6.8%
Citi                  180      175       15     6.7%
ClearView Econom      200      195       11     6.8%
CohnReznick           180      175     ---      ---
Comerica Inc          160     ---         0     6.7%
Commerzbank AG        200     ---      ---      6.6%
Corporate Knight     ---      ---      ---      6.7%
Credit Agricole       200     ---      ---      6.6%
Credit Suisse         195      195     ---      6.7%
CTI Capital Inc       157     ---      ---      ---
Daiwa Securities      225     ---      ---      6.6%
Danske Bank A/S       165      160       10     6.7%
DekaBank              200     ---      ---      6.8%
Desjardins Group      175     ---      ---      6.9%
Deutsche Bank Se      175      175     ---      6.5%
================================================================
2/6/2014          Nonfarm  Private     Manu Unemploy
                 Payrolls Payrolls Payrolls     Rate
                   ,000's   ,000's   ,000's        %
================================================================
Dubuque Bank & T      185     ---      ---      6.8%
Fathom Financial      156     ---      ---      ---
First Trust Advi      156      156      -12     6.7%
FTN Financial         175      185     ---      6.7%
Goldman, Sachs &      200      200     ---      6.6%
Haitong Internat      165      170       10     6.6%
Helaba                225     ---      ---      6.8%
High Frequency E      220     ---      ---      6.6%
HSBC Markets          171      173       12     6.7%
Hugh Johnson Adv      215      215       10     6.8%
IDEAglobal            185      195       10     6.7%
IHS Global Insig      170     ---      ---      6.8%
Informa Global M      175     ---         8     6.7%
ING Financial Ma      140      150        5     6.5%
Intesa Sanpaolo       180     ---      ---      6.7%
J.P. Morgan Chas      205      205        5     6.6%
================================================================
2/6/2014          Nonfarm  Private     Manu Unemploy
                 Payrolls Payrolls Payrolls     Rate
                   ,000's   ,000's   ,000's        %
================================================================
Janney Montgomer      166      161     ---      6.7%
Jefferies LLC         145      150       15     6.6%
John Hancock Fin      200     ---      ---      6.7%
JP Morgan Asset       205      211     ---      6.5%
Landesbank BW         200     ---      ---      6.6%
Lloyds Tsb Bank       197      192       10     6.7%
Maria Fiorini Ra      160      165     ---      ---
Market Securitie      200     ---      ---      6.6%
MET Capital Advi      175      230     ---      6.7%
Mizuho Securitie      175     ---      ---      6.8%
Moody's Analytic      175      180       10     6.6%
Morgan Stanley        215     ---      ---      6.5%
National Bank Fi      180     ---      ---      6.6%
Nationwide Insur      185     ---      ---      6.8%
Natixis               190     ---      ---      6.7%
Nomura Securitie      175      170       10     6.6%
================================================================
2/6/2014          Nonfarm  Private     Manu Unemploy
                 Payrolls Payrolls Payrolls     Rate
                   ,000's   ,000's   ,000's        %
================================================================
Nord/LB               160     ---        10     6.7%
OSK-DMG               185     ---      ---      6.7%
Oxford Economics      189     ---      ---      ---
Pantheon Macroec      225     ---      ---      6.9%
Paragon Research      108     ---      ---      6.8%
Pierpont Securit      150      160     ---      6.6%
PineBridge Inves      150     ---      ---      6.8%
PNC Bank              225      220        5     6.8%
Prestige Economi      155     ---      ---      6.5%
Raiffeisenbank I      190      200     ---      6.6%
Raymond James         165      160     ---      6.6%
RBC Capital Mark      185      190     ---      6.5%
RBS Securities I      170      170     ---      6.7%
Regions Financia      202      208       12     6.5%
Scotiabank            200     ---      ---      6.7%
Societe Generale      270      280     ---      6.5%
================================================================
2/6/2014          Nonfarm  Private     Manu Unemploy
                 Payrolls Payrolls Payrolls     Rate
                   ,000's   ,000's   ,000's        %
================================================================
Southbay Researc      236      232     ---      ---
Southern Polytec      105       85     ---      6.9%
Standard Charter      195      195     ---      6.5%
Sterne Agee & Le      135     ---      ---      6.7%
Stone McCarthy R      155      146       15     6.5%
TD Securities         189      185        6     6.5%
TrimTabs Investm      140     ---      ---      ---
UBS                   200      205     ---      6.7%
UniCredit Resear      175     ---      ---      6.7%
University of Ma      175      178       10     6.7%
Wells Fargo & Co      195     ---      ---      6.6%
Westpac Banking       170     ---      ---      6.8%
Wrightson ICAP        210      210     ---      6.8%
================================================================