Biden Sees 'No Obvious Reason' Not to Run for President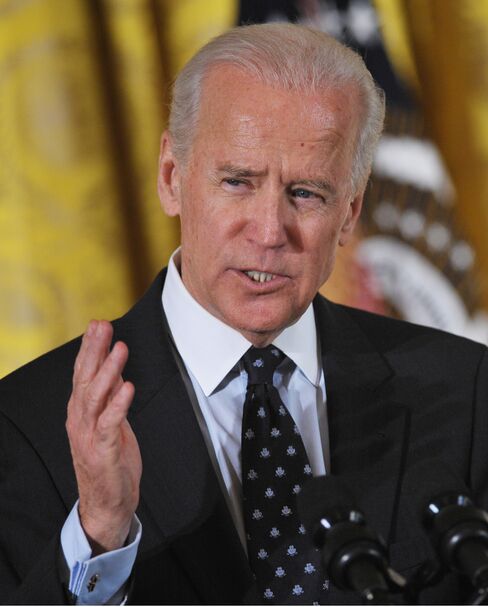 Vice President Joe Biden said he sees no reason why he shouldn't run for president in 2016 while giving no indication he's made a decision to jump into the race.
"There may be reasons I don't run, but there's no obvious reason for me why I think I should not run," Biden told CNN's "New Day" program today.
Biden said he'd make his decision sometime in the middle of 2015. If he enters the race, Biden may face former Secretary of State Hillary Clinton, who also is a contender for the Democratic nomination. Polls consistently show Clinton, 66, is the frontrunner for the party's 2016 contest.
Biden, 71, said his decision will be based on whether he's the best candidate to advocate for two issues he cares most about: standing up for ordinary people and a "sound foreign policy."
Biden's comments are a sign that the vice president and former U.S. senator from Delaware is at least considering a third bid for the presidency after attempts in 1988 and 2008. He dropped out of the 2008 race after failing to get even 1 percent support in the first nominating contest, the Iowa caucuses. Then-Illinois Senator Barack Obama selected him as his running mate and the two went on to win the general election.
'Best Qualified'
"For me, the decision to run or not run is going to be determined by me, as to whether I am the best qualified person," Biden said. "Doesn't mean I'm the only guy that can do it. But if no one else, I think, can, and I think I can, then I'd run. If I don't, I won't."
Clinton, the wife of former President Bill Clinton and Obama's chief rival for the 2008 Democratic nomination, hasn't said whether she'll run.
If she decides to, Clinton will have a head start on Biden and other Democrats considering the race.
A Washington Post-ABC News poll conducted Jan. 20-23 showed Clinton with a 60 percentage point lead over Biden with backing from 73 percent of Democrats and Democratic-leaning independents.
In addition, an independent super-political action committee, Ready for Hillary, reported raising about $4 million last year. Donors included billionaires Alice Walton, the daughter of Bentonville, Arkansas-based Wal-Mart Stores Inc. founder Sam Walton, investor George Soros and Marc Benioff, chief executive officer of San Francisco-based Salesforce.com.
Before it's here, it's on the Bloomberg Terminal.
LEARN MORE