Argentina: Repeat Economic Offender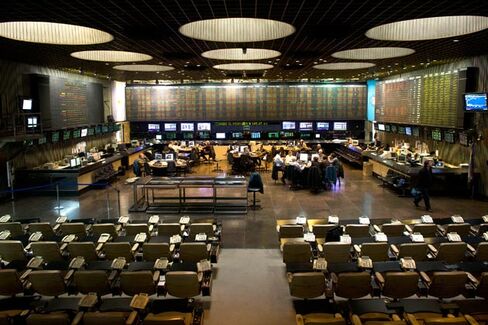 How many Argentines does it take to screw in a light bulb?

Three: two to grill up meat while the other guy bribes the electrician.

That extemporaneous wisecrack has been winning me free alfajores at Miami bakeries for more than a decade now.

And why not? The rent may be too high in Buenos Aires, for everything from apartments, to beef, to auto parts. But Argentina doesn't seem to care. This is, after all, an economic recidivist, having defaulted on its debt in 1982, 1989, and 2001—and it is about to do so yet again even as it still fights jilted creditors over the last reneg.
Argentina's borrowing costs now stand near a two-year high; its government notes due 2017, which have fared the worst in a basket of 65 emerging markets clocked by JPMorgan Chase, yield 19.25 percent. That is painfully hard to service when your holdings of foreign currency stand at a seven-year low: $28 billion now compared with $53 billion just three years ago. The market for credit-default swaps suggests an 85 percent chance of Argentina defaulting again within five years.
Buenos Aires allowed the peso to tank 19 percent last month amid at least 25 percent inflation and the widest budget deficit in nearly two decades. Something is about to give.
Leftist President Cristina Fernández de Kirchner this week pointed the finger at bankers, grocers, and her critics in the local press for Argentina's runaway inflation and withered domestic investment. "We are not going to allow them to continue looting the Argentine people's pockets," she vowed in a speech.
Thanks to Argentina's endowment of agricultural commodities, which have enjoyed a bull run since its last default, Fernández and her late husband (the former president) have doubled government spending from 15 percent of gross output since 2003. That largesse was showered on costly transportation and electricity subsidies and cash payouts to the country's lower class.
Companies were appropriated and delisted from Argentina's stock market. Foreign investors fled. Argentina, which used to be an envied emerging market, was recently demoted to a "frontier" economy alongside the Philippines and Ghana. Communication from the Fernández administration has lately slowed to a trickle.
"The situation is a lot more serious than the government is letting on," says Kathy Lien, managing director of foreign exchange strategy at BK Asset Management in Manhattan. "If we were to see them default in this environment, it would have global repercussions. While the world is very different than it was in 2001, I don't think other economies will escape without damage." Lien says she is watching the rest of Latin America, as well as Turkey, where there is also a paucity of foreign reserves.
In 2015, Argentina must pay $5.9 billion of local-law bonds. The government's present plan of currency devaluation to make ends meet could send inflation jumping above 40 percent, according to Bank of America Merrill Lynch analysts Marcos Buscaglia and Jane Brauer. "This," they write, "would decrease Argentina's payment capacity, not improve it, and would therefore put the [2015 bond] payment more in danger."
That prospect, says Lien, would then spawn the game of "who's next?" on trading floors in London and New York. How would teetering Venezuela—Argentina's socialist brother-in-arms—continue to service its debt, especially if crude oil prices take a hit? How would that news be received in Brazil, which is grappling with a plunging currency, anemic growth, and capital flight? It all could quickly race up the pyramid to China and its heavily dependent Asian "tiger cub" economies.
Even in this globally promiscuous lending environment, with tiny interest rates seemingly everywhere, Argentina is blackballed from easy access to international debt capital markets. The lender of last resort, of course, is the International Monetary Fund, which would exact the pain of austerity, including popular subsidy pullbacks, to give Buenos Aires the $10 billion-plus credit infusion it would desperately need to function after a default, according to BCP Securities.
"It's clear the government there doesn't really care how it's viewed by world markets," says Craig Shealy, an investment banker now working on several deals across Latin America. "But it also doesn't fully appreciate what it's setting its people and infrastructure up for." New business and capital formation, he hears from sources, is drying up dramatically in and around Buenos Aires, as money flees and everyone from financiers to peddlers face prohibitive borrowing costs.
"This," he says, "is not about the little guy vs. foreign bankers. This is about stifling the guy trying to start a food cart, for years to come."
Before it's here, it's on the Bloomberg Terminal.
LEARN MORE