Back to the Future With Wooden Cars
Finnish papermaker UPM looks to reinvent itself with new products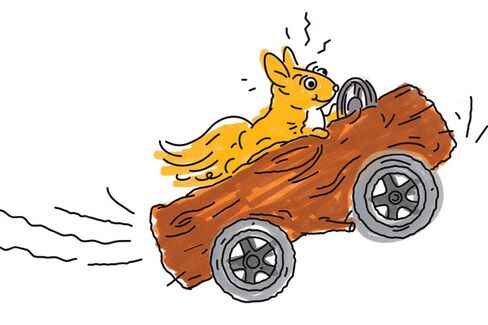 A prototype with a certain 19th century sensibility is set to première at the Geneva International Motor Show in March. Finnish papermaker UPM-Kymmene will showcase an eco-friendly wooden car whose frame is built from tree pulp and plywood; the vehicle also runs on fuel made from papermaking byproducts.
UPM's Biofore concept car meets all European crash and fire safety standards and offers all the features of a conventional car. "We wish to demonstrate that these materials respond to the needs of the automotive industry," says Juuso Konttinen, UPM's vice president for new business.
The Helsinki-based timber company sees wood as a viable option to replace heavy steel components in cars. "Everyone is striving for lightness now," says John Heitmann, a professor of history at the University of Dayton and president of the Society of Automotive Historians. "The only real constraint is forming body panels that are rigid enough to meet safety requirements."
UPM is talking to several automakers about adopting its technology, which uses heat-shaped plywood and pulp fiber to reinforce plastic car parts. The materials are competitive with other composites, such as fiberglass, UPM says, and can reduce a car's weight by more than 15 percent.
"The more expensive energy becomes, the more likely this type of trend will continue," says Joe Harmon, the designer of the wood-based Splinter, a concept car made in 2008 to demonstrate wood's potential. "Wood uses very little energy in manufacturing, especially when compared with aluminum, steel, and carbon fiber."
Automakers are starting to use lighter materials to improve efficiency. Ford Motor's F-150 pickup truck, the best-selling vehicle in the U.S. for the last 32 years, will soon become the first high-production vehicle with an aluminum body—making the trucks about 15 percent lighter than current versions—when the 2015 model arrives in showrooms later this year. Volkswagen is using more aluminum and high-strength steel in its cars, and BMW is turning to carbon-fiber bodies to reduce weight. Renault plans to use plant-based materials—from hemp fibers in body panels and trim to soybean in some cushions—to replace as much as 10 percent of the plastics in its cars.
UPM aims to diversify into areas such as biofuels, wood-sourced composite materials, and chemical additives made by breaking down pulp to microscopic dimensions. The company, founded in Finland in the early 1870s, has struggled with a global decline in newsprint demand for almost a decade.
Wooden cars present a back-to-the-future moment for automakers. The world's first cars, including Gottlieb Daimler's 1885 two-wheeled Reitwagen, were largely made of timber. But rising production volumes in the 1920s made wood difficult to work with because of natural variations, such as knots.
Over time, steel's strength and reliability relegated wood to veneer accents on the dashboards of luxury cars. British sports car maker Morgan Motor is a rare exception—it has been using ash frames in its vehicles for decades. "Wood can be a very aesthetically beautiful material when used properly," says the University of Dayton's Heitmann. "The materials that are going in are attracting people for more reasons than just environmental interest."
Still, wooden car developers face significant hurdles. Carmakers have equipped factories with costly stamping machines, and their engineers and designers are experts in metal engineering and production. The extra investment in equipment and know-how to introduce plant-based materials might be more than they're willing to take on right now. "The automotive industry is highly cost-sensitive when it comes to components and materials," says Pietro Boggia, a transportation analyst at consultancy Frost & Sullivan.
UPM and its partners, including Helsinki Metropolia University of Applied Sciences, are betting the Biofore prototype can change automakers' perceptions. The first test-drive of the wood-framed vehicle was conducted in pouring rain in August to dispel concerns about the car's ability to handle water. And, unlike wooden cars of the 1940s and '50s, the car itself doesn't look like it's made from trees. UPM's Konttinen says that's part of the perception the technicians and designers have worked to address—the car is eco-efficient but looks like other cars on the road.
Before it's here, it's on the Bloomberg Terminal.
LEARN MORE