Topix Losing to Bonds by Record Amount Thwarts BOJ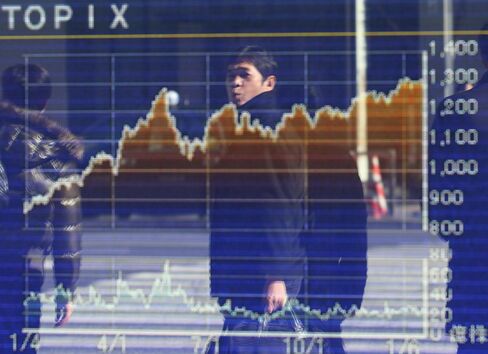 Feb. 6 (Bloomberg) -- Bank of Japan policy makers trying to drive investors into riskier assets to fuel economic growth are meeting a new obstacle: a global equity rout that has driven local bonds to a record start to the year versus stocks.
Japan's sovereign debt maturing in more than a year has gained 1.07 percent this year, while the Topix index of shares lost 10.7 percent including reinvested dividends. The difference of 11.8 percentage points in their performance is the biggest since data became available in 1993. U.S. bonds have risen 1.73 percent during the period, while the Standard & Poor's 500 Index fell 5.1 percent.
Prime Minister Shinzo Abe's administration has sought to spur stock investment by creating a new JPX-Nikkei Index 400, offering tax incentives to individuals and advising the state pension fund to boost holdings. The central bank's buying of more than half of Japanese government bonds to be issued this fiscal year, aimed at spurring risk appetite by lowering yields, encouraged JGB purchases by shielding holders from losses.
"The BOJ's unprecedented easing is stabilizing bonds regardless of stock movements," Ayako Sera, a Tokyo-based market strategist at Sumitomo Mitsui Trust Bank Ltd., which manages the equivalent of $474 billion in assets. "Stocks are looking a bit tired with the policy tools that Japan has in place. It's too much to ask for money to swiftly move into risk assets with the tax incentives."
Taper, Turmoil
The Federal Reserve's reduction of stimulus in the U.S. and lingering turmoil in emerging markets have taken their toll on Japanese stocks. The Topix tumbled 6.3 percent last month, the worst performance for January since 2009.
The yen appreciated 3.2 percent against the dollar last month, the most since April 2012, amid increased demand for haven assets. A stronger currency typically erodes the relative competitiveness of local exporters.
The Fed trimmed its monthly bond buying by $10 billion for a second month to $65 billion at its January meeting. Economists in a Bloomberg survey predict the central bank will continue tapering at each meeting and end its bond-purchase program this year.
A retreat that started in emerging markets after Argentina devalued the peso and Turkey's decision to double interest rates backfired erased $3 trillion from global equity values.
Japan's government last month started the Nippon Individual Savings Account program, which lets individuals buy as much as 1 million yen ($9,861) of stocks and other securities without paying taxes on dividends and capital gains for five years.
Higher-Yielding Assets
A panel appointed by Abe to advise on how to overhaul the Government Pension Investment Fund has said it should increase investment in higher-yielding assets and consider using the JPX-Nikkei Index 400.
Introduced on Jan. 6 in Tokyo, the gauge consists of members that are selected for their profitability and use of cash. It's the idea of officials in Abe's ruling Liberal Democratic Party, which had proposed using a share index to influence corporate priorities and improve the competitiveness of public investment funds.
The GPIF, the world's largest pool of retirement savings, allocated 16 percent of its 123.9 trillion yen of assets to local stocks at the end of September, compared with 58 percent for domestic bonds. It returned 2.7 percent in the July-September period.
Extreme Danger
The fund is in "extreme danger" from investing mostly in local debt because yields have been depressed by the central bank's buying, said Makoto Utsumi, a member of an advisory panel on the 2006 establishment of the GPIF. Holding government bonds to maturity will result in a "huge amount of low-returning assets," Utsumi said, urging the fund to look at riskier assets.
"The GPIF is like a symbol of Japanese investors," Yasunobu Katsuki, the Tokyo-based chief credit analyst at Mizuho Securities Co., said in a phone interview last month. "If it starts to increase the weighting of stocks, it will send a message to overseas investors that the Japanese are becoming serious about investing in their own country."
The January slump made equities cheaper relative to their earnings prospects and payouts to shareholders. The dividend yield climbed to 1.86 percent this week, the highest since June 26, while the ratio of prices to estimated earnings per share slid to 13.7 times, a level unseen since Aug. 30.
Yen Outlook
"Valuations will be cheap" if stocks fall a bit further, said Kyoya Okazawa, the local head of global equities and commodity derivatives at BNP Paribas Securities Japan Ltd. "Japanese stocks are definitely attractive for the medium-to-long term because the BOJ will move if the yen rises toward 95" per dollar.
That would be the strongest level for Japan's currency since June 19. The yen traded at 101.45 as of 10:30 a.m. in Tokyo today, compared with a five-year low of 105.44 on Jan. 2.
It slid 18 percent last year, the biggest drop since 1979, as the BOJ bought about 7 trillion yen of Japanese government bonds to keep borrowing costs lower. The Topix jumped 51 percent, the most since 1999.
Dividend Yield
On a global basis, Japanese equities are still not among the most undervalued markets. Of the 70 major stock markets tracked by Bloomberg, there are 47 gauges that have a lower price-earnings ratio. The Topix offers the seventh-lowest dividend yield.
The world's third largest economy is set to slump in the second quarter as the government increases the 5 percent sales tax in April to 8 percent. Gross domestic product will shrink 4.1 percent after adjusting for inflation in the three months through June, according to the median estimate of economists surveyed by Bloomberg.
Even so, Japan's economy will continue its moderate recovery despite the tax increase, BOJ Governor Haruhiko Kuroda told reporters after concluding a policy meeting on Jan. 22. The inflation rate will probably reach the BOJ's target of 2 percent around 2015, he said after concluding a policy meeting on Jan. 22.
The central bank's unprecedented asset purchases have kept swings in bond prices at the least globally, a contrast with just nine months ago when Kuroda struggled to contain the spike in volatility driven by the very program that he introduced.
"You had a sense of urgency and attention by Team Abe and the Bank of Japan in May," said Jesper Koll, the Tokyo-based head of Japan strategy at JPMorgan Chase & Co. "If I look at the last four weeks, the sense of urgency has gone and they're saying 'everything is fine. The economy will weather the VAT hike and we don't need to do anything else,'" he said, referring to the planned sales-tax increase.
To contact the reporters on this story: Masaki Kondo in Singapore at mkondo3@bloomberg.net; Mariko Ishikawa in Tokyo at mishikawa9@bloomberg.net; Shigeki Nozawa in Tokyo at snozawa1@bloomberg.net
To contact the editor responsible for this story: Garfield Reynolds at greynolds1@bloomberg.net