Seoul High Court Upholds Ruling in Favor of Samsung Chairman Lee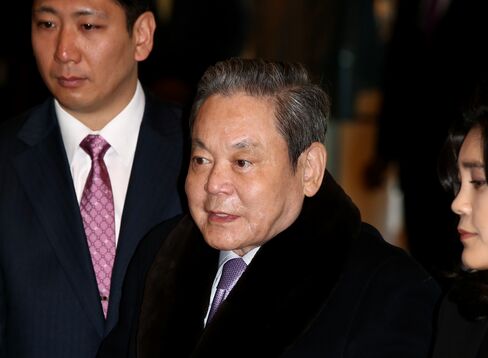 Samsung Electronics Co.'s billionaire Chairman Lee Kun Hee can retain all the wealth inherited from his father, a South Korean court ruled, upholding an earlier decision and thwarting his brother's efforts to claim part of the money.
The Seoul High Court rejected the claim by the brother, Lee Maeng Hee, in a ruling announced today.
The decision follows an appeal last year by Lee Maeng Hee against the Seoul Central District Court's ruling that he and four family members failed to prove their claims for a 4.1 trillion-won ($3.8 billion) stake in Samsung Electronics and Samsung Life Insurance Co. Today's ruling leaves the elder Lee with only one remaining venue for appeal, the supreme court.
Lee Maeng Hee hasn't yet decided whether to file another appeal, said his lawyer Cha Dong Eon.
Yun Jae Yun, a lawyer for Chairman Lee, welcomed the outcome and said the judge's decision was reasonable. Samsung Group has no comment on the ruling, the group said in a statement.
Lee Maeng Hee dropped part of his claims on Jan. 14 and has been seeking 940 billion won in shares and dividends in the two Samsung companies, while the other relatives withdrew all their claims. Family members of Lee Kun Hee, 72, including his brother and his sister Lee Sook Hee, started the legal fight in February 2012.
Shares of Samsung Electronics rose 1.8 percent to 1,259,000 won at the close of trading in Seoul. The stock fell 13 percent from its peak by the end of 2013 amid competition from Apple Inc.'s iPhones, closing the year 9.9 percent lower, its first drop in five years.
The company now has a market value of $171 billion.
Without a Will
Lee Byung Chull, who founded what is now South Korea's largest business group, died in 1987 without a will. Under Lee Kun Hee's leadership, Samsung transformed itself from a dried-fish exporter in 1938 into a group whose interests include the world's biggest maker of televisions, mobile phones and memory chips, as well as real estate, artillery guns and amusement parks.
Lee Kun Hee's fortunes have risen alongside that of Samsung Electronics to make him South Korea's richest person with a net worth of $10.2 billion, according to the Bloomberg Billionaires Index.
Suwon, South Korea-based Samsung Electronics also posted its slowest quarterly profit growth since 2011 in the three months ended Dec. 31, when net income excluding minority interests rose 5.4 percent to 7.22 trillion won.
The latest family dispute has brought Lee Kun Hee back into the courtroom after run-ins with the law that included a charge of tax evasion, which led him to quit as chairman of the group and electronics company in 2008. He received a presidential pardon in 2009 and reassumed running Samsung Electronics in 2010.
Before it's here, it's on the Bloomberg Terminal.
LEARN MORE