Puerto Rico Hinges on Offering Awaited by BlackRock: Muni Credit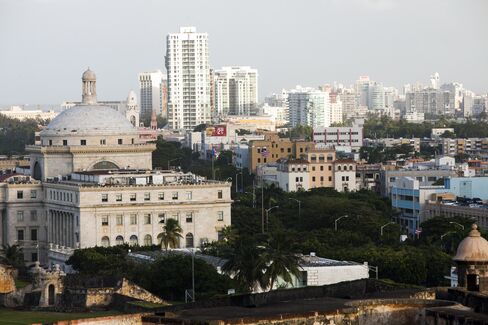 Investors including BlackRock Inc. and Vanguard Group Inc. say Puerto Rico's finances hinge on its ability to carry out a planned debt sale this month after the territory's credit rating was cut to junk.
The U.S. commonwealth of 3.6 million people is set to issue bonds to help plug budget deficits and stave off a deeper downgrade. Standard & Poor's said the island needs to raise funds or the company may lower the rating again after cutting it this week to BB+, the highest speculative grade, because of limited access to capital markets.
Even after some Puerto Rico bonds gained yesterday following the cut, investors overseeing more than $250 billion of municipal bonds said the commonwealth's fiscal outlook remains dire. The Caribbean getaway's economy has struggled to grow since 2006, and its government borrowed to balance budgets every year since at least 2000.
"Unless the economy turns around dramatically, which doesn't seem likely, there's going to be a need to restructure at some point," said Peter Hayes, head of munis at New York-based BlackRock, which oversees about $108 billion in local debt. "If they bring a deal, that point is later. If they can't bring a deal, that point is sooner."
Shelter Option
Puerto Rico and its agencies have $70 billion of debt, about $16 billion of which is backed by Puerto Rico's full faith and credit, according to the commonwealth's Government Development Bank, which handles bond sales. In a 2013 Moody's Investors Service ranking of state debt loads, only California and New York had more gross tax-supported obligations.
The appeal of the island's bonds lies in their tax benefits: The securities are tax-exempt nationwide. About 70 percent of U.S. municipal mutual funds own Puerto Rico securities, according to Morningstar Inc.
Commonwealth securities have traded at speculative-grade levels since at least September, luring buyers such as hedge funds. Debt sold by Puerto Rico and its agencies lost 20.5 percent in 2013, the biggest drop since at least 1999 and about eight times more than the loss for the $3.7 trillion municipal market, S&P data show.
Buyer Chatter
"The chatter is there are willing hedge fund buyers at double-digit yields," said Chris Alwine, head of munis at Valley Forge, Pennsylvania-based Vanguard, which oversees $130 billion in local debt. Unlike some mutual funds, hedge funds typically aren't restricted from buying junk debt.
Puerto Rico's borrowing costs may rise as a result of the descent into junk, though the shift won't immediately cripple the commonwealth's finances, Alwine said. About 0.4 percent of the company's munis are Puerto Rico securities.
"Even at high interest rates, the portfolio of their debt borrowings doesn't turn over rapidly, so the weighted average interest cost will go up gradually," he said.
"Ultimately, it comes down to if they can get this financing done in the short-term, and then longer-term if they can turn the economy around," he said.
Because of the downgrade, Puerto Rico faces $940 million in accelerated debt payments on variable-rate securities and swap collateral postings, David Hitchcock, an S&P analyst, wrote in a Feb. 4 report. Officials are negotiating to change those requirements, Governor Alejandro Garcia Padilla, who took office in January 2013, said yesterday in a statement.
Liquidity Confidence
"We are confident that we have the liquidity on hand to satisfy all liquidity needs until the end of the fiscal year, including any cash needs resulting from" the S&P decision, Government Development Bank Chairman David Chafey and Treasury Secretary Melba Acosta said in a statement Feb. 4.
At least one other rating company may lower the island in the next 30 to 45 days, said Hayes at BlackRock.
Moody's and Fitch Ratings give Puerto Rico the lowest investment grade. Moody's on Dec. 11 threatened to cut Puerto Rico to junk within 90 days if it is unable to access capital markets. Fitch may lower it to junk by June 30, the firm said on Nov. 14.
Soaring interest rates prohibited the commonwealth from selling as much as $1.2 billion of sales-tax bonds last quarter.
While a bond sale would address the island's immediate cash-flow needs, the elevated borrowing costs will stress its finances, Hayes said.
"All that does, in our mind, with an economy that's shrinking, is to continue that downward spiral," Hayes said.
Yields Fall
Following the S&P downgrade, yields on some commonwealth securities fell to a two-month low. General obligations maturing in July 2041 traded yesterday with an average yield of 8.26 percent, the lowest since Nov. 25 and down from 8.35 percent the day before, data compiled by Bloomberg show. The securities yielded about 5 percent a year ago. Debt due in 2034 and 2039 also gained yesterday.
"There could be a bit of a relief because folks may not have wanted to buy a bond prior to the downgrade," Bill Delahunty, director of muni research in Boston at Eaton Vance Management, which oversees about $25 billion of local debt. With the S&P cut, "the overhang is removed."
In the rest of the municipal market, yields rose on some maturities yesterday. Interest rates on benchmark munis are the highest in about two weeks, with 10-year maturities yielding 2.65 percent, Bloomberg data show.
Garcia Padilla released plans yesterday to reduce the deficit for the fiscal year ending June 30 by $170 million, to $650 million. The governor said he will unveil in the next few weeks a spending proposal for next fiscal year that won't use borrowing to balance the budget.
Governor's Plans
"Our government must work within our means," Garcia Padilla said in a statement. "Continued deficit reductions are an essential initiative that will help us to achieve our goal."
An index that tracks the island's economic activity has contracted in six of the last seven fiscal years, according to the GDB.
S&P in its report this week cited the island's ties to the U.S. economy and the trade fueled by that relationship.
The U.S. Treasury isn't considering financial assistance for the commonwealth, said a spokeswoman. The administration is working with Puerto Rico officials to ensure they're taking advantage of existing federal resources, she said.
As Puerto Rico's bond yields have soared in the past six months, the cost to protect its debt has risen as well.
It costs the annual equivalent of about $759,000 to hedge $10 million of Puerto Rico bonds for five years through credit-default swaps, close to the highest since at least July, according to data provider CMA, which is owned by McGraw Hill Financial Inc. and compiles prices quoted by dealers in the privately negotiated market.
In comparison, the cost for debt of Illinois, the lowest-rated U.S. state, is about $157,000.
Bill Gross, manager of the $237 billion Pimco Total Return Fund, the world's largest bond fund, said yesterday on CNBC that Puerto Rico will avoid default.
Before it's here, it's on the Bloomberg Terminal.
LEARN MORE