GM Profit Misses Estimates on Europe Restructuring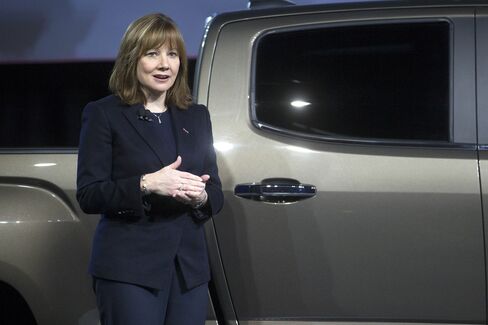 General Motors Co. posted fourth-quarter profit that missed analysts' estimates as the automaker lost money in Asia outside of China, faced higher taxes and restructured in Europe.
Profit excluding one-time items was 67 cents a share, Detroit-based GM said yesterday in a statement, trailing the 87-cent average of 14 analysts' estimates compiled by Bloomberg. That compares with 48 cents a share a year earlier. GM's miss follows Ford Motor Co.'s fourth-quarter results last week that exceeded estimates with per-share profit of 31 cents, excluding one-time items.
While GM had a record year in North America, and China remained a bright spot in its international unit, a higher tax rate and restructuring expenses, mostly in Germany, crimped profit, said Chief Financial Officer Chuck Stevens.
"Our view is that sell-side consensus didn't comprehend that restructuring," Stevens told reporters in Detroit yesterday. "The final announcement associated with that wasn't done until early December and due to that we needed to book some of the restructuring costs, primarily related to the severance portions of that program."
The automaker's international operations unit reported adjusted earnings before interest and taxes of $208 million during the quarter from $676 million a year earlier, GM said. Excluding China, the unit, which included Middle East operations, lost about $200 million in the quarter compared with about $300 million in profit a year earlier, GM said. The unit's fourth quarter loss excluding China widened from about $125 million in the third quarter, according to GM.
International Headwinds
"Clearly year over year we had a number of challenges in the International Operations outside of China," Stevens said. It's "fundamentally across-the-board deterioration in earnings year over year."
China adjusted-Ebit margins shrank to 7.6 percent from 9.1 percent during the same quarter a year ago and had been as high as 11.7 percent in the first three months of 2013, GM said. Additional costs from two new factories due to open soon in China along with increased pricing pressure from competitors were a factor, Stevens told analysts.
"Our mix is going to improve substantially as we launch a number of SUVs in that market and Cadillac, we're going to triple the sales of Cadillac in China between 2013 and 2015," Stevens said.
GM should return to 9 percent margins in the future, he said.
Revenue Miss
"This business has been able to track to margin levels above 9 percent through thick and thin over the last several years," Matt Stover, an analyst with Guggenheim Securities, said yesterday in a note to investors. "In many ways, China had been an answered question for GM but we believe that GM will have to face increased scrutiny about the outlook for this business unit," wrote Stover, who rates the shares neutral.
GM's revenue rose to $40.5 billion from $39.3 billion a year earlier, missing the $40.9 billion average estimate of seven analysts. North America adjusted EBIT rose to $1.88 billion from $1.14 billion. The average of four analyst estimates was for $1.9 billion.
GM's full-year profit fell to $5.35 billion from $6.19 billion in 2012. Fourth quarter profit fell to $1.04 billion from $1.19 billion.
"Launches of some of the best vehicles in our history combined with significant improvements in our core business led to a solid year," Mary Barra, who became chief executive officer on Jan. 15, said in the statement. Barra succeeded Dan Akerson, who retired from the role last month to deal with his wife's health issues.
Earnings 'Disappointment'
The quarter set the stage for the Barra era and underscored the challenges she faces in operating the world's third-largest automaker by vehicle sales. The company has said it expects modest profit gains in 2014 as improvements in operating performance in North America are offset by restructuring costs overseas. Full-year adjusted Ebit rose 9.1 percent to $8.58 billion and for the fourth quarter advanced 52 percent to $1.9 billion.
"GM's 2014 guidance for flat adjusted profit margins vs. 2013 adjusted profit margins meant that there was a lot of hope that GM would end the year on a strong note -- instead it had a big earnings miss, so there's disappointment there," Christian Mayes, an analyst with Edward Jones, said yesterday in an e-mail. "Investors are probably extrapolating what that means for this year."
Barra Era
Barra has reiterated GM's plans to break even by mid-decade in Europe where the automaker has lost more than $18 billion since 1999. Barra and Dan Ammann, who was promoted to president from chief financial officer, face challenges of stemming losses in Asia outside of China and stabilizing the company's South America business. Ammann was succeeded by Stevens, who had been CFO for North America.
GM Europe's adjusted-EBIT loss narrowed to $345 million in the fourth quarter from $761 million during the same period a year ago.
"At this point, any kind of improvement in Europe is a win just because it's so bad there," David Whiston, an analyst with Morningstar Inc., said in a telephone interview in advance of yesterday's release.
The company's South America adjusted-EBIT fell to $27 million from $135 million a year ago.
South America
In January, GM forecast that it expected to see improved adjusted-Ebit results in North and South America while decreases elsewhere in the world. Stevens yesterday reiterated the guidance, while also noting an increased risk of volatility in South America because of exchange rates.
GM last year faced $1.4 billion in additional costs primarily because of a currency issue in South America, he said.
"The risk profile in South America over the past several weeks has increased significantly," Stevens said. "Emerging market currencies have moved sideways pretty significantly across the world."
Before departing, Akerson put in place several moves that affected the quarter's results. During the fourth quarter, GM sold off its stake in PSA Peugeot Citroen and announced it would pull the Chevrolet brand from Europe and end production in Australia.
Special Items
One-time costs comprised $1.2 billion on goodwill writedowns on operations in India and South Korea and property impairments mostly from pulling manufacturing out of Australia and $700 million to pull Chevrolet out of Europe. Those were almost offset by $700 million from equity sales in Ally Financial and Peugeot, $500 million in tax settlements and $600 million from wage litigation in South Korea.
GM reiterated its forecast in January to spend $1.1 billion this year on restructuring costs overseas.
"Of the $1.1 billion, more front-end loaded in the first quarter and then mitigating going through Q2 to Q4," Stevens said yesterday, noting that as much as 35 percent of the costs will occur in the first quarter.
In North America, GM is benefiting from new products such as the Chevrolet Silverado pickup and Impala sedan. The company swept the North American Car and Truck of the Year awards last month at the Detroit auto show with the Silverado and Corvette sports car, the first time GM has done so since 2007. Improved pricing for new vehicles helped boost region results by $1.2 billion, GM said. Adjusted-Ebit margins rose to 7.5 percent from 5 percent during the same quarter a year ago.
Treasury Sale
"This is a clear inflection point and demonstrates strong progress toward our mid-decade goal of 10 percent margins," Stevens said.
The automaker's refreshed lineup along with the U.S. Treasury selling its remaining stake in the automaker last year helped build investor optimism. GM shares gained 42 percent last year, outpacing a 30 percent gain for the Standard & Poor's 500 Index. Yesterday the stock closed little changed at $35.23 in New York.
Based on the record North American result, eligible UAW members will be paid profit-sharing checks that average $7,500, up from $6,750 a year earlier.
U.S. pension plan underfunding was cut by 48 percent to $7.3 billion at the end of the year, from $14 billion a year earlier. Globally, pension obligations were $19.9 billion underfunded, a decline from $27.8 billion at the end of 2012.
Barra has said she plans to accelerate strategies set under Akerson when she was product-development chief, noting opportunities to continue growing in China, GM's largest market by volume, and efforts to boost the Cadillac brand globally with new models.
Management Changes
Akerson had set several mid-decade goals, including boosting North American operating margins and increasing deliveries in China to 5 million from 3.16 million last year.
Barra's promotion last month set in motion a series of leadership changes throughout GM. Mark Reuss succeeded her as the leader of product development, and Alan Batey became president of North America operations. GM announced this week that David Bonderman would not stand for re-election to the company's board and that Robert Krebs would retire.
The Detroit auto show was Barra's first taste of life as the new CEO. She was mobbed by reporters from around the globe. That was followed by an invitation to sit with first lady Michelle Obama at the State of the Union address last week. And at an auto-dealers' convention last week, former Secretary of State Hillary Clinton said Barra broke the "steel ceiling."