Jamaican Bobsledders Get to Sochi Olympics Without Equipment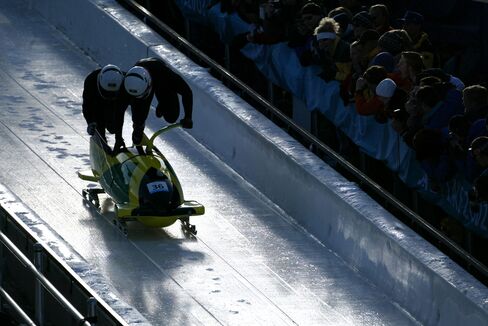 Jamaica's bobsled team was unable to train today at the Winter Olympics in Sochi and may have to compete with borrowed equipment after travel plans from New York were disrupted.
"Our luggage and blades didn't arrive," Winston Watts told reporters today. "Maybe it was left in New York. It was bad weather there and we missed our flight to Moscow. What I am wearing now is what I have."
The Caribbean island nation qualified for the two-man event last month after a 12-year absence. The team is led by 46-year-old Watts, a veteran driver who piloted the Olympic team in 2002, and anchored by brakeman Marvin Dixon.
"We have a back-up plan, a lot of guys wanted to help us, and we may race on borrowed blades," said Watts, who will compete at his fourth games. "It is a tough way to start."
Watts first competed at the 1994 Games in Lillehammer, six years after Jamaica's debut at the Calgary event inspired the 1993 movie "Cool Runnings," which made $68.8 million at the U.S. box office.
Before it's here, it's on the Bloomberg Terminal.
LEARN MORE