Gold Medalist Shaun White Drops Out of Sochi Snowboard Event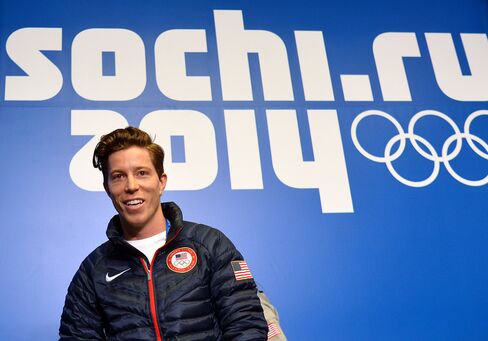 Olympic gold medal-winning snowboarder Shaun White withdrew from the slopestyle event at the Winter Games in Russia.
White will now only compete in the halfpipe at Sochi's Rosa Khutor Extreme Park on Feb. 11, the U.S. Olympic Committee said in an e-mailed statement today. The 27-year-old said he was injured during practice yesterday.
"So far I'm alright, but I've twisted my wrist a little," he told journalists.
In slopestyle, athletes perform on a slope featuring various obstacles including rails, quarterpipes and jumps. It is making its debut in Sochi.
Earlier this week, snowboarders asked organizers to make changes to the course because of safety concerns after a large jump toward the end of the run resulted in several injuries. Norway's Torstein Horgmo dropped out of the games with a broken collarbone suffered in a crash.
International Olympic Committee spokesman Mark Adams said some adjustments were made to the course in recent days.
"There have been some minor changes and that would be normal, especially for a new sport at the Olympics," Adams said in a news conference.
White said yesterday at a media briefing that the course was "intimidating."
Course Danger
"Any time you step out on a course there's a certain amount of danger, there's a certain element of risk you put yourself in for," he told reporters. "Maybe this course might have a little bit more than others, but we're trying to figure it out."
White won Olympic gold medals in men's snowboarding at the 2006 Turin Games and in 2010 at Vancouver. He also has won 13 Winter X Games gold medals for snowboarding and two skateboarding golds in the X Games. He's known for his appearance, with long, curly red hair gaining him the nickname the "Flying Tomato."