Yale Applications Rise 4.4% on Outreach to Low-Income Students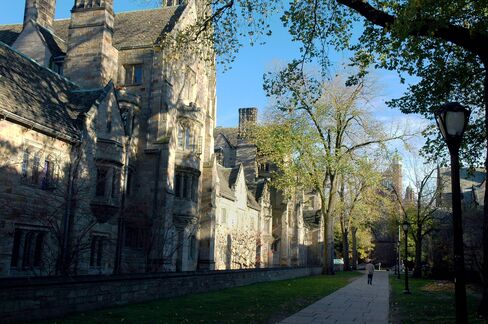 Applications for admission to Yale University's freshman class rose 4.4 percent after the school boosted efforts to attract low-income students.
Yale received 30,922 applications, up from 29,611 last year, Jeremiah Quinlan, dean of undergraduate admissions at the school in New Haven, Connecticut, said today in an e-mailed statement. Students will be notified of decisions on March 27.
Year-to-year fluctuations are less important than long-term demographic trends, Quinlan said. Yale was successful in trying to boost applicants from two groups, students in zip codes that included large numbers of low-income families and those who identify as under-represented minority groups. Yale sent special mailings to those students over the summer, he said.
"Some schools drive application counts higher by heavy solicitation of high school students, even if the students targeted are unlikely to be competitive for admission," Quinlan said in the statement. "Yale restrains its marketing efforts in an effort to focus attention on the most competitive potential applicants."
Harvard College received 34,295 applications, a 2 percent decline, the school said yesterday. Princeton University reported last week that it received 26,607, an increase of less than 1 percent from the previous year.