U.S. 1-Month Bill Rate Highest Since Debt Ceiling Debate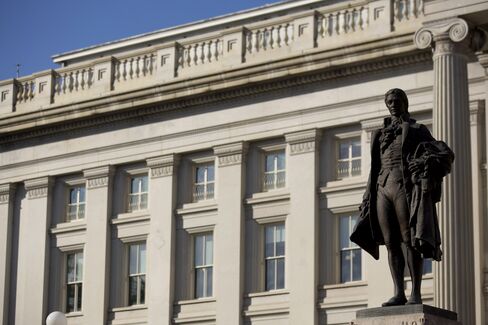 Rates on one-month bills reached the highest since October's debt-ceiling deadlock after Treasury Secretary Jacob J. Lew reiterated yesterday that the U.S. expects to run out of borrowing capacity by the end of February.
Rates surged to as high as 0.14 percent from 0.03 percent, Bloomberg Bond Trader data show. Rates on bills maturing March 6 are 0.11 percent, up from 0.01 percent on Jan. 22. One-month bills have averaged a discount rate of 0.06 percent since the Federal Reserve lowered its target rate to a range of zero to 0.25 percent at the end of 2008.
The debt ceiling was suspended through Feb. 7 under an agreement between President Barack Obama and congressional Republicans in October. The Treasury Department uses so-called extraordinary measures, or accounting maneuvers, stay under the ceiling. Lew said some measures that the Treasury has previously used to remain under the debt limit aren't available this time.
"There is an expectation of some type of debt-ceiling resolutions, but until then, concern is slowly cropping up in the bill market that early March the Treasury will be very thin on cash if no agreement is made," said Thomas Simons, a government-debt economist in New York at Jefferies LLC, one of 21 primary dealers that trade with the Fed. "The concern of a technical default is still low, but every day that passes with no solution you will see more worry."
Debt Ceiling
One-month bill rates traded at 0.08 percent after rising earlier to the highest since Oct. 17. The securities have averaged 0.01 percent this year, according to Bloomberg Bond Trader Data. Three-month bill rates touched 0.05 percent. Similar securities that mature well past the debt ceiling deadline, six months from now, have fallen by 4 basis points this year.
Treasury said today it will suspend sales of its state and local government series of non-marketable securities, the first of extraordinary steps it can take to keep funding the government without breaching the nation's debt limit. The suspension will start on Feb. 7.
The securities, called "slugs," are sold to states and municipalities so they can comply with federal tax laws and arbitrage rules when they have money to invest from their issuance of tax-exempt bonds.
Economic Momentum
Lew, in remarks prepared for a speech at the Bipartisan Policy Center in Washington, said that the U.S. risks breaching the federal debt limit by the end of this month and called on Congress to raise it immediately to sustain economic momentum.
The Senate's third-ranking Republican last week predicted that his party may provide enough votes to raise the limit in February without conditions, such as defunding Obamacare, that members sought in the past.
"Debt-ceiling negotiations will cause noise and rhetoric from politicians, which could spook the markets which are already concerned about the emerging markets," said Philip Marey, a senior market economist at Rabobank Groep in Utrecht, the Netherlands, in a telephone interview on Jan. 30. "Money market funds may be especially prone to start making sure they don't have any exposure to Treasury bills and bonds that are expiring around the debt limit deadline. Things could escalate rather rapidly."
A dispute over raising the debt limit was among the issues that led to the 16-day partial government shutdown in October. House Republicans tried repeatedly to attach policy provisions curbing Obamacare and promoting the Keystone XL pipeline in exchange for raising the debt cap and funding the government. The debt limit was suspended with no conditions, through bipartisan votes in the Republican-led House and Democratic-controlled Senate.
In October, yields on Treasury surged almost half a percentage point from negative levels the month earlier as money-market mutual funds shunned debt at risk of being effected by a government default.