Stockholm Shantytowns Fuel Election Debate as Nationalists Rise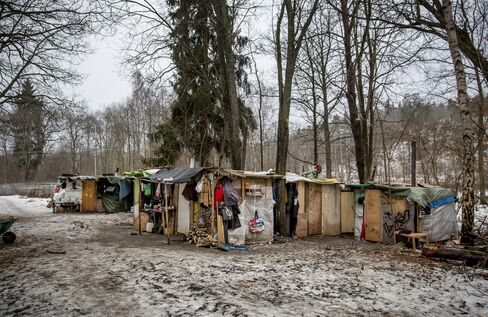 When Linus Rispling jogs in the Stockholm suburb of Hoegdalen, he sees a side of Sweden that was thought eradicated by the rise of the welfare state.
Scattered in the wooded and snowy hills, not far from high-rise apartments, stand more than 15 shacks and trailers, home to people fleeing poverty and crisis outside of Sweden. It's one of at least 20 shantytowns and camp sites that have sprung up around the city over the past few years, housing an estimated 80 nationalities.
"The whole thing is really sad, with people who are so poor that they have to come here to beg," said Rispling, a 35-year-old cartographer who has lived in Hoegdalen since 2007. "They do no harm, bring life to the center of Hoegdalen and are very nice and polite -- they always say hi during my runs."
Not all Swedes are as welcoming. A surge in arriving foreigners, coupled with growing unemployment over the past six years, has stoked support for the anti-immigration Sweden Democrats. Polls show the party could win more than 10 percent in September's election, cementing its place as a kingmaker between the Social Democratic- and Conservative-led blocs.
Sweden has accepted the second-biggest asylum load in Europe amid a surge in Syrian refugees. Because the Nordic nation largely avoided Europe's debt and economic crisis, it's also a destination for migrants who lost jobs at home. After spending the 20th century eradicating extreme poverty and building the welfare state, Sweden is now grappling with how to accommodate the needs of groups that fall outside its established systems.
'Expel Them'
EU migration "is definitely a problem," said Richard Jomshof, a member of parliament for the Sweden Democrats, which entered the legislature in 2010. "Many of these people are begging in the streets and can be pretty intrusive. We've been loud and clear about that we should have the right to tell them to move but also to expel them from Sweden."
In the hills of Hoegdalen, groups of two or three trailer homes are tucked away under snow-laden trees next to a railway line, a gravel pit and a busy road. In one location, they adjoin four shacks made of wood and plastic.
On one afternoon last month, as temperatures hovered below freezing, the only sign of life was smoke rising from an old trailer. A young woman coming out of the trailer declined to comment when queried in English, Swedish and German. Three men standing next to a Bulgaria-registered car declined to comment in German.
'Human Rights'
Stefano Kuzhicov, the chairman of the Swedish National Association of Romani in Europe, said in a telephone interview last week that it's important to remember that all European Union members have a right to live anywhere in the bloc.
"This is also about human rights, which is an aspect that needs to be highlighted more," he said by telephone while in Stockholm. "There is a lot of 'we' and 'them' in the debate, which gives rise to prejudice, discrimination, imbalances and hatred in our society."
The Sweden Democrats topped a list of which party had the best immigration policies in a poll published by Novus Opinion on Jan. 25. Almost 20 percent of the respondents chose it. The issue has climbed to the seventh most important issue from number 13 four years ago, the poll showed.
Similar opposition is emerging across Europe, with the U.K. discussing limiting immigration and the National Front gaining in France. In Norway, the anti-immigration Progress Party became a government member in October.
The Sweden Democrats have sided with the opposition in defeating the current minority government's tax cuts for high-income earners as well as blocked asset sales. The party says its core issues are immigration, combating crime and taking care of the elderly.
Stockholm Riots
Stockholm's suburbs were rocked last year by almost a week of rioting in areas with high levels of immigration and unemployment. Immigration jumped by 17 percent in the first half of 2013 to 52,816, headed for a record, according to Statistics Sweden. Fifteen percent of the 9.5 million population was born abroad at the end of 2012.
Immigration issues are "what the Sweden Democrats are mobilizing around," said Andrej Kokkonen, a researcher at Gothenburg University. "Given that the immigration issue has become more important to voters it's very possible that it can play a big role in the elections."
The shantytowns "evoke people's emotions," he said. "Those who already are critical of immigration will think that this is a problem."
The Sweden Democrats would get 11 percent of the vote if an election were held now, a Novus poll published on Feb. 2 showed, up from 5.7 percent in 2010. The Social Democratic bloc would get 51.1 percent, a narrow majority over Prime Minister Fredrik Reinfeldt's government.
'Welfare Ambitions'
Reinfeldt, the premier, says he welcomes immigration.
"A lot of increase in the jobs we've seen is coming from people born outside of Sweden and they are now giving us the resources to uphold our welfare ambitions," he said at a panel at the World Economic Forum meeting in Davos, Switzerland, last month.
While the EU migrants, who are mainly from Romania, Poland and Spain, can enter and stay in Sweden legally, language barriers and a lack experience make it hard to find work, according to Anna Johansson, a spokeswoman for Stockholms Stadsmission, a charity in the Swedish capital.
Economic Crisis
The rise in migration we "foremost attribute that to the economic crisis in southern Europe and widespread poverty and inequality, mainly in eastern Europe," Johansson said in an e-mailed reply to questions.
The city's social services have counted 80 different nationalities in the encampments that have sprung up in areas such as Rinkeby, Tensta and Flemingsberg. The Hoegdalen site is the biggest, and has at times housed more than 100 people.
A survey of homeless EU migrants by the National Board of Health and Welfare in May showed that 80 percent are male, only 20 percent get income from work and that a third survive by begging or busking. An "overwhelming majority" come from Romania, with other large groups from Poland and Spain.
The city has started project Winter Night, which provides a temporary place to sleep. It also runs Crossroads, an advice and support center that offers food, showers and laundry facilities.
Facing Eviction
The rest of Sweden is also feeling the strain. Some 67 of Sweden's municipalities have had homeless EU migrants, a survey by Ekot radio last year found. The town of Boraas late last year paid for the travel back to Romania for a group that had set up tents in a downtown park.
Stockholm is now looking to evict the people that have set up in Hoegdalen.
"There is nothing strange with this kind of eviction -- we have done them before -- but the challenge this time is that it has become a much, much bigger issue than it has ever been," said Fredrik Jurdell, a social services official for the city, said by phone. "The Hoegdalen site is starting to resemble a campsite or shantytown."
Stockholm is looking at alternatives on how to house them and is also considering paying for trips home for some, he said.
For Rispling, the jogger, the pop-up encampment is a reminder of Sweden's past, and now present, as well as a reminder that Sweden is part of a bigger world.
"Back in the day, poor Stockholmers used to live in similar conditions," Rispling said. "These days it's poor people from other countries. It's part of globalization but I hope their living conditions can improve soon."