Scania Minority-Investor Group to Seek Audit of VW Role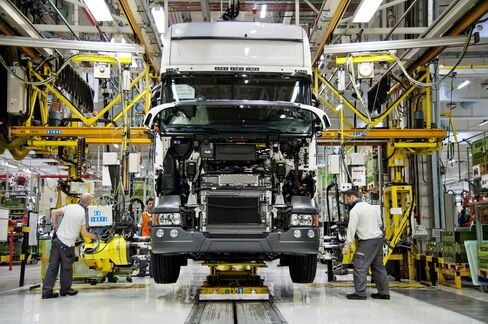 Volkswagen AG's Swedish truck unit Scania AB will face a demand for an auditor to look into whether ownership by the German carmaker and its MAN SE division poses a conflict of interest, a minority-shareholders group said.
Investors object to Scania's plan to cut its dividend, the abolition of a board-nominating committee and Volkswagen's reported intervention in the truckmaker's bid for a military order in Scandinavia, the Swedish Shareholders' Association said today in a statement. The association will propose at the annual meeting that an outside examiner look into ties among the companies and "consequences for the shareholders," it said.
"One can only see the reduced dividend as a declaration of war against the minority shareholders," as there's no financial justification for the cutback, Carl Rosen, the head of the association, said in the statement. "Double" ownership by VW in both Scania and MAN "forces a competitor into the heart of Scania, which risks emptying Scania of value, to the detriment of other shareholders."
VW, the world's second-largest carmaker, is looking to jump-start a stalled seven-year effort to make Soedertaelje-based Scania and Munich-based truck producer MAN work together more closely. Volkswagen is targeting combined annual savings of 200 million euros ($269 million) from cooperation between the two divisions and VW's light commercial-vehicle business.
Hans-Ake Danielsson, a spokesman for Scania, declined to comment "as this is an ownership issue." Marco Dalan, a spokesman for Wolfsburg-based Volkswagen, declined to comment.
Voting Control
Volkswagen controls almost 46 percent of Scania's share capital and 71 percent of voting stock directly. The carmaker started buying stock in the Swedish manufacturer in 2000, and acquired majority voting control in March 2008. MAN owns another 13 percent of Scania's equity and 17 percent of the votes.
VW has also accumulated a 75 percent stake in MAN since 2006, when it first bought a holding to thwart the German truckmaker's effort to take over Scania.
Volkswagen is considering increasing its holding in Scania, with an offer to minority shareholders potentially costing more than 4 billion euros, though no move is likely in the next couple of weeks, the Wall Street Journal reported online today, citing unidentified people familiar with the matter. VW spokesman Dalan said the carmaker doesn't "comment on speculation."
Dividend Proposal
Scania reported a 7 percent drop in net income to 6.19 billion kronor ($948 million) in 2013. Operating profit rose 2 percent to 8.46 billion kronor, the company said on Jan. 29. The board of directors proposed reducing the dividend by 16 percent to 4 kronor a share from 4.75 kronor.
Competing bids on a joint Swedish and Norwegian military-vehicle contract from Scania and MAN prompted Swedish competition authorities to evaluate whether the order must be tendered again, Der Spiegel reported on Dec. 29, citing an unidentified person close to VW Chief Executive Officer Martin Winterkorn.
MAN's joint venture with Germany's Rheinmetall AG won the tender eventually, though Winterkorn was angry over the conflict between the two VW truck units as it risked losing the order to a competitor, according to the German magazine.
Scania CEO Martin Lundstedt said during a conference call with analysts on Jan. 29 that the company "reviewed terms" of the order at the end of last year and "the process ended," without providing details.
Joint Projects
VW said on Nov. 5 that Scania and MAN are meeting savings goals in a cooperation strategy the manufacturer is pushing to take on global truck-market leaders Daimler AG and Volvo AB. Joint projects are under way in purchasing, development, information technology, logistics, finance and legal affairs.
The shareholders association is calling for fund managers, the stock exchange, the Swedish Securities Council, the Swedish Corporate Governance Board and lawmakers to react to its complaints.
"We have previously criticized Volkswagen for scrapping the nomination committee, despite there being support for a nomination committee from other shareholders," Arne Karlsson, chairman of the governance board, said in a phone interview today. "This is a very clear breach of the Swedish corporate governance code and self-regulation," and subject to the board's review.
While the board creates the rules, the Swedish Securities Council interprets them and the disciplinary committee of the stock exchange charges any fines, he said.
Karlsson declined to comment on the other issues raised by the Swedish Shareholders' Association.
Ragnar Boman, a spokesman for the Swedish Securities Council, said the shareholders association is welcome to contact the regulator with a description of any matters for possible review.
Before it's here, it's on the Bloomberg Terminal.
LEARN MORE