Plunging Stocks Push Volatility to Biggest January Gain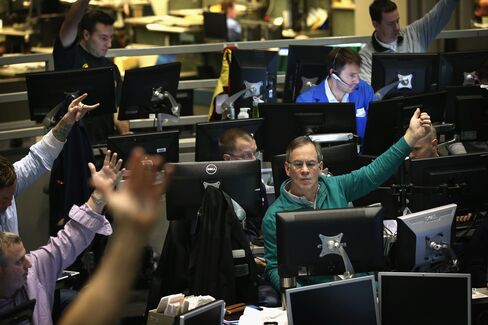 Feb. 4 (Bloomberg) -- Investors snapping up insurance against stock losses after $1 trillion was erased from U.S. equity values have pushed the cost of options to a record increase for the start of a year.
The Chicago Board Options Exchange Volatility Index jumped 34 percent last month for the biggest January advance since it was created in 1990, according to data compiled by Bloomberg. The VIX climbed 16 percent yesterday to 21.44, a one-year high. Demand for protection amid a selloff that spread to the U.S. from emerging markets has led to record trading of contracts on the gauge, which is often used as a hedge because it rises when stocks fall.
Shares are in retreat as signs of slowing recoveries in the U.S. and China come at the same time the Federal Reserve is reducing bond purchases and emerging-market currencies slump. The U.S. stock market ended its longest streak without a 5 percent slide since 2006 yesterday as the Nikkei 225 Stock Average capped a 10 percent drop from a December peak.
"Investors have rediscovered risk," Bruce McCain, who helps oversee more than $20 billion as chief investment strategist at the private-banking unit of KeyCorp in Cleveland, said yesterday by phone. "You've seen disappointment in emerging markets and foreign markets and now disappointing statistics in the U.S."
Stock Selloff
The equity benchmark lost 2.3 percent, the most in six months, to 1,741.89 yesterday and has slumped 5.8 percent this year, after a 30 percent surge in 2013. Economic reports showed American factory output expanded in January at the weakest pace in eight months and China's official Purchasing Managers' Index decreased to a six-month low as production and orders slowed.
The Institute for Supply Management's factory index decreased to 51.3 from 56.5 in the prior month, the Tempe, Arizona-based group's report showed. The median forecast of 85 economists surveyed by Bloomberg called for a decrease to 56. Readings above 50 indicate expansion.
The S&P 500 has fallen an average of 0.24 percent on days that the ISM manufacturing gauge trailed economists' estimates, based on data compiled by Bloomberg from the past two years. Stocks gained 0.44 percent when readings beat projections.
Measures of price momentum in U.S. stocks are slipping as concern mounts that emerging markets will snuff out the rally. Almost 160 companies in the benchmark gauge for American equities traded below their average level over the past 200 days last week, more than any time last year, when stocks posted the biggest rally since the technology bubble, according to data compiled by Bloomberg.
VIX Soars
Investors are taking cover, sending the VIX up 56 percent in 2014. The volatility index, calculated using S&P 500 options expiring over the next 30 days, moves in the opposite direction of the S&P 500 about 80 percent of the time. The CBOE S&P 500 Short-Term Volatility Index, tracking nine-day options on the stock gauge, has risen 140 percent since Jan. 10.
Stocks and currencies in developing nations have tumbled as the Fed cuts bond purchases, pushing up interest rates and reducing demand for higher-yielding assets. The VIX soared 32 percent Jan. 24, the biggest one-day gain since April, as Argentina's government devalued the peso.
"The weakness in equity prices in 2014 reflects investor nervousness after huge gains last year," Robert Doll, who helps oversee $118 billion as chief equity strategist at Chicago-based Nuveen Asset Management LLC, wrote in a note to clients yesterday. "The emerging-market currency crisis may have been a convenient excuse to sell."
Record Volume
The MSCI Emerging Markets Index dropped 1.1 percent yesterday, closing at a five-month low. Central-bank rate increases in Turkey, India and South Africa last week failed to contain January's 3 percent selloff in emerging-market currencies. Yields aren't high enough to attract the capital needed to finance current-account deficits in some of those nations, according to Citigroup Inc.
About 2.38 million VIX options changed hands yesterday, the most ever, data compiled by Bloomberg show. The previous record was 1.78 million in October during the government shutdown. The gauge fell 11 percent to 19.11 today.
Bets on higher volatility have backfired in the past. Investors were whipsawed in October when traders shrugged off concern over budget negotiations and the economy. The iPath S&P 500 VIX Short-Term Futures ETN, the largest exchange-traded security that tracks U.S. equity volatility, jumped 20 percent in five days, only to erase that increase in the following seven days.
'Dangerous' Move
"If you come in now and seek downside protection, you're coming in after a big move up and it's dangerous," Donald Selkin, who helps manage $3 billion chief market strategist at National Securities Corp. in New York, said in a phone interview yesterday. "Now is not the time to get bearish," he said. "You're jumping in a little late."
Eight of the ten most-owned contracts on the VIX were calls, representing bearish bets on stocks, according to data compiled by Bloomberg. February $20 calls had the largest ownership followed by options also expiring this month with strike levels of 22 and 16.
Futures on the VIX expiring over the next nine months had an average price of 18.9, 12 percent below the current level. The price relationship, known as backwardation, suggests concern over the immediate future because the cost of hedging against short-term price swings exceeds what traders are paying to shield themselves from volatility in the longer run.
"It's prudent to add protection right now," Troy Logan, managing director at Warren Financial Service in Exton, Pennsylvania, said in a phone interview. His firm manages $100 million and trades VIX options. "Volatility is going to percolate and there will be times through the year where it'll become more amplified."
To contact the reporters on this story: Nikolaj Gammeltoft in New York at ngammeltoft@bloomberg.net; Callie Bost in New York at cbost2@bloomberg.net
To contact the editor responsible for this story: Lynn Thomasson at lthomasson@bloomberg.net