Manchester Utd. May Miss U.S. Cup in Struggle for European Spot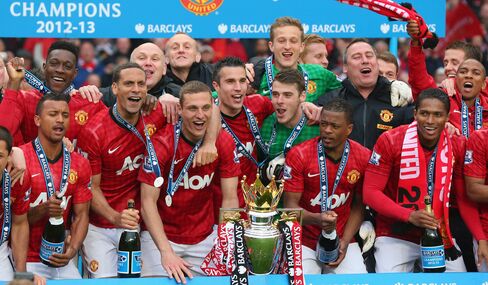 Premier League champion Manchester United agreed to take part in a pre-season soccer tournament in the U.S., although it may have to pull out if it has to play European qualifying matches around the same time.
United will compete in the International Champions Cup, an exhibition tournament staged from July 26 to Aug. 4, the club said on its website yesterday. The other seven teams are Real Madrid, AC Milan, Liverpool, Inter Milan, Roma, Manchester City and Olympiacos.
Lying seventh in the league after eight defeats under new manager David Moyes, United could miss out on Europe's elite Champions League for the first time since 1995-96 if its form doesn't improve. Instead it may be forced into pre-tournament qualifying for the second-tier Europa League, potentially conflicting with pre-season tour dates. Teams in the U.S. tournament may be subject to change, depending on European qualifying games, United said.
"Manchester United has over 8 million followers in the United States," Richard Arnold, United's group managing director, said in a separate statement. "The 2014 tour presents an exciting opportunity for these fans to get up close to the club they love."
The line-up for the U.S. competition was announced yesterday at Miami's Sun Life stadium, where the final match will be held between the winners of two round-robin groups.
Group games will be held in cities including Phoenix, Denver, Washington, Charlotte, Dallas, Pittsburgh, Philadelphia, Chicago and New York, organizers said.
Real Madrid
Real Madrid won last year's title, defeating Chelsea 3-1 in the final. The Spanish club is the world's biggest by sales, and has a line-up that includes world player of the year Cristiano Ronaldo and the most expensive one, Gareth Bale.
Ronaldo was awarded the Ballon d'Or trophy last month after a vote organized by soccer governing body FIFA. Bale signed for Real in September for a transfer fee of 100 million euros ($135 million), according to the British Broadcasting Corp.
The U.S. competition begins 13 days after the final match of the World Cup, soccer's showpiece event, which takes place in Brazil.
Before it's here, it's on the Bloomberg Terminal.
LEARN MORE