Christie Says He Didn't Know About Plot to Foul Traffic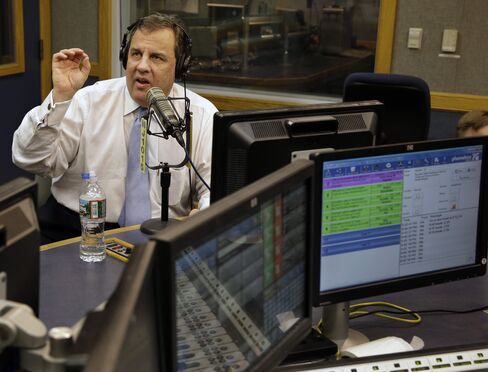 New Jersey Governor Chris Christie said he knew nothing of intentionally created traffic jams as they took place near the George Washington Bridge, and a former aide asserted her right to remain silent in response to a subpoena over the scandal.
Christie, a Republican eyeing a run for the White House, yesterday denied a former political ally's claims that he was aware of lane closures that snarled traffic in Fort Lee, New Jersey, from Sept. 9 to 12. The governor, whose approval ratings are sliding, rejected claims by David Wildstein, once a top appointee at the agency that runs the bridge.
"Did I authorize it?" Christie, 51, said in a radio interview. "Did I know about it? Did I approve it? Did I have any knowledge of it beforehand? The answer is still the same: It's unequivocally no."
Christie answered questions for the first time since a two-hour news conference on Jan. 9. He expressed outrage then at aides and appointees whose e-mails showed they engineered the closures, perhaps to punish the Democratic mayor of Fort Lee for failing to back the governor's 2012 re-election campaign.
The governor fired one of those aides, former deputy chief of staff Bridget Anne Kelly, who sent an Aug. 13 e-mail to Wildstein that said: "Time for some traffic problems in Fort Lee." Wildstein replied: "Got it."
20 Subpoenas
Kelly received one of 20 subpoenas for documents from a state legislative committee investigating who shut down the lanes at the bridge and why. Rather than turn over information, Kelly asserted her constitutional right yesterday against self-incrimination, according to Michael Critchley, her attorney.
Critchley said he is concerned about replying while the committee probes the bridge closures at the same time that U.S. Attorney Paul Fishman conducts a criminal probe.
"It's a very unusual case, with the parallel state legislative investigation and overlapping federal criminal investigation," Critchley said. "I'm proceeding deliberately to make sure that my client's rights are fully protected."
In a letter to Reid Schar, the Chicago attorney hired by the legislature, Critchley said the privilege against self-incrimination covered testimony and the production of documents.
Critchley also cited Kelly's right to privacy. He said giving the committee full access to her "personal diaries, calendars and all of her electronic devices amounts to an inappropriate and unlimited invasion of Ms. Kelly's personal privacy" and could reveal "highly personal confidential communications completely unrelated" to the inquiry.
Campaign Manager
Last week, deposed campaign manager Bill Stepien also asserted his right to silence rather than answer a subpoena. On Jan. 9, Wildstein invoked his constitutional right to silence in an appearance before the Assembly transportation committee.
In his radio interview, Christie said Kelly's decision didn't bother him and she was merely exercising her rights.
Christie, speaking yesterday on his "Ask the Governor" program on WKXW-FM in Ewing, said he may have heard about the lane closings as they were occurring and failed to register them as "meaningful."
He said he didn't take note of them until the Wall Street Journal ran a story on Oct. 1 based on an e-mail by Patrick Foye, executive director of the Port Authority of New York and New Jersey, which runs the bridge. Foye's critical missive ordered the lanes reopened on Sept. 13.
'Gubernatorial Level'
"There's traffic every day at the George Washington Bridge, at the Lincoln Tunnel, at the Holland Tunnel," the governor said. "That's not something that rises to the gubernatorial level. When this first became clear to me that there was a potential issue was when the Foye e-mail was put out."
For Christie, who was re-elected by a 22 percentage-point margin in November, the issue has become his biggest political challenge. He also has faced and denied an accusation by Hoboken Mayor Dawn Zimmer, a Democrat, that his administration linked Hurricane Sandy aid to approval of a development project.
The U.S. also began an audit of federally funded television tourism commercials that Christie appeared in during the campaign.
Fishman, in his separate probe, has subpoenaed the governor's re-election campaign and the Republican State Committee for documents. Federal prosecutors have subpoenaed the governor's office, and the administration intends to comply, Christie said on his broadcast.
Texts, E-Mails
Assemblyman John Wisniewski, a Democrat who's co-chairman of a legislative panel probing the tie-ups, said the committee yesterday began receiving texts and e-mails connected to the closures in response to subpoenas that went out last month. Democrats control both chambers of the legislature.
Christie's job approval rating fell to 48 percent since the bridge controversy, the lowest since May 2011, according to a survey by Fairleigh Dickinson University's PublicMind institute. The rating was 62 percent in October.
Christie's calls for smaller government and lower taxes made him a national figure in his first term. He rebuffed calls to run for president in 2012. He hasn't ruled out a 2016 bid.
As chairman of the Republican Governors Association, he can boost his national profile and collect political favors while running ads for and delivering RGA checks to candidates campaigning for governor in 2014 -- including those in states with early presidential primaries.
Before it's here, it's on the Bloomberg Terminal.
LEARN MORE