N.J. Bridge-Jam Papers Guarded by Legislative Staff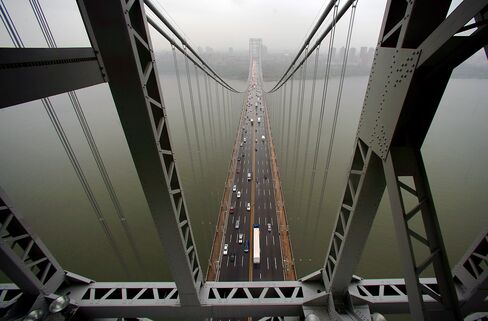 Feb. 4 (Bloomberg) -- The documents at the center of the scandal dogging New Jersey Governor Chris Christie will be guarded "at all times" while members of a legislative committee inspect them.
The two lawmakers heading the panel probing intentional traffic jams at the George Washington Bridge advised members that they may not copy or remove any of the documents.
All papers will be available for review by committee members in a third-floor room of the Statehouse annex in Trenton as soon as the Office of Legislative Services can prepare them for inspection, Assemblyman John Wisniewski and Senator Loretta Weinberg, both Democrats, said in a Feb. 3 memo obtained by Bloomberg News.
"Members or designated aides wishing to inspect the documents may do so during normal business hours and must schedule a time to do so with OLS, subject to staffing and space constraints," according to the memo. "OLS shall keep a log of visitors to the document room. OLS shall inform the Executive Directors of the Senate and Assembly Majority Offices of any scheduled inspections. An OLS staff member must be available and in the room at all times while the documents are being inspected."
'No Entry'
The door to the committee room where the documents are held has a piece of white paper taped to it, saying "No Entry."
Yesterday was the deadline for 20 people and groups subpoenaed by the panel to deliver the documents, which include e-mails and texts connected to the closings. Just four complied in full or in part, said a person with knowledge of the investigation who, lacking authorization to speak, requested anonymity.
Those providing documents were all Port Authority officials: former Deputy Director Bill Baroni; Phillipe Danielides, senior adviser to Chairman David Samson; Paul Nunziato, president of the police union; and Cristina Lado, director of government relations. Two Christie aides, former deputy chief of staff Bridget Anne Kelly and campaign manager Bill Stepien, have informed the committee they won't provide documents. The rest have sought extensions, the person said.
Christie's Travails
For Christie, re-elected by a 22 percentage-point margin in November, the issue has mushroomed into his biggest political challenge. He also has denied an accusation by Hoboken Mayor Dawn Zimmer, a Democrat, that his administration linked Hurricane Sandy aid to approval of a development project.
The U.S. also began an audit of federally funded television tourism commercials that Christie appeared in during the campaign.
Christie, speaking yesterday during a one-hour call-in program on WKXW radio in Ewing, said the governor's office has received a subpoena from U.S. Attorney Paul Fishman's office and will comply with the request. His campaign and the Republican State Committee also received subpoenas.
In the Assembly, the heightened security is designed to prevent a repeat of the closed-door meeting Jan. 15 in which the investigative panel approved the subpoenas, said Assemblyman Michael Patrick Carroll, a Republican from Morris Plains who sits on the investigative panel. Within an hour, news outlets were reporting the identities of the targets.
"It seems to me that a fair amount of concern over leaks is well-warranted," Carroll said today in an interview.
Fifth Taken
Investigators are looking for evidence that Christie, a 51-year-old Republican, knew of the lane closings as they occurred, Wisniewski said. That was the claim in a Jan. 31 letter by an attorney for David Wildstein, a former Christie ally at the Port Authority of New York and New Jersey who has since resigned.
When a Christie aide in August suggested to Wildstein that he create traffic in the town of a mayor who didn't endorse the governor, Wildstein made them happen.
That aide, former Deputy Chief of Staff Bridget Anne Kelly, received one of the 20 subpoenas. Her attorney, Michael Critchley, said yesterday she won't comply with the order to produce the records. The lawyer cited privacy concerns and her right to avoid incriminating herself.
Bill Stepien, a former campaign manager for Christie, has also said through attorney Kevin Marino that he won't comply with the request.
To contact the reporters on this story: Stacie Sherman in Trenton at sbabula@bloomberg.net; Terrence Dopp in Trenton at tdopp@bloomberg.net
To contact the editor responsible for this story: Stephen Merelman at smerelman@bloomberg.net