BOE's Haldane Says Crisis Lesson for Banks Has Been Ignored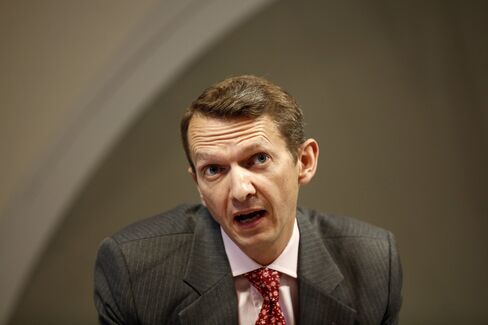 A "radical reform agenda" is needed to mitigate risks to the global financial system, and the International Monetary Fund must do more to assess the dangers, Bank of England official Andrew Haldane said.
"It's ironic the big lesson we've taken to heart on the international banking system has been largely ignored," relative to the global system, Haldane, the BOE's executive director for financial stability said in a speech in Oxford, England yesterday. "That chasm needs to be closed before any more countries find themselves imperiled, as we've seen over the last two weeks."
Emerging-market economies have endured a global selloff as the Federal Reserve reduces its stimulus and China's economy shows signs of slowing. The MSCI Emerging Markets Index of stocks extended a slump this week, while interest-rate increases in Turkey, India and South Africa last week failed to contain turmoil in emerging-market currencies. The rout prompted India's central bank Governor Raghuram Rajan to call for greater cooperation among policy makers.
After the Fed's decision to taper stimulus "all hell broke loose, especially in the emerging-market world," Haldane said. The impact of the Fed's announcement was "pretty dramatic and immediate, and continues today," he said.
The Fed said Jan. 29 it will trim its monthly bond buying by $10 billion to $65 billion, sticking to its plan for a gradual withdrawal from its unprecedented easing policy.
More Work
The market reaction shows that officials need to do more work to secure the stability of the international financial system, in the same way that they learned that the global banking system can be prone to instability even if each lender is safe, Haldane said.
Officials' requirements for banks to hold more capital and their efforts to plan for an orderly winding-down of the world's biggest banks are examples of how they learned that firms need to be regulated as a system, he said.
By contrast, "there is no real architecture for managing coordinating actions across countries when it comes to the design of the international monetary and financial system," Haldane said. "There are no rules of the road."
Global fragilities arose as international trade developed and financial integration deepened, he said. Increased connectivity proved to be a "double-edged sword" as the benefit of sharing pain when things go wrong is offset by the greater ease with which turmoil can spread through the system.
Improved Surveillance
Some insurance is in place to contain the spread of risks, such as through the buildup of foreign exchange reserves and a shift to "less flighty" capital. Still, one risk is that the pool of IMF reserves available to help countries in crisis is "skimpy, relative to what might be required," and improving them would help.
Haldane also said improved surveillance of risk is needed, and called on the IMF to play a bigger role in highlighting dangers. The Washington-based group's Article IV assessments of individual countries now has "little focus" on cross-border spillovers, and improving this may give officials greater warning on brewing threats.
"This problem of capturing spillovers is particularly acute if, when you're the IMF, you're giving advice to a big country rather than a small," he said. "Ruthless truth telling on cross-border spillover consequences is much harder when you're dealing with the biggest boy in the playground."
Countries must engage in "soft cooperation" to address spillovers to policies they pursue, he said.
"What we need at an absolute minimum is some recognition that those spillovers happen both ways, and are potent and important," he said. "Now there's denial on both sides that they exist. If we can agree that these effects are big, we can hopefully agree to do something about it."
Before it's here, it's on the Bloomberg Terminal.
LEARN MORE