Bode Miller Has Family Tragedy as Motivation at 5th Olympics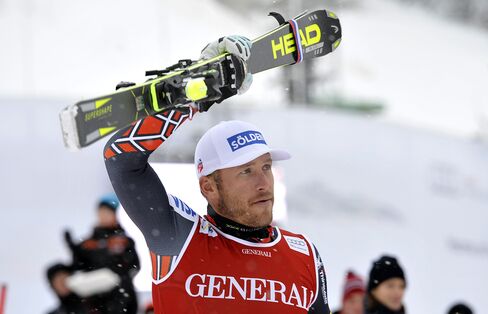 Bode Miller will use a family tragedy for motivation as he chases a U.S. record-extending sixth Alpine skiing medal on a repaired left knee.
The 36-year-old is set to become the sixth American to compete in five Winter Games. He will defend his Olympic title in the super combined and plans to race in at least three of the four other Alpine events.
The one-time bad boy of winter sports, who was shut out of the medals at the 2006 Turin Games while spending his evenings in nightclubs, is now a married father of two coping with the death of his 29-year-old brother, Chelone, from a seizure in April. Chelone Miller was a professional snowboarder.
"I was very efficient at creating emotional environments inside my head from a young age," he said. "If it comes to the Olympics, I may use that and channel that experience."
Miller, a four-time world champion and twice winner of the overall title in the season-long World Cup series, is known for a style that has translated into wipeouts almost as often as winning runs.
His career seemed to have stalled in Turin, where he came in as a medal favorite in all five events -- the downhill, slalom, giant slalom, super-giant slalom and combined -- and did not make the top-three in any discipline while telling reporters he had lost interest in winning medals.
Miller's best finish at those Games was fifth in the downhill. He failed to finish two events and was disqualified in another. In his final run, the slalom, he skied off the course in the opening seconds and raised his arms over his head in mock triumph while skiing down the mountain.
'Ski Wasted'
"Everybody parties, there's too much emphasis on winning," Miller said at the time. "If you ever tried to ski wasted, it's not easy."
He left the U.S. team in 2007 amid disagreements with officials about his training habits and public statements. He won his second overall World Cup title in 2008, and returned to the American squad the following year.
He took three medals at the 2010 Vancouver Olympics -- gold in the combined, silver in super-G and bronze in downhill. Now he's making another comeback after missing the 2012-13 season because of knee surgery.
His recent results have been encouraging -- he placed third in the downhill and second in the super-G in a weekend of World Cup races in Kitzbuehel, Austria, on Jan. 25-26.
"My fitness is good, the skis are coming around," he told reporters in Kitzbuehel. "I'm hoping that I can put together my best skiing at the Olympics. I think if I do I definitely have the speed to win some medals."
Fifth Olympics
U.S. men's Alpine coach Sasha Rearick told reporters in Kitzbuehel that "all the details came together" for Miller in his last major tests before the Olympics.
"Bode has been building and working hard," Rearick said. "He's figuring things out with the setup, figuring things out with his skis, figuring things out where he can make speed."
Miller is second only to snowboarder Shaun White in name recognition among members of the U.S. team in Sochi, according to Repucom, a global sports market research agency. Miller's awareness rate among Americans is 54 percent, Repucom says, while White is at 63 percent. Miller scores below the median on trustworthiness, though, with just 51 percent of respondents saying they trust him.
The New Hampshire native is one of two Americans who will be competing at Sochi in their fifth Winter Olympics, along with Nordic skiing's Billy Demong. Nordic skier Todd Lodwick will set a U.S. record in Sochi by competing in his sixth Winter Games.
'Pretty Mellow'
Miller will be one of the favorites when the Alpine events open Feb. 9 with the downhill. He is one of eight Alpine skiers, male or female, to win five or more medals, and needs three more to match speedskater Apolo Anton Ohno as the most decorated American in the Winter Olympics.
A medal in Sochi also would make Miller the oldest man to stand on the Olympic podium in an Alpine event. Kjetil Andre Aamodt of Norway now holds that mark, having won the super-G at the 2006 Games at the age of 34.
The 6-foot-2 (1.88 meter) skier, who married professional volleyball player Morgan Beck in 2012, laughed and rolled his eyes when asked at the U.S. Olympic Committee's media summit in September in Park City, Utah, whether parenthood and marriage had calmed him down. He is one of 22 parents on the record-setting 230-member U.S. team in Sochi.
"I've been pretty mellow for a long time," he said. "I don't know how you could get any more mellow -- with a tranquilizer dart, maybe."