RBA Moves to Neutral as It Signals Comfort With Aussie Level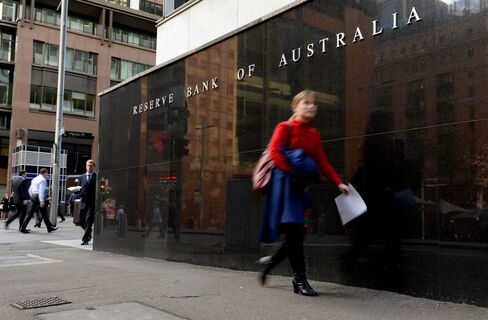 Australia's central bank signaled the end of a two-year easing cycle and foreshadowed stronger economic growth, sending the nation's currency higher.
Governor Glenn Stevens kept the overnight cash-rate target at 2.5 percent, saying in a statement in Sydney "the most prudent course is likely to be a period of stability in interest rates." He said the Australian dollar's decline "will assist in achieving balanced growth," dropping references in past statements that it was "uncomfortably high."
After 2.25 percentage points of rate cuts since late 2011, the Reserve Bank of Australia is switching stance as home prices surge and inflation accelerates. In a refurbished statement, Stevens expressed greater confidence in consumer demand and housing construction, saying economic growth is expected to strengthen beyond the short term, boosted by low rates and the weaker currency.
"They've shifted very firmly to a neutral bias," said Su-Lin Ong, head of Australian economic and fixed-income strategy at Royal Bank of Canada in Sydney. "The fact they've taken out the reference to the uncomfortably high Australian dollar also tells you that they're clearly pleased with what the currency's done over the past couple of months."
The Australian dollar climbed to 88.80 U.S. cents at 5:46 p.m. in Sydney, from 87.61 U.S. cents before the decision, which was predicted by all 32 economists surveyed by Bloomberg News. In the three months to today, the Aussie had dropped 8 percent, the most among group of 10 major developed currencies.
"Monetary policy is appropriately configured to foster sustainable growth in demand and inflation outcomes consistent with the target," Stevens said in the statement today.
Reduced Bets
The implied yield on June interbank futures contracts rose 2 basis points to 2.46 percent, the highest level since November, as traders reduced bets on further RBA reductions.
The RBA is trying to stimulate housing construction to pick up some of the slack in the labor market from waning mining investment, and has previously said that higher property prices are needed to spur the building industry.
"Credit growth remains low overall but is picking up gradually for households," the RBA said today. "Dwelling prices have increased further over the past several months."
A private RP Data-Rismark home value index released this week showed house and apartment prices rose 9.8 percent in major cities in the year to Jan. 31. In and around Sydney, prices in some suburbs have surged as much as 27 percent in the past year.
'Below Trend'
"The bank expects growth to remain below trend for a time yet and unemployment to rise further before it peaks," Stevens said. "Beyond the short term, growth is expected to strengthen, helped by continued low interest rates and the lower exchange rate."
Australian employers unexpectedly cut jobs in December by 22,600, capping the worst year of full-time losses since 1992. Unemployment held at a four-year high of 5.8 percent as the participation rate fell to the lowest in almost eight years, government data showed Jan. 16. A private survey showed job advertisements slipped 0.3 percent in January.
A manufacturing gauge in China, Australia's biggest trading partner, fell to a six-month low in January as output and orders slowed. That adds to signs that government efforts to rein in excessive credit will cool growth in the world's second-largest economy.
Inflation in Australia accelerated in the final three months of last year to above the midpoint of the RBA's 2 percent to 3 percent target range. Part of the increase reflected the currency's drop that boosted import prices, and part was due to resurgent local costs. The RBA is due to release its updated inflation and growth forecasts in its quarterly statement on monetary policy on Feb. 7.
Inflation Pressures
"Inflation is expected to be somewhat higher than forecast three months ago, but still consistent with the 2–3 percent target over the next two years," the statement said. "If domestic costs remain contained, some moderation in the growth of prices for non-traded goods could be expected over time."
The Aussie climbed almost 50 percent in the four years ended Dec. 31 as the nation escaped the 2009 global recession and the China-led commodities-investment boom spurred growth. Stevens said in an interview, speeches and statements in the final months of last year that the currency needed to weaken to help rebalance the economy. In December, he said a level near 85 U.S. cents would be about right.
"Overall, the Reserve Bank doesn't need to move interest rates in any direction," Craig James, a senior economist at a unit of Commonwealth Bank of Australia in Sydney, wrote in a research note after the statement. "Rates are at or near the bottom of the cycle, but rate hikes are still some way off."
Before it's here, it's on the Bloomberg Terminal.
LEARN MORE