London Housing Market Shows Rising Bubble Risk as Asians Buy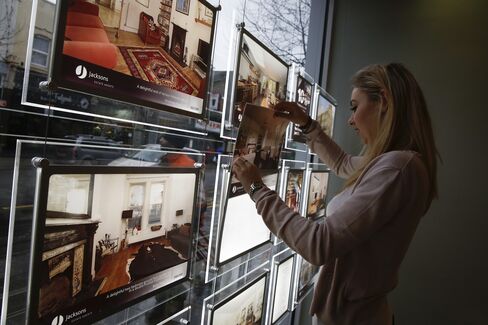 Feb. 3 (Bloomberg) -- London's housing market is beginning to show "bubble-like conditions" as overseas investors bid up prices and buyers take on more debt to purchase properties, according to a report today by the EY Item Club.
Homeowners are now borrowing as much relative to their income to purchase real estate in the U.K. capital as they were before the financial crisis, the London-based group sponsored by EY, formerly Ernst & Young, said. The average London home will cost about 600,000 pounds ($980,000) by 2018, it estimates. It's around 404,000 pounds now, according to the Land Registry.
Prices across most of the U.K. "remain well below their pre-crisis peaks and there seems little danger of a bubble," Andrew Goodwin, senior economic adviser to the EY Item Club, said in the report. "But London, which is suffering from a combination of strong demand and a lack of supply, is increasingly giving us cause for concern."
Surging London home prices, buoyed by demand from overseas investors and government initiatives to aid buyers, have prompted economists, analysts and politicians to warn of unsustainable gains. Asia has been a particularly strong source of demand for the best London properties, EY Item Club said, citing brokers. Investors from countries such as China and Singapore are taking advantage of the pound's depreciation since the financial crisis to buy London homes.
Overseas-Buying Surge
People living outside the U.K. bought half of all new homes sold in London's best neighborhoods in the two years through June, broker Knight Frank LLP said in October.
Reducing the risk of a London property bubble could be difficult because values in prime districts have outperformed the city's peripheral areas, according to the EY Item Club report. Values in London's best neighborhoods, such as Mayfair and Knightsbridge, are 27 percent above their 2007 peak, broker Savills Plc said in November. That's more than double the gains for Greater London, according to Land Registry data.
"Bursting a bubble at the luxury end of the market, which continues to attract interest from international cash buyers with the seemingly irresistible global draw of London's X-factor, may prove tricky," Dean Hodcroft, U.K. and Ireland head of real estate, hospitality and construction at EY, said in the statement.
Pound's Gains
The pound's recent gains against Asian currencies and an abatement of the euro region's debt crisis will reduce demand for homes in the U.K. capital's best areas, the report forecasts. Rising supply will also curb home-value gains in London's prime districts, it said.
London's prime housing market "has completely different drivers to the rest of the U.K.," according to the report. "There is a strong argument for ignoring the excesses of the prime central London market" and "arguably it would be more appropriate to treat it as an investment market, rather than a residential market."
Home values in the capital rose 0.6 percent last month from December compared with a national gain of 0.3 percent, Hometrack Ltd. said in an e-mailed report today.
Average U.K. house prices will rise 8.4 percent this year, 7.3 percent in 2015 and about 5.5 percent in 2016, EY Item Club estimates.
To contact the reporter on this story: Neil Callanan in London at ncallanan@bloomberg.net
To contact the editor responsible for this story: Andrew Blackman at ablackman@bloomberg.net