Julius Baer Profit Drops on BofA Assets; Shares Slump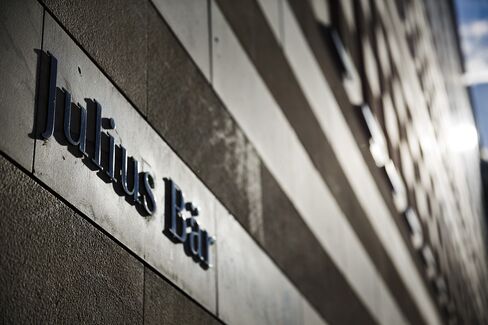 Julius Baer Group Ltd., Switzerland's third-biggest wealth manager, said profit fell last year as it absorbed Merrill Lynch businesses acquired from Bank of America Corp. Its shares slumped the most in 17 months.
Net income fell 30 percent to 188 million Swiss francs ($207 million) from 268 million francs a year earlier, the bank said in an e-mailed statement today, after restating its 2012 earnings.
"While the result is mostly satisfactory some aspects of the Merrill Lynch integration give cause for concern," said Alevizos Alevizakos, an analyst at Mediobanca SpA in London. "The second-half gross margin was worryingly low."
While the Merrill Lynch deal helped boost assets under management to 254 billion francs at the end of December from 249 billion francs at the end of October, Julius Baer has said integrating the businesses, which recorded a pretax loss in 2011, will initially weigh on profitability. The company plans to cut more than 1,000 jobs at the combined entities to boost earnings from the transaction by 2015.
Julius Baer slid as much as 6.5 percent, the most since August 2012, and fell 6.4 percent to 41.25 francs at 4:08 p.m. The stock has declined 3.7 percent this year, compared with a 0.7 percent loss for the 43-member Bloomberg Europe 500 Banks and Financial Services Index.
Merrill Acquisition
Gross margin, a measure of operating income divided by managed assets, at the Merrill Lynch businesses being acquired was 70 basis points in the second half of the year, weakening the margin of the combined businesses to 91 basis points. That compared with 94 basis points in the year-earlier period. A basis point is one hundredth of a percentage point.
"We're well on track with the integration," Chief Executive Officer Boris Collardi told reporters on a conference call today. "The focus this year is on transferring the remainder of the assets."
Adjusted profit, which excludes integration and restructuring expenses, some amortization of assets and a provision related to a Swiss-U.K. tax accord, rose 19 percent to 480 million francs, missing an average estimate of 492 million francs by 14 analysts surveyed by Bloomberg.
Julius Baer is targeting 57 billion francs to 72 billion francs of Merrill Lynch assets after it agreed in 2012 to buy non-U.S. wealth businesses from Bank of America. Assets may be reported as units are acquired or transferred and before Julius Baer moves the deposits to one or more of its seven booking centers in Europe, Asia and the Caribbean.
Financial Advisers
The total assets absorbed by the end of the integration process early next year will be "toward the lower end" of that range, the bank said today. Julius Baer reported 53 billion francs of Merrill Lynch client assets at the end of December, of which 40 billion francs was booked and paid for.
Some Merrill Lynch clients chose to follow their financial advisers elsewhere, rather than move their wealth to Julius Baer, and others were refused for compliance reasons, resulting in net outflows from units being acquired, Julius Baer said.
"I'm sure management would have liked to have hit the upper end of the target, although not all factors are within their control," said Andrew Stimpson, an analyst with Keefe, Bruyette and Woods in London.
New Money
Collardi expects positive net new money from the Merrill Lynch units this year, including in Asia, where teams are already integrated and private bankers are requesting senior management join them on client visits, the CEO said today at a presentation in Zurich. Merrill Lynch units in Hong Kong and Singapore are among businesses in 15 locations transferred in the past 12 months.
Net new money outside the Merrill Lynch integration was 7.6 billion francs in 2013, in line with the lower end of the firm's target range of 4 percent to 6 percent annualized growth.
While the company expects inflows from emerging markets in Asia, the Middle East and eastern Europe this year, some European customers will continue to withdraw funds to settle unpaid taxes from the past in their home countries, Collardi said on the conference call.
Julius Baer made a provision of 29 million francs for the Swiss-U.K. tax accord that required banks in Switzerland to make an upfront payment to resolve a tax dispute over Britons with undeclared offshore accounts.
U.S. Probe
The bank is one of at least 14 Swiss financial firms under investigation by the U.S. Department of Justice for helping Americans hide money offshore. Legal and advisory expenses related to the probe that began in 2009 exceed 70 million francs as of Dec. 31. That includes 15 million francs set aside in 2013 for future legal costs.
Julius Baer hasn't made a provision for a fine to resolve the matter, as the size of a potential penalty is unknown, Collardi said on the call. The bank is ready to conclude the dispute and reaching a settlement depends "entirely" on the Justice Department, Collardi said.
More than 100 Swiss banks that aren't already part of the probe have entered a Justice Department voluntary disclosure program. They may pay fines in exchange for non-prosecution agreements, according to the terms of the program announced on Aug. 29.
Julius Baer reported today it provided information on some employees hired from "big banks" to assist regulatory probes into currency-market manipulation. Clients are showing a "wait and see approach" to foreign-exchange trading amid scrutiny of the market, Collardi said at the presentation.
Julius Baer said today it restated results for 2012 in line with revised accounting standards. The firm previously reported net income of 298 million francs for 2012.
Before it's here, it's on the Bloomberg Terminal.
LEARN MORE