Japan Sees Worst Developed-Stock Rout as Nikkei 225 Drops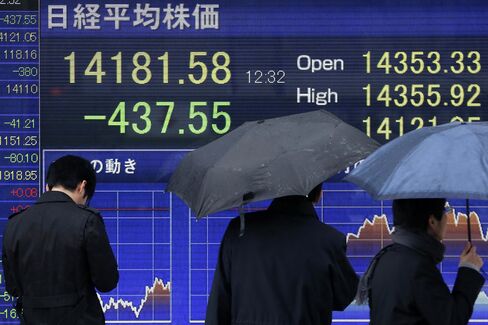 What a difference a year makes.
At the end of January 2013, Japanese stocks trailed only Portugal for the biggest rally among developed markets. Now the Nikkei 225 Stock Average is leading declines, slumping 8.5 percent last month and today capping a 14 percent drop from its Dec. 30 peak.
Losses snowballed in Tokyo during a global retreat that has erased $2.9 trillion from equity values worldwide this year amid signs of slower growth in China and stimulus cuts by the U.S. Federal Reserve. The yen, down 18 percent in 2013, halted its slide and started to strengthen, potentially curbing company profits, says Coutts & Co. A sales tax increase for April will damp consumer spending, according to Sumitomo Mitsui Asset Management Co.
"Japan's market finally came to its senses," said Tetsuo Seshimo, a portfolio manager at Saison Asset Management Co, which oversees about 79 billion yen ($778 million). "Investors ignored risk too much toward the end of last year and the market was out of balance."
The broader Topix index sank 6.3 percent in January. The gauge slumped 4.8 percent to 1,139.27 in Tokyo trading today, declining 13 percent from its Jan. 8 high. The Nikkei 225 tumbled 4.2 percent to 14,008.47, the lowest close since Oct. 8.
The yen strengthened 3.2 percent in January, its biggest monthly advance since April 2012. The MSCI World Index of developed-market equities fell 3.8 percent.
Extending Correction
"The stronger yen is probably the main driver," of the bigger declines in Japanese stocks, Gary Dugan, who helps oversee about $53 billion as Singapore-based chief investment officer for Asia and the Middle East at Coutts & Co., the wealth management unit of Royal Bank of Scotland Group Plc, said by e-mail Jan. 30. "Investors are locking in profits as they back away from equities."
The last time the Nikkei 225 fell 10 percent, in May 2013, it extended losses to 20 percent through mid-June, before rebounding to a six-year high by the end of the year. The gauge is a price-weighted index, so is more influenced by movements in highly-priced stocks.
The Nikkei 225 will probably drop between 20 percent and 25 percent from its December peak, Tim Schroeders, who helps oversee about $1 billion as a money manager at Pengana Capital in Melbourne, said by phone today.
'Harder Task'
"Expectations on how quickly the Japanese economy can recover are probably too high," Schroeders said. "It's going to be a harder task to make the economy sustainably competitive."
Foreign investors sold a net 233 billion yen of Japanese shares in the week ended Jan. 24, the most since the period ended March 23, 2012, data from the Tokyo Stock Exchange show. They boosted holdings by a record last year as the Nikkei 225 surged 57 percent for its steepest annual rally since 1972.
The Topix rose 9.4 percent in January 2013, behind only the 9.7 percent gain for Portugal's PSI-20 Index among developed-market measures tracked by Bloomberg. The Japanese gauge capped a 51 percent surge last year.
An increase in Japan's sales tax to 8 percent from 5 percent in April will test the resilience of the growth recovery, with economists saying the move will trigger a 4.1 percent annualized contraction in the second quarter, according to forecasts compiled by Bloomberg.
Tax Increase
Prime Minister Shinzo Abe will preside over the first increase to the sales levy since 1997 as he weighs the impact on growth against his need to rein in the world's second-biggest government debt burden. The premier is considering whether to raise the tax to 10 percent in 2015.
Bank of Japan Governor Haruhiko Kuroda, whose unprecedented easing measures helped spur last year's equity rally, may wait to assess trends in wages and the effects of the levy increase before deciding on any extra stimulus. The central bank on Jan. 22 refrained from boosting its monthly bond purchases, which currently total more than 7 trillion yen.
"Reigniting animal spirits isn't going to be easy," said Peter Elston, Singapore-based head of Asia-Pacific strategy at Aberdeen Asset Management Plc., which oversees $321 billion. "Implementing structural reforms in Japan isn't going to be easy. Given that Japan had performed so well last year, there's a greater scope for the market to fall."
There is no basis for an argument that Abe's policies are causing the stock slump, Chief Cabinet Secretary Yoshihide Suga said at a press conference in Tokyo yesterday.
Profit Drop
The Nikkei 225 will tumble to 9,000 by year-end as the tax increase and a slowdown in emerging markets cause an unexpected decline in corporate earnings, according to Myojo Asset Management, the only one of 12 strategists and investors surveyed by Bloomberg last month to predict an annual decline for the stock measure.
Profit for Nikkei 225 companies will fall about 20 percent in the 12 months ending March 2015 as gains in taxes and living costs squeeze consumers, Makoto Kikuchi, Tokyo-based chief executive officer at the hedge fund, said Jan. 15.
More than 600 companies on the Topix are scheduled to file results this week in the busiest stretch of the current reporting season. Daiwa Securities Group Inc., Japan's second-largest brokerage, lost 4.9 percent yesterday even after its third-quarter profit tripled. Hokkaido Electric Power Co. led a decline by utilities, sinking 9 percent, after forecasting a 77 billion yen net loss.
'Turned Negative'
"We've turned negative on Japan following last year's spectacular run," Matthew Sherwood, who helps manage about $25 billion as head of investment markets research at Perpetual in Sydney, said by phone on Jan. 29. "Investors need to see a follow-through in earnings before the market can add more to these already substantial gains."
Nintendo Co. slumped 13 percent in January after the world's biggest maker of video-game consoles predicted a surprise annual loss. Shinsei Bank Ltd. tumbled 18 percent on cutting its net-income forecast. Canon Inc. and Japan Tobacco Inc. are among companies that boosted full-year profit estimates by less than analysts had expected.
"The momentum of earnings upgrades in Japan is ebbing," Sakthi Siva, a Singapore-based Asia-Pacific strategist at Credit Suisse Group AG, said by phone on Jan. 30. "The relative attractiveness of Japan is diminishing. Our biggest concern on Japan is it's a crowded trade."
Overseas investors bought a net 15.1 trillion yen in Japanese shares in 2013, according to data released by the Tokyo Stock Exchange. That was the largest amount since the bourse began compiling the figures in 1982.
Emerging Markets
Equities fell last month and the yen became attractive as a haven as currencies from Turkey to Argentina tumbled, spurring concern that the turmoil in emerging markets may threaten a global economic recovery.
While surprise rate increases by central banks in Turkey and South Africa failed to boost their currencies, the Fed opted to press on with reductions to monetary stimulus. A Chinese manufacturing gauge fell to a six-month low in January, adding to signs that government efforts to rein in excessive credit will cool growth in the world's second-largest economy.
The Japanese stock rout is overdone, said Takuya Takahashi, a senior strategist at Daiwa Securities.
"Overall, earnings will see double-digit growth and that tells me the current slump in stocks is too much," Takahashi said by phone on Jan. 31. "Stimulus tapering in sync with the U.S. economic recovery should be able to give confidence to the market."
Fujitsu, Alps
Fujitsu Ltd. gained 6.3 percent in January after the computer maker's third-quarter net income beat analysts' estimates. Alps Electric Co., an electronic parts maker, jumped 14 percent on raising its full-year profit forecast.
The Topix reached a 5 1/2-year high on Jan. 8 before sinking 8.4 percent through yesterday. Shares traded at 14.4 times estimated earnings yesterday, compared with 15.2 for the Standard & Poor's 500 Index at the end of last week.
"The impact of the sales-tax increase will weigh on the market and keep shares from reaching a new high," said Masaru Hamasaki, a senior strategist at Tokyo-based Sumitomo Mitsui Asset Management, which manages about 11 trillion yen in assets, said by phone on Jan. 29. "There's limited room for Japanese shares to rally from here."
Before it's here, it's on the Bloomberg Terminal.
LEARN MORE