How Eddie Bauer's Faded Brand Became a Viable Poison Pill Defense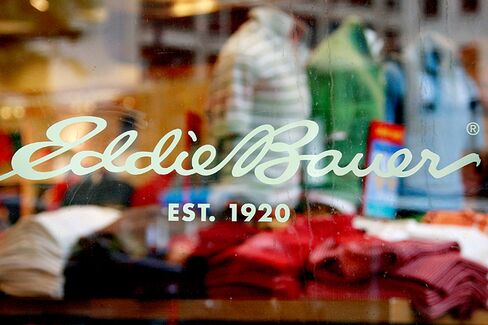 No one ever said mergers were easy. The back-and-forth battle of letters between men's apparel retailers Joseph A. Bank Clothiers and Men's Wearhouse has reached another impasse as the latter seeks to acquire the former. The latest twist in this saga is the purported role of Eddie Bauer, the outdoors apparel and camping gear merchant that has struggled for consumer relevancy in recent years.
Jos. A. Bank executives have held preliminary talks to acquire Eddie Bauer, Bloomberg News and other media outlets reported on Sunday, as Bank's board issued its latest rebuff to Men's Wearhouse. That move appears to be a gambit to prod Jos. A. Bank's suitor for a higher offer than the current $57.50 per share—or to make Bank a less attractive target. Jos. A. Bank shares fell 4.3 percent, to below $54. They have gained more than 12 percent since November, when Men's Wearhouse made its offer.
"I think it's totally off the wall," says Mark Montagna, an analyst with Avondale Partners in Nashville. "I don't see any merits to an acquisition of Eddie Bauer. I don't see any sort of connection." Montagna says the only retailer that could make strategic sense for Jos. A. Bank would be Brooks Brothers, a company that it has "no chance" of acquiring.
Eddie Bauer, which was founded in 1920 in Seattle, filed for bankruptcy in 2009 and was acquired shortly after by Golden Gate Capital, a private equity firm in San Francisco. The company doesn't report financial details, but analysts consider the brand challenged, given the variety of competitive offerings at such chains as Cabelas, REI, Dicks Sporting Goods, and Bass Pro Shops.
Nathaniel Garnick, a spokesman for Golden Gate, did not return a call seeking comment, and Jos. A. Bank declined to comment, a spokesman for the company said.
Stifel analyst Richard Jaffe said in a client note today that buying Bauer would "significantly diminish" Jos. A. Bank's appeal, which he concludes is the likely objective in the exercise, regardless of whether Bank directors have a genuine interest in Eddie Bauer or use the talks as "merely a ploy."
Before it's here, it's on the Bloomberg Terminal.
LEARN MORE