Arabica Coffee Extends Rally as Brazil Seen Dry Through Feb. 20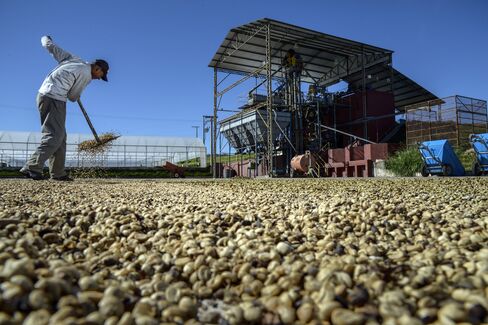 Feb. 4 (Bloomberg) -- Arabica coffee extended its bull-market advance as drought drains dams to a record low in Brazil, the world's biggest grower and exporter.
Dry weather will persist through Feb. 20 in the country's southeast, the main growing region, according to Celso Oliveira, a meteorologist at weather forecaster Somar Meteorologia. Rains expected this month and in March won't be enough to fill reservoirs before the dry season starts in April, he said. Prices jumped 21 percent in six sessions, the biggest such advance since November 2004.
Coffee surged 24 percent in 2014, heading for the best start to a year since 1997. Brazil had the hottest January ever and the least rain for the period in 20 years, according to Marco Antonio dos Santos, an agronomist at Somar. The drought is also driving prices higher for sugar and orange juice.
"Dryness in Brazil's coffee-growing area is something that will propel the market higher," Sterling Smith, a futures specialist at Citigroup Inc. in Chicago, said in a telephone interview. "Not enough rain is stressing the trees."
Arabica for March delivery jumped 1.1 percent to $1.3745 a pound today on ICE Futures U.S. in New York, after rallying yesterday the most since November 2004. On Jan. 31, the commodity settled at $1.252, up 23 percent from a closing low in November and entering a bull market.
The Standard & Poor's GSCI Agriculture Index of eight contracts rose for a fourth day to 351.2875, the best run since Nov. 12.
Global Output
In 2013, coffee fell 23 percent, the third straight drop and the longest slump since 1993, amid bumper crops in Brazil and Colombia, the second-largest arabica grower. This year, global output will outpace demand for the fourth straight season, according to the U.S. Department of Agriculture.
Arabica is grown mainly in Latin America and brewed by specialty companies including Starbucks Corp.
Robusta-coffee futures for May delivery climbed 1.9 percent to $1,873 a ton in London, after touching $1,883, the highest since Aug. 20.
Vietnam is the leading producer of robusta beans, used mostly in instant drinks. Farmers in the Asian nation have halted selling as the country celebrates the Tet Lunar Year. Central American arabica plants have been damaged in the past two years by a crop disease called leaf rust.
Vietnam Supplies
While "the lack of rain in Brazil is driving the market, you also have nothing coming out of Vietnam because of the Tet holidays," Jack Scoville, a vice president at Price Futures Group, said in a telephone interview. "Certainly having the rust in Central America doesn't help the situation and doesn't hurt the bullishness in this market. We could make a run toward $1.40."
The premium of arabica beans over robusta prices surged 18 percent yesterday, the most since Oct. 8, 2008.
Price gains may be capped as growers receive subsidies in Colombia and the country's currency weakens against the dollar, bolstering the prospects for exports, Hernando de la Roche, a senior vice president at INTL FCStone in Miami, said in a telephone interview.
To contact the reporters on this story: Liyan Chen in New York at lchen335@bloomberg.net; Marvin G. Perez in New York at mperez71@bloomberg.net
To contact the editor responsible for this story: Millie Munshi at mmunshi@bloomberg.net